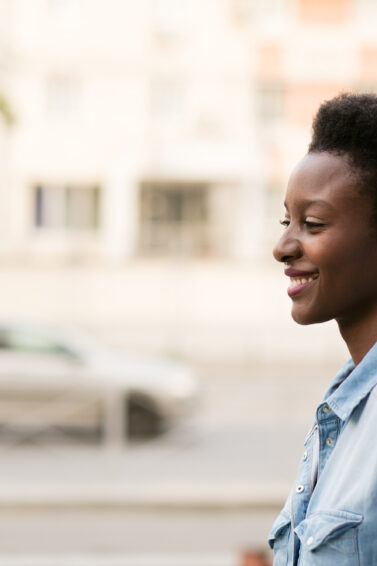 The Dos and Don'ts of Talking About Natural Hair
Not sure how to talk about black hair without offending someone? Then get your notebook at the ready.
As the #BlackLivesMatter movement has gained traction worldwide and vital conversations about racial injustice are finally coming to the forefront, we feel the importance of sharing the mic with Black women in the hair space more than ever so we can listen, educate and stand up for justice.
We're sitting down with Michelle Thames (a natural hair, beauty and lifestyle blogger) and Victoria Davis (founder of ClassyCurlies.com) to discuss the dos and don'ts of talking about natural hair, their own natural hair experiences and how the beauty industry can better represent them.
Talking About Natural Hair
While we applaud the hair discrimination laws that were passed in New York early last year (that now makes targeting people based on their hair or hairstyle at work, school or public spaces an act of racial discrimination), many Black people still face biases in everyday life. And while it's easy to identify the obvious biases, some of these can be more ambiguous, shrouded as a compliment that those with non-natural hair may not even register as being ignorant.
The Dos
Michelle and Victoria unanimously agree that the #1 thing to say to someone with natural hair is also the simplest. A genuine "Your hair looks beautiful" is a sure way to pay someone a compliment and know that you haven't offended them.
Other Dos include the following affirmations:
I love your hairstyle

I love your curls

Wow, how did you get your hair to do that?

Tell me how you got those ringlets
These are all things that can be said easily and openly to someone you want to gratify. And that is just one step to changing perceptions of Black hair. Another is to ask questions if you are sincerely interested in educating yourself, as Victoria says "I love giving answers to questions. More often than not, that person has a close relationship with a black woman or little girl and wants to pass on what they've learned."
The Don'ts
Now we come onto the inappropriate things to say to someone with natural hair. Some of these may seem obviously rude when reading them, but as Victoria says, "it's important to be mindful of the things you say that have good intentions behind them but take a turn for the worst."
Here are a few things to avoid saying to someone with natural hair:
I like your hair better straightened. – Natural hair is amazing as it is, with many patterns and textures, so saying it's better straight can easily come across as rude.
Oh, you have "good hair." – This is basically saying it's good for someone with natural hair. All hair is beautiful. Period.
When are you going to get your hair done? – Suggesting that it isn't "done" at that moment tells the person you don't like it. Instead, ask about their hair routine and what their favorite styles are.
How did you get your hair kinky like that? – Some hair textures are just naturally kinky but not everyone likes their texture. Instead, revert to a simple compliment that their hair is beautiful.
How do you do "Black girl hair?" – This just shows a lack of understanding of Black hair as a whole: Natural hair is extremely versatile and each style has a history, so bucketing them all into one generic category like this isn't likely to be well-received.
Can you flat-iron it? – Yes, it's possible to flat iron, but saying this to someone suggests you think they should. How someone wears their hair is their choice.
And the ultimate question that many people with natural hair get asked is, "Can I touch it?". Which, as a question, isn't always wrong, but more often than not people don't wait for a response before reaching out to touch the person's hair. Victoria notes, "That will likely cause an angry situation."
The above is the tip of the iceberg for many people, however, as they run deeper than just passing comments. "More than often, society likes to display Afro-textured hair as 'unkempt' and 'wild'," says Michelle, which only needs to be confirmed with a quick Google search for 'professional hairstyles' where natural hair is all but non-existent.
Natural Hair, Identity, and How the Beauty Industry Can Do Better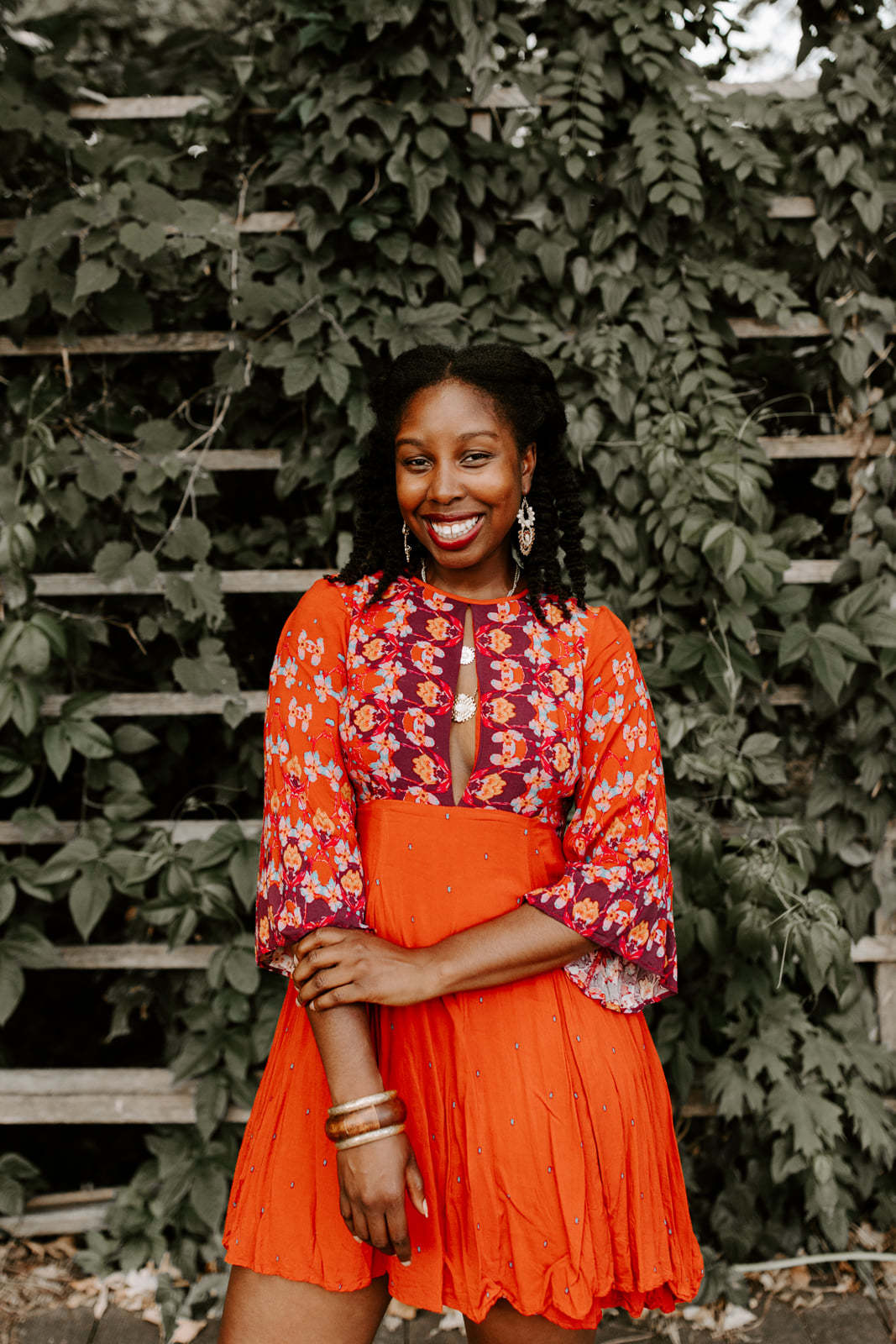 Each person's life experiences shape who they are and their outlook on everyday situations. And this can be even more true for those with natural hair, who have long been told that their hair isn't appropriate, and have had to manipulate their strands to conform to standards that work against them.
Opening the floor to Michelle and Victoria on their experiences, they shed some light on the complex relationship that they have had with their natural hair and that many other women have also been through.
What has been your own experience with people with non-natural hair commenting on your hair?
Michelle Thames: My experience has been mostly good, with only a few encounters where I've had negative comments towards my hair. I've had a few times where non-natural co-workers would comment that they liked my hair better when it is straightened. While I think they meant no harm, I feel that statement is super offensive. The way our natural hair grows out of our scalp should be accepted.
Victoria Davis: I've experienced both the good and the bad. I have had close white friends ask what my hair feels like. When I break the ice and let them feel a section they're so surprised at how soft it is. At that point, it usually turns into an education session for them.
When I first began embracing my hair and sported a short afro, I got tons of dirty looks and comments from people who thought my hair was "nappy", which is a word I do not use in my vocabulary due to its negative connotation.
On the flip side, now that my hair has grown out and I often wear it in big, blown-out, twist out styles, people become fascinated with my hair. I remember standing in line at a clothing store and a white woman admiring my big hair and asking tons of questions. I truly enjoyed talking to her.
How do you think the hair industry could better represent you and your hair type?
MT: There could be more photos of women with locs and natural hair in ad campaigns for large brands; I find women with locs very underrepresented even though we use the hair products of many brands. I also think that there could be more photos of women with loose natural hair as well. If you are marketing your products to Black people, the marketing should reflect that.
VD: The natural hair community could do a better job at catering products to curly girls with Type 4 curls. Those with the kinky curls want and need love too. While I understand that hair typing can be important, it also, unfortunately, causes a divide in the natural hair community. I hope natural hair brands do their job to stop this by making products for everyone.
Black women can wear their hair straight one day, throw in a short weave the next, rock an afro and then sport a braid out all in the span of four days. How magical is that?


Victoria Davis
What connection is there between hair and identity as a black woman?
MT: In my personal experience, the connection between natural hair and identity as a Black woman has always been an expression of beauty through different hairstyles. Natural hair has been a part of Black culture since the beginning dating back to the Civil Rights Movement and beyond. Black women rock their hair in Afros, locs, braids, twists, and twist outs and many more styles. I feel that today more Black women are embracing their natural hair and its beauty.
VD: The connection between hair and the identity of Black women is undeniable and frankly unbreakable. We're so attached to our hair for awesome reasons. We spend tons of money and time discovering the perfect product and best styles. The best part is our hair is so versatile. Black women can wear their hair straight one day, throw in a short weave the next, rock an Afro and then sport a braid-out, all in the span of four days. How magical is that?
What's your favorite thing about having your hair type?
MT: My favorite thing about my locs is that I don't have to do much to my hair. I've been through my loose natural hair journey and I loved it. I am excited about my new journey which I have been on for a month with my locs. The loc lifestyle is great for me because I am a busy woman on the go.
VD: I absolutely love my kinky curly hair and wouldn't trade it for anything. My actual strands are fine but it's extremely dense so therefore thick all over. My favorite thing is its versatility. Since my hair is so tightly coiled, I can wear a short Afro today and super long stretched curls the next day. It's like having long hair but having the ability to pull off a short look when you want. Again, it's magic.
We hope that this has served as an educational experience for those who had previously not known the deep connection that Black people have with their hair and that, those who need to, took note of the appropriate way to start talking about natural hair.
We want to thank Michelle and Victoria for being part of this with us and we encourage everyone to continually listen, learn, and be open to all the ways in which they can help change these biases.
*The beautiful illustration at the top of this article is by Sera Rae.
Prev Article
Next Article
Article
Beach Hair Care Tips: How to Care for Your Hair When it's On Vacay Mode
Give your hair a vacation, too.
See article
All Things Hair on Instagram