30 Quirky and Classic Choppy Bob Hairstyles for 2023
Lop it off and embrace these short choppy bob styles.
We're always appreciative of hairstyles with some attitude. Edgy, rebellious looks are one of our latest obsessions, and that's why we're completely in love with this trendy take: the choppy bob. This chopped and layered twist on the classic bobbed style is one of the hottest looks on the scene, and we just can't get enough of it. It's an Insta-worthy style that will keep raking up those likes by the minute, and it's as wild and carefree as we all are (or aspire to be!). We're switching to this It Girl style, and you should too.
30 Choppy Bob Hairstyles For the Ultimate Trendsetter
Check out these rockin' looks for yourself and see why we're going crazy over this cool-kid aesthetic:
1. Angled Ends
These sharp, pointed ends are a great twist on the choppy bob look. Give your bob a frizz-free finish by using Bed Head by TIGI Get Twisted Anti-Frizz Finishing Spray after styling. This spray will lock in your sharp style and keep the frizz at bay.
2. Blown-Out Layers
This short choppy bob look is perfect for every occasion. Shoulder-brushing length gives an instantly polished finish to any texture, while choppy layers add extra movement to an otherwise simple cut. Let your hair air-dry to recreate this look!
3. Angled Side Bangs
Give your bangs an edgy style that matches your choppy bob by giving them an angled cut. To recreate this style, use a 1-inch curling iron to curl your hair away from your face. This ultra-flattering technique will open up your face instantly.
4. Flared Bob
Get the ultimate "Cool Girl" style by giving your chopped locks some volume. Use dry shampoo or texture spray to mist your waves in a more voluminous style. A center part is the perfect finishing touch to this look.
5. Side Part
Create a sweet and sultry look by subtly parting your tresses to one side. This is also a great way to make a voluminous effect on your locks. Pro tip: part your hair on the opposite side of your usual look to add even more volume to your style.
6. Asymmetrical
This asymmetrical bob is such a unique and creative spin on the choppy look. You can create this style on a short or long choppy bob and it will always stand out from the crowd. Talk to your stylist about adding some dynamic highlights for an even edgier finish to your look.
7. Edgy Ends
These edgy ends automatically give your style an effortlessly chic look. To keep your edgy locks in place all day long, make sure you style them with TRESemmé TRES Two Mega Firm Control Gel.
8. Pastel
Are you on the hunt for a color that matches your choppy style? Then a pastel hue will do just the trick to make your locks undeniably cool. This vibrant shade of pastel aqua hair color is as cool as it gets!
9. Retro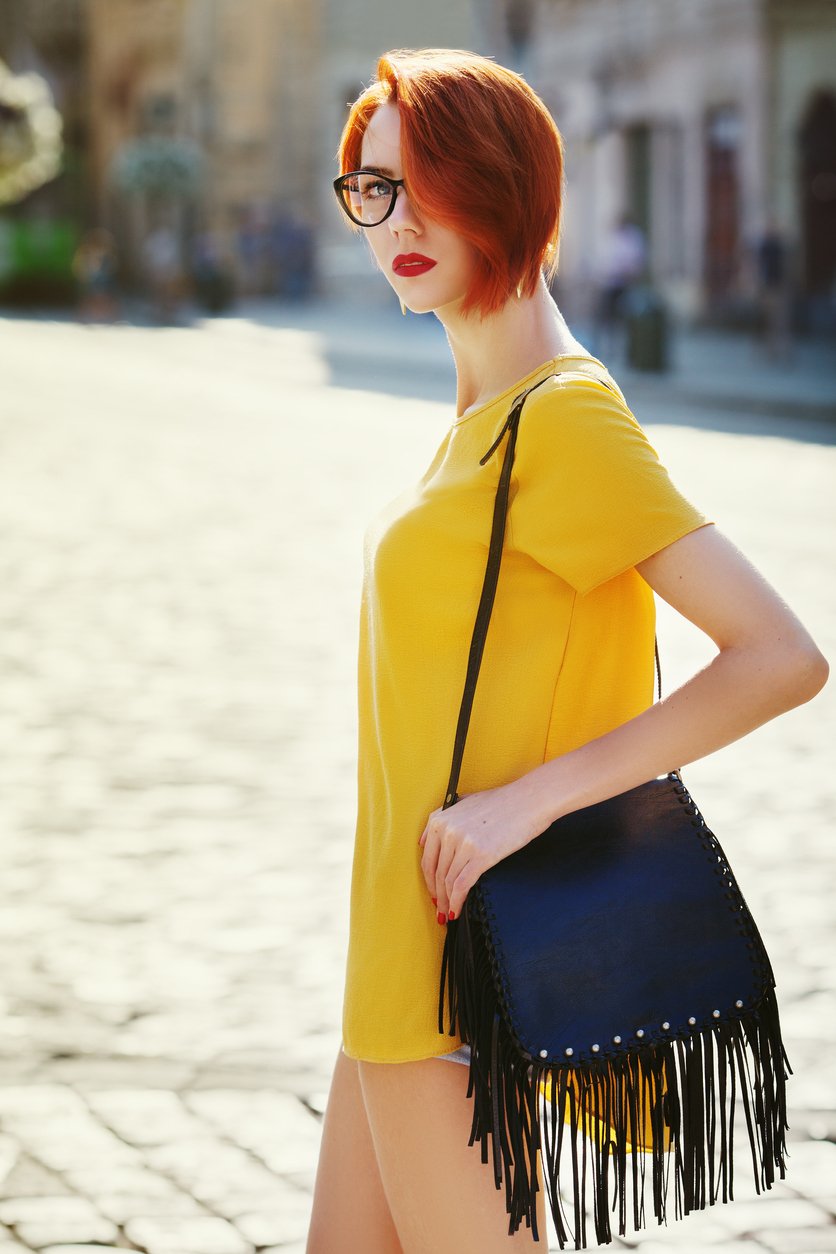 Give this retro-bodied bob a modern upgrade with a chopped look. Let your hair air dry into this loose swooped texture for a super easy style that requires literally no time at all to complete.
10. Soft Waves
These soft, natural-looking waves are perfect for giving your bob a fuller feel. Give your waves some extra volume by styling them with The Good Stuff Curl Definition Jelly. This one-of-a-kind hair product offers instant definition to your curls.
11. Bed Head
This sexy bed head look is always our favorite choppy bob style. Use a teasing comb to add volume at your roots, or just use your fingers to tousle your style lightly. Talk about a style that says, "I woke up like this!"
12. Full Bangs
The fuller, the better with these bangs! Women with thick hair often use bangs as a way to take some of the weight off the rest of their style by opting for a thick set of fringe.
13. Choppy Bangs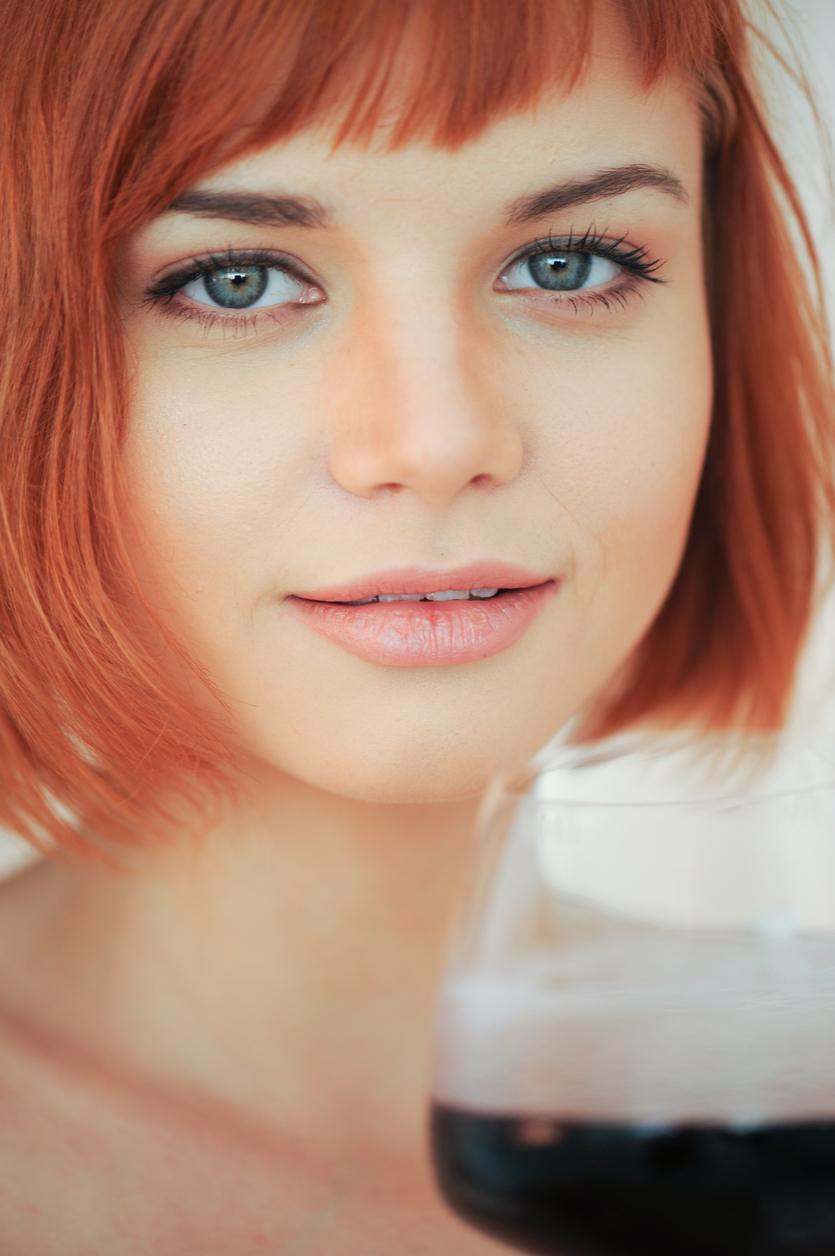 These choppy, asymmetrical bangs are the perfect pairing to your choppy bob style. Uneven yet intentional, these choppy bangs add an instant edge to your style. Keep a flat iron on hand to make sure your bangs are styled and polished!
14. Jet Black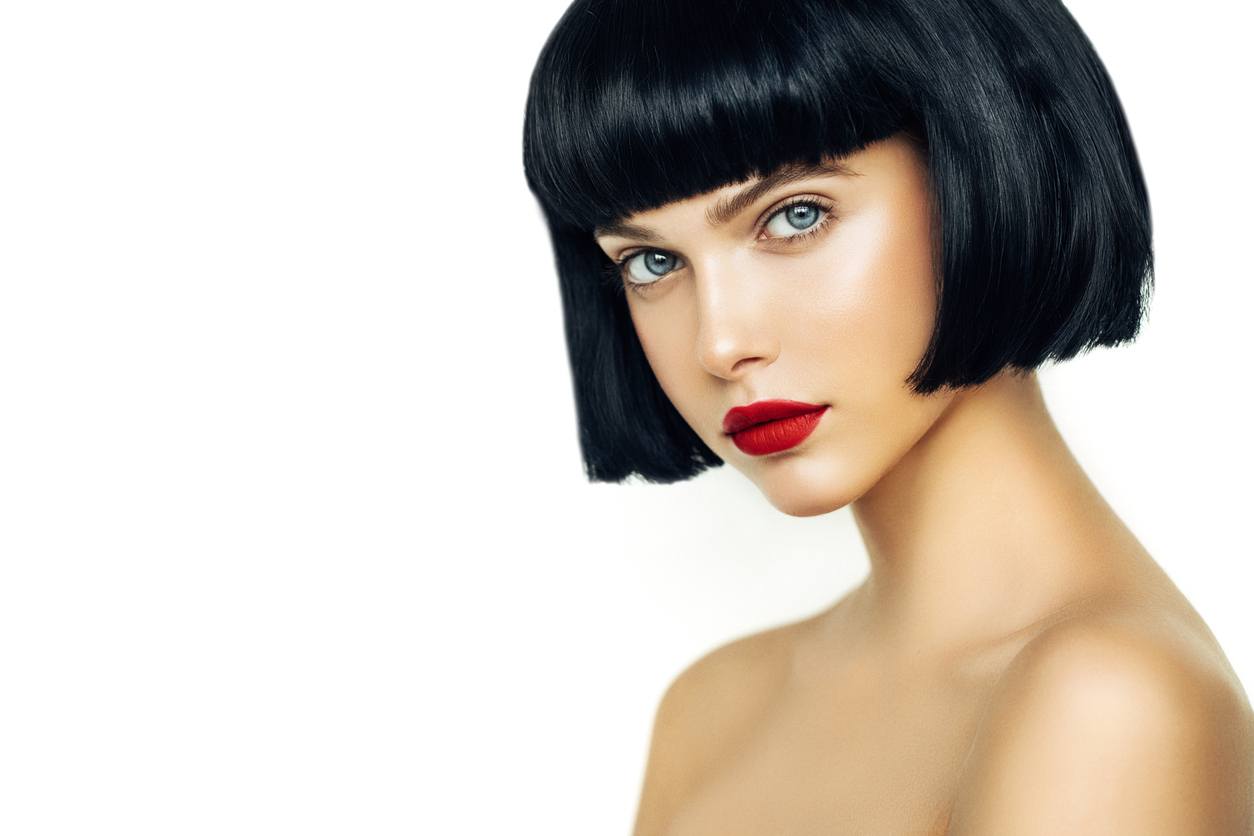 Go darker than the midnight sky with this dark, intoxicating shade. It's the coolest way to give your cut some extra attitude. Not for the faint of heart, this style does require regular upkeep, so be prepared to return to your stylist pretty soon after your initial appointment!
15. Textured
Giving your hair some texture gives it a voluminous and fuller look, which is why we're always going for this style. Try giving your hair some texture while controlling frizz by teasing it with Dove Style+Care Flexible Hold Hairspray.
16. Classic Curls
These big and bold curls are always a timelessly chic look. This is a great opportunity to consider a perm! If you aren't ready for quite a permanent decision with your hair, you can always use a curling iron to recreate the look.
17. Fringed Bob
For the ultimate choppy bob look, try out this fringed style. It's filled with fun edges that stay effortlessly posh all day long. Right in line with the recent nostalgia trend, this fringed bob takes us straight back to the early 2000s.
18. Straight ad Choppy
If you have thick, straight hair, then this hairstyle will work a treat on your natural texture to create an ultra-modern look. Want to know the best part? It requires next to no styling!
19. Long Choppy Bob with Bangs
Want to try a choppy look but don't want to go too short? Then know that a long bob can work just as well with choppy layers! Add full bangs and channel your inner rock goddess.
20. Subtle Choppy Bob
If you want to try out a new haircut, but are feeling apprehensive about whether the choppiness will work for you, then why not try a slightly toned-down version of the short choppy bob? Rather than going all out with dramatically contrasting layers, ask your stylist to work in a few piecey ones at the ends to create a more subtle, textured look.
21. Long Bob with Feathered Fringe
This softer, lighter take on the choppy bob works particularly well with a fringe. For best results, keep your bangs light and feathered, and style the rest of your hair sleek and smooth.
Now, if you're dreaming of getting a long choppy bob, you'll be thrilled to know you can also give this romantic style a whirl. We don't need telling twice!
22. Side-Part
Looking for a hot-to-trot short choppy bob hairstyle that'll flatter and enhance your face shape? Well, look no further because this pretty, unfussy side-parted hairstyle is all you need!
23. Choppy and Curled
Add some texture to your choppy bob by running a curler through it for some soft curls. Wait for the curls to cool, and then gently run your fingers through the style to soften the texture instantly.
24. Naturally Curly
If you have naturally curly hair, a choppy bob will give you loads of volume and create a perfect frame for your face. Add some fresh highlights for a more dynamic style. The contrast will add some instant interest to your look.
25. Micro Bangs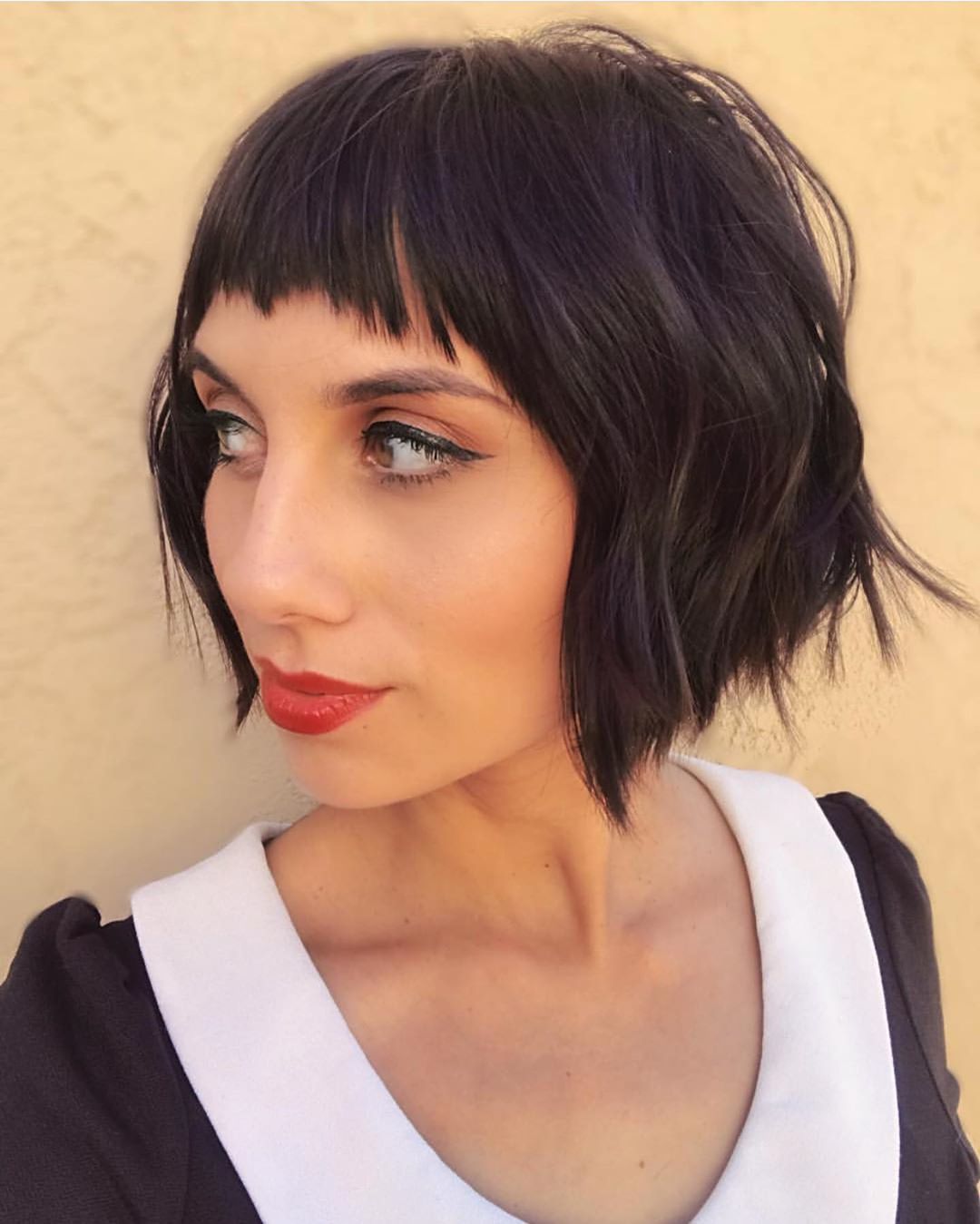 We think micro bangs and a choppy bob are a match made in heaven! Talk about edgy! Use a flat iron to straighten the bangs and to create a quick bend in the rest of your hair to recreate this texture.
26. Curtain Bangs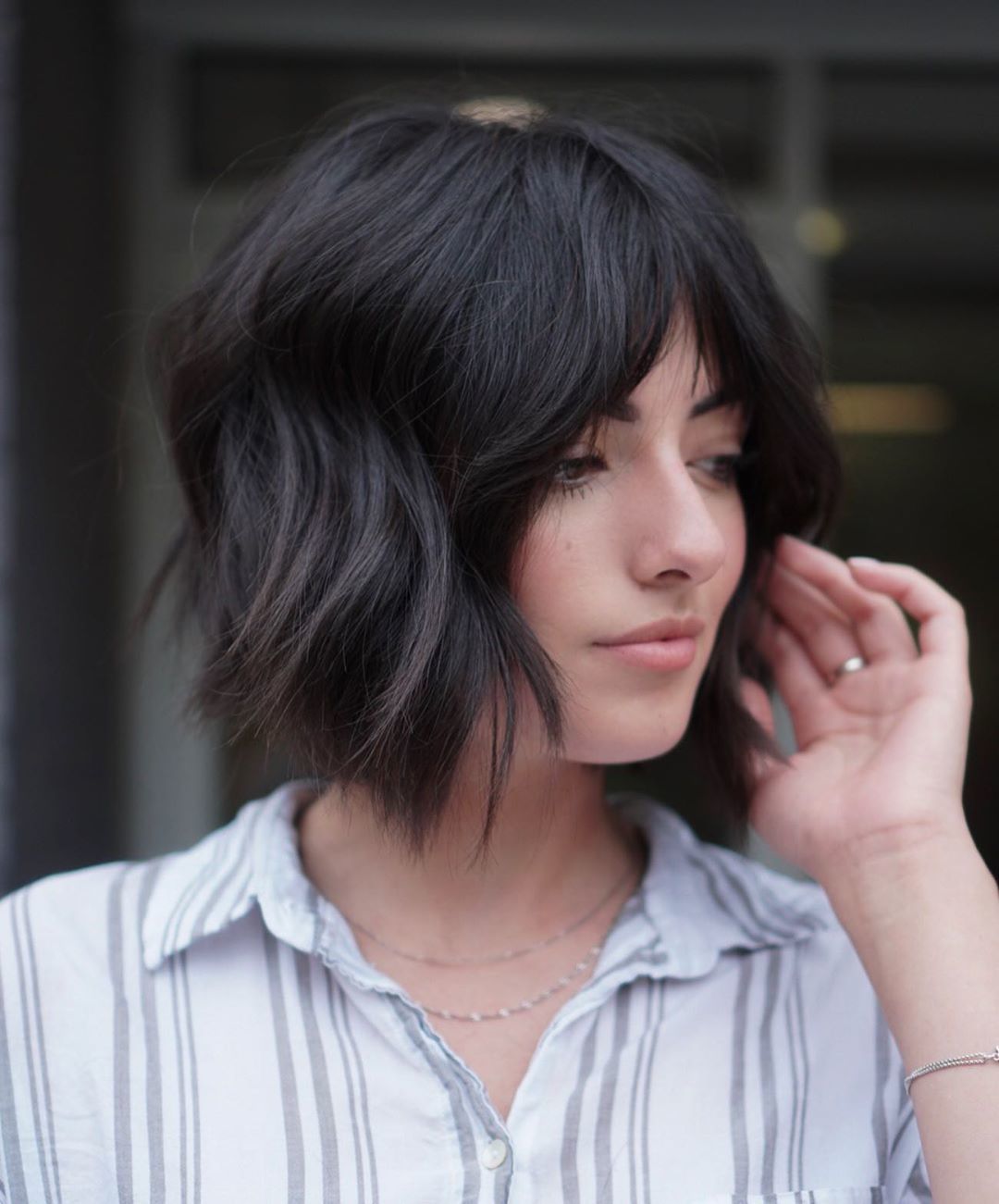 Curtain bangs create a softer side to the choppy bang cut. Consider opting for face-framing bangs like these if you want to soften your style and pull away from some of that harshness.
27. Straight and Grungy
Commit to the grunge look with this straight and choppy cut. If you are looking for something edgy and cool, this is definitely the style for you. Edgy and unexpected, it doesn't get much cooler than this.
28. Two-Toned
Add some depth with a two-toned look. We love how dark the majority of the color is and the brightness that's injected with the top layer of blonde. This is the ideal style for anyone who doesn't want to have to return to the salon again so quickly!
29. Dutch Braid
Create a Dutch braid headband style to keep your hair out of your face. How cute is this style? Use your fingers to pancake the braid to create a super voluminous 3-dimensional finished look.
30. Deep Side Part
If you're craving something different from your style, change up your part. A deep side part offers an unexpected perspective shift to your classic style! Use a teasing comb at your roots to add some instant height.
Looking for more hair inspiration? Be sure to check us out over @AllThingsHairUS!
Prev Article
Next Article
Gallery
Short Summer Haircuts: 10 Short and Sweet Looks
This list will help your end for short hairstyles for summer search. Get inspired by this collection of inspiring short cuts for summer 2017.
See article
All Things Hair on Instagram