How to Have Fun with Your Hair While Going Natural
Transition-friendly hairstyles.
Going natural involves a hair transitioning processes that is not for the faint of the heart. The process can be seamless to those that barely do any styling to their hair, and gruesome to those that get a high off of trying out new and fun hairstyles. When you're going natural, you have to handle your hair with kid gloves which prevents you from trying out hairstyles that may lead to breakage.
Although during this time you'd want to stick with easy transitioning hairstyles, that doesn't mean there aren't any fun hairstyles that can help you get through the process too. Read on for some of our favorite and fun hairstyles if you're currently transitioning to natural hair.
Fashionable and Practical Going Natural Hairstyle Ideas
1. Box Braids
If you're thinking of practical and easy hairstyles for your transition, box braids are your friend. You can wear this look for as long as you like. For extended wear, opt for getting your hair re-braided when your new growth begin to show. Use a dry shampoo like TRESemmé Fresh & Clean Dry Shampoo to refresh your hair in-between washes.
2. Medium Cornrows
An easy hairstyle to conceal your two textures (relaxed hair and natural roots). Cornrows also help create a cute braid out style.
3. Straight or Braids
Use a protective style like weave or cornrows to protect your hair and to make a style statement during your transition.
4. Crochet Braids
Crochet braids give you the chance to be flexible with your style while you transition. Try this style with a curly weave or with straight hair.
5. Fishtail Braid
While you're transitioning to natural hair, trying out trendy styles can help with the stress that often comes with dealing with two hair textures. This fishtail braid style can be your new weekly hairstyle.
6. Pop of Color
Getting bored with your updo hairstyles while transitioning? A pop of color will help update your look and turn it into something fun. You can use colored hairspray for a temporary fix.
7. Halo Twist
This has got to be one of our favorite hairstyles for transitioners. This halo twist is so easy to create and it works for a number of occasions.
8. Rock Your Texture
If you're coming to the end of your longterm transition to natural hair, you may be able to begin flaunting your new texture. Whether your hair is long or short, wear it out and get accustomed to the new you. Style with Dove Absolute Curls Supreme Creme Serum to keep your hair moisturized and to define your curls.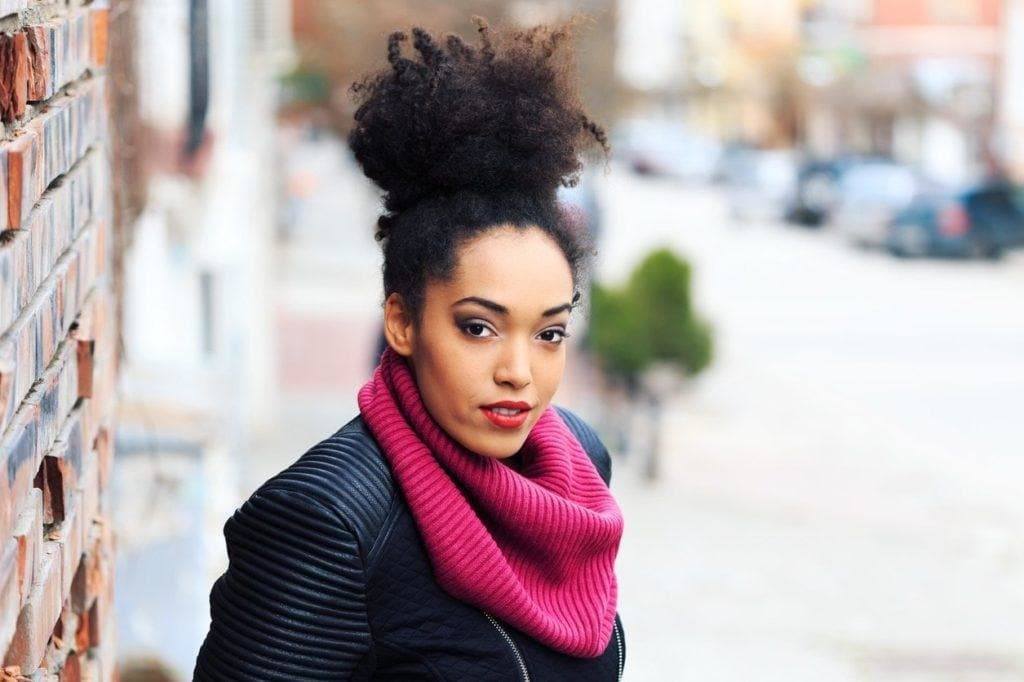 9. Messy Bun
Sometimes you may find yourself just not in the mood to do your hair at all. When these days occur, opt for a wearable messy bun. Smooth a few drops of shine serum like TRESemmé Keratin Smooth Shine Serum onto your hair to combat the appearance of parched hair.
10. Low Ponytail
Please proceed with caution when wearing your hair in tight ponytails. The hair at the demarcation line is very weak and prone to breakage from tight hairstyles. Opt for a loose ponytail instead to help prevent breakage.
11. The Undercut
Many women who are going natural opt for cutting their hair off to speed up the process. However, this isn't the route everyone takes.This undercut style above is a great style idea if you aren't into a complete big chop.
12. Curly Wig
They say the best way to manifest something is to believe you already have it. Try a curly wig to help you feel like your transition is already over.
Need transitioning hair tips? Here's what you need to know about transitioning to natural hair.
Prev Article
Next Article
Gallery
13 Trendy and Sophisticated Hairstyles for Women Over 50
These chic, elegant looks are great for women of any age.
See article
All Things Hair on Instagram