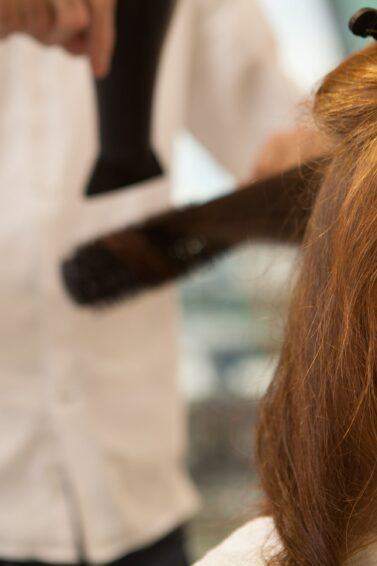 Why You Need a Round Brush in Your Hair Care Arsenal
A round brush is a must-have care product that can really up your hair styling game.
By now you know that using great hair care products can really be a game-changer in the way your hair feels, and ultimately looks. Healthy hair is certainly the result of due diligence and following a specific hair care regimen that also includes using proper hair care products like a round brush. A classic hair care tool, a round brush has long been a coveted tool for blowdrying your hair as it helps to create sleek, frizz-free styles. The best round brushes also work to add some incredible shape and texture to your hair.
As a staple in every gal's arsenal, the round brush hair is one of our must-haves. Read on to learn more about why we can't live without a round brush hair:
Why a Round Brush is a Must-Have Product
What Rounded Brushes Can Do
The best round brush is known to create awesome and controlled hairstyles. Whether you're craving some volume at the root, a bend in the middle of your hair or a curl at the bottom, a round brush will not disappoint. In general, the thicker the brush the more volume you can expect to achieve. Smaller sizes are known to create more bend or curl while a medium size can add bend to your straight hair.
A Blow Dryer's Best Friend
Round brushes have also been a major game-changer in the way stylists blow-dry hair. This is due to the fact that hair wraps around the bristles of the round brush, making smoothing out your hair a lot easier. To create curls, wrap a section of your hair the brush. When it reaches the top part of your hair, use a blowdryer to release heat as you slowly release your hair from the brush. Repeat this process throughout your entire head until you get the bouncy locks you crave.
This tool enables you to have some tension control tension while working with a blowdryer. This also makes it ideal to shape hair into long-lasting and shiny styles that can potentially last for days. In-between blowouts, we love to use dry shampoo like Love Beauty and Planet Murumuru Butter & Rose Dry Shampoo whose formula works to absorb your hair oils while also creating some amazing volume. Hello, second-day (or third-day) hair!
Creating Waves with a Round Brush
Round brushes can also create amazing hair waves and curls. The barrel acts as a roller, and the blowdryer acts as the source of heat to set the wave. Before you start with your round brush hair dryer, be sure to use some heat protectant, like Dove Heat Protection Spray whose formula can help you to reduce frizz while also protecting your hair from the heat as you style.
Add in Some Volume with a Round Brush
You can also create volume in your hair by using this tool for fine hair. Divide the hair into sections as you back-brush the root. Finish off this style and smooth out any frizz or flyaways by applying some serum. Try Suave Professionals Keratin Infusion Smoothing Hair Serum whose formula can smooth out your hair as it makes it stronger.
Prev Article
Next Article
Gallery
The Hottest Long Haircuts for 2016 For Every Hair Texture
The All Things Hair editors weigh in on the year's best looks.
See article
All Things Hair on Instagram