The Best Moisturizing Shampoo for Every Hair Type
Don't underestimate this showertime essential. The best moisturizing shampoos will transform your hair in no time.
If you constantly color your hair and frequently resort to heat styling, you know that these habits can cause hair to become drier over time, and might find yourself seeking a moisturizing shampoo. This often means that your strands may feel weak and can be prone to breakage. There's no question that opting for a conditioning product, or using a life-saving hair mask as often as possible, can definitely help. But above all, for a truly effective routine, adding a moisturizing shampoo system into your hair care routine is best.
Top Moisturizing Shampoos for Your Hair Needs
We'll illustrate the benefits of having a moisturizing duo in your arsenal, so read on to find the perfect moisturizing shampoo system for you:
1. Oily
When it comes to oily hair, you want a moisturizing shampoo that will nourish your strands but not further weigh them down. If you have an oilier hair type you may find you also have trouble creating some volume. To give your hair a burst of natural volume, you should try using Nexxus Hydra-Light Weightless Moisture Shampoo and Conditioner. Because this duo hydrates hair while leaving it with major body and movement, it's a great choice for those looking for more volume and in need of avoiding oilier strands.
2. Dry
Dry strands are obviously screaming for some moisturizing shampoo! Look for products that promise you loads of moisture and nourishment, you want a product that can keep your hair happy. We love TRESemmé Pro Pure Light Moisturize Shampoo paired with its conditioner for a surge of moisture without any ingredients weighing down your hair. This duo will provide tons of hydration to dry strands and give you that shiny, healthy finish you crave.
3. Curly
For curly-haired gals, it's important to find a moisturizing shampoo that focuses on dry hair types and helps maintain curl pattern. Our current go-to is SheaMoisture Coconut & Hibiscus Curl & Shine Shampoo followed with its conditioner duo. This shampoo will give you shiny, moisturized, bouncy, and manageable curls, everything you could want from a cleansing product. Coconut oil is blended into this formula to provide hydration, protection, and replenishment of lost oil. Your curls will be on point with this duo.
4. Colored
If you're looking to keep your hair healthy, vibrant and moisturized while adding in some sustainability, then you need to try Love Beauty and Planet Murumuru Butter & Rose Shampoo Bar. This shampoo comes in solid bar form to avoid excessive plastic packaging. Your colored strands will stay colorful and hydrated with this shampoo.
4 Reasons Why You Need a Moisturizing Shampoo: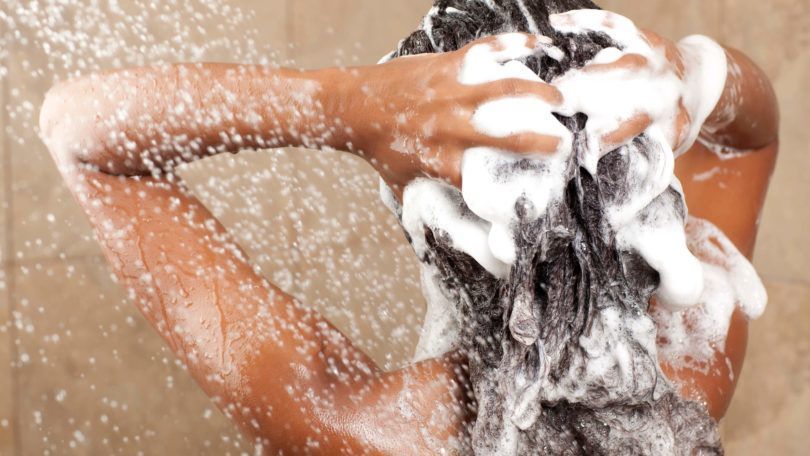 1. Moisturizing shampoo gently cleanses hair.
First off, while clarifying shampoos can eliminate unwanted oil and buildup, these types of cleansing shampoos can be a bit drying when used daily. A great moisturizing shampoo will effectively wash and clean your locks without stripping them of important inherent moisture.
2. It gives hair a healthy volume and sheen.
Secondly, it's important to know that a great moisturizing shampoo will hydrate your strands while also giving your hair a healthy look and feel, with a natural bounce. This is especially important since extremely dehydrated strands tend to look dull and lifeless.
3. It contains a formula with hair-nourishing ingredients.
Moisturizing shampoos tend to be formulated with nourishing ingredients that target specific hair needs. Furthermore, some even have vitamin-infused cocktails! Because it's essential to nourish your hair as you cleanse, a moisturizing shampoo is a must. 
4. Moisturizing shampoo provides a boost to fine, dull hair.
Above all, it's no secret that caring for fine, thin hair can be a hard task. Consequently, it can be challenging to find the right shampoo that won't be too damaging to your strands or cause them to fall limp. And while you should try to avoid washing your hair too much, you'll want to use a good moisturizing shampoo when you do wash your strands.
Article
Natural Shampoo: Is It Really Worth It?
Taking the natural route for your roots may not be doing you any favors.
See article
All Things Hair on Instagram