Top 3 Hair Straightening Treatments to Check Out
Breaking down the best of the best in the world of hair straighteners. 
Either you've tried it or you're considering it—somehow there seems to be no middle ground when it comes to straightening treatments.
Proponents of this professionally-done process are quick to allude to its "life-changing effects." We get it: Spend several years (and a couple thousand dollars!) being a slave to the weather and fighting frizz, and you'll grasp at anything that promises a permanent respite. Before you start shopping for online deals that will help keep you knot-free for months, we'd like to give a mini-primer on the most common hair straightening treatments available. Life-changing or not, informed beauty decisions must be made! Read on:
Popular Hair Straightening Treatments
1. Brazilian Hair Straightening
Before you purchase that online discount (we know, it's such a good deal), you really should know what you're about to pay for. First off, Brazilian hair straightening treatments such as keratin straightening treatments and the Brazilian Blowout aren't permanent. These treatments actually wash out within two to four months, depending on your hair's original condition. The main sell of these treatments is the use of a naturally occurring hair protein called keratin, which is then bonded (spackled?) onto a damaged cuticle, consequently "smoothing" it out.
These treatments work by bonding a protein onto the outer layer of the hair cuticle. Proteins and amino acids are then sealed onto the hair via the application of heat. Hair is first shampooed then conditioned, as the treatment is then brushed onto strands. Finally, a flat iron is used to seal it all in place. Clients usually report dramatically less frizz and silkier, more manageable strands that aren't as susceptible to humidity—a main reason why keratin treatments are so popular during the hotter months. This process is also customizable, depending on your texture and need, where keratin-treated hair can still be curled or styled into a variety of non-straight looks.
There are also those who crave the straight, silky-smooth benefits of a keratin treatment, but in a gentler, daily rinse-out formula. Wash and care systems that boast of keratin infusions, such as TRESemmé 7 Day Keratin Smooth Shampoo and its matching hair moisturizer, the TRESemmé 7 Day Keratin Smooth Conditioner, help create smooth, frizz-free styles that last up to a week. The TRESemmé 7 Day Keratin Smooth Heat Activated Treatment typically follows after the conditioner and bonds to the cuticle via, as the name suggests, thermal contact by a flat iron as well. It's similar to the salon process, but gentler and with less commitment, and best of all, can be done in the comfort of your home.
2. Thermal Reconditioning
Rebonding or Japanese straightening is a permanent hair straightening treatment whose results last until your hair grows out. Those with loose waves or bigger natural curls may choose this option of hair straightening, but a word of warning: It's a stronger, harsher process, so if you're hair's already been damaged, processed or generally put under the ringer, you might want to reconsider. Otherwise, it's a pretty effective way to get that sleek, poker-straight look without having to log in hours with a flat iron.
This hair straightening treatment works by imparting strands with a chemical solution. As in a spiral staircase whose rungs have been removed and fitted into a straight staircase, this solution is meant to break existing hair bonds and restructure them to form another shape (thus the term "rebonding"). The solution is rinsed off and hair is shampooed, conditioned and flat-ironed. It's an intensive process that can take anywhere from four to eight hours, depending on the texture and thickness of your hair.
There are rules for upkeep as well. These include not being able to wet hair for around a few days to avoiding updos and putting "bends" in the hair via a hair tie or other accessories for up to 72 hours. Once this period is set, hair is officially "rebonded" with straight bonds and is stubbornly resistant to curling—whether you like it or not!
3. Non-Formaldehyde Straighteners
There's been some contention to the formaldehyde levels in some keratin and Brazilian straighteners, and although these levels are non-toxic, there are clients who might want to forego this risk altogether. Enter the non-formaldehyde smoothing treatment. This uses formulations with glyoxylic acids, deep conditioning agents like coconut oil, heat regulators like azurite and other such derivatives and silicone polymers to provide a gentler smoothing alternative. These treatments claim to fight frizz more than anything else and do nothing to alter the hair cortex, so many consider this solution to be the safest option. However, be sure to divulge your hair history to your stylist or read your home-care labels to make sure you're not further damaging your strands, as some may contain ingredients that can still weaken overprocessed hair.
Which straightening treatment are you looking to try?
Prev Article
Next Article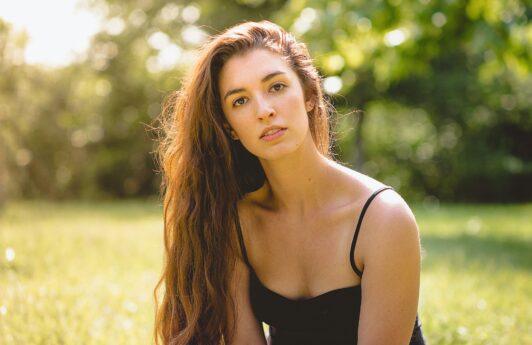 Article
Keratin Oil: What are the Benefits for Your Hair?
Get smooth, shiny and frizz-free with keratin oil.
See article
All Things Hair on Instagram