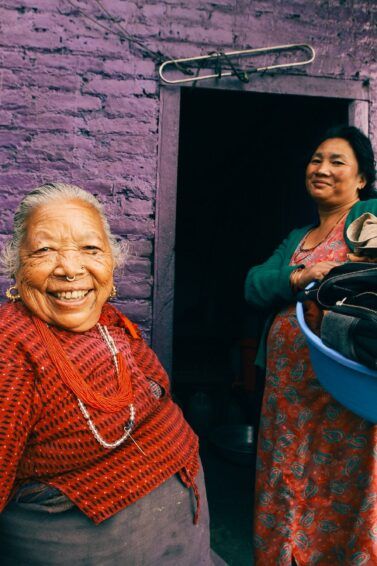 Your Ultimate Guide to Going Gray Gracefully
A variety of solutions to going gray.
Women start going gray at different stages of their lives. Some start seeing scattered gray strands as early as their twenties, others in their thirties and forties, and some don't start seeing their color change until even later than that. There's a certain amount of societal pressure to fight the going gray process and to begin dyeing your strands. While we're big proponents of finding ways to use hair dye in your favor, we are also big believers in going gray gracefully.
There's no wrong way to handle going gray. You shouldn't feel any shame in wanting to maintain your natural hair color. Hair is often a big part of our identities and it can be challenging to let go of the vibrant color we've had for so long. That being said, there's also nothing wrong with aging into gray hair with grace.
Whether you're dealing with prematurely gray hair or hair that goes in the natural gray hair direction later in life, you'll appreciate these tips.
Keep scrolling to learn our top tips for going gray.
5 Tips When Going Gray Gracefully
Ready to go gray gracefully? From masking to transitioning your hair, check out our tips for embracing the new color.
1. Masking the Gray
If you're looking for a way to mask your graying strands, then you'll want to talk to your hairstylist. While there are various drugstore kits created to help you D.I.Y. this process, we always suggest going to a professional whenever possible. Your stylist will be able to dye your changing hair so it matches the rest of your base color.
If you don't want to fully cover up your gray hair, you can ask your colorist to subtly weave your natural hair color with the gray. This will allow you to transition to gray hair without harsh roots or drastic changes.
Whenever you dye your hair, it's important to begin incorporating products into your routine that will protect your colored strands and keep them healthy. We suggest switching out your usual shampoo and conditioner for a set formulated for color-treated hair, like Suave Vivid Color Shampoo and Conditioner.
2. Transitioning into Going Gray
If you're open to starting to transition into full-on gray hair then this is the best option for you. Your stylist can help you transition your hair to gray over a period of time. Slowing the process down will help you avoid an almost overnight transition from your original color into the silvery hue. Dyeing your hair in a slower process will help prevent excessive damage to your hair. Plus, it will give you more time to adjust to the change.
3. Get Gray Highlights
If you start to see gray strands popping up and you want to embrace them without fully changing your hair color, you can opt for gray highlights. This will make your transition to your new color a more subtle change while it grows. Just like platinum hair, your dyed gray hair can turn brassy, so it doesn't hurt to use a purple shampoo, like TRESemmé Pro Collection Purple Blonde Shampoo and Conditioner every so often to maintain the silvery hue.
4. Go for a Big Chop
Want to go fully gray without having to wait a long time or dye your hair? Try out the big chop! By choosing a short pixie cut, it will feel like your gray hair gracefully grows in overnight.
5. Embracing the Color Change
Are you ready to go all in? No matter what your age or stage of life, we think there's something undeniably classy and sophisticated about a head full of gray hair. Go all in and let your hair do its thing. We're willing to bet you'll look more elegant and beautiful than you could have imagined.
Keep your freshly gray strands moisturized and healthy by incorporating a hair mask into your weekly routine. Suave Professionals Coconut Milk Infusion Intense Moisture Mask is one of our favorites as it penetrates each hair shaft to deliver 10 times more moisture. You'll also want to check out these shampoos for gray hair to keep your color glowing.
Prev Article
Next Article
Tutorial
How to Get and Wear Slick Back Hair
Might as well face it, you're addicted to gel.
See article
All Things Hair on Instagram