27 Gorgeous Bridesmaid Hairstyles We Love
Get inspired by these super easy bridal party hair ideas.
Wedding season is right around the corner and if your bestie is getting hitched you're going to want easy bridesmaids hairstyles that'll have you looking fab to celebrate their special day. Thankfully, bridesmaid hairstyles have gotten a lot more creative and less about those stiff-looking and super neat hairstyles. To help you out, we've rounded up 27 of our favorite bridesmaids hairstyles that are perfect for the modern bridesmaid. Read on to get inspired!
Bridesmaid Hair Ideas to Try This Season
1. Low Side Chignon
To recreate this bridesmaid hair idea, opt for spraying your hair with a texturizing spray to create texture and depth to your locks. Create a deep side part, then comb hair over to the side. Twist the ends of the hair, coil into a bun then secure with hairpins. Dress up your modern chignon with some flowers to give it a formal touch.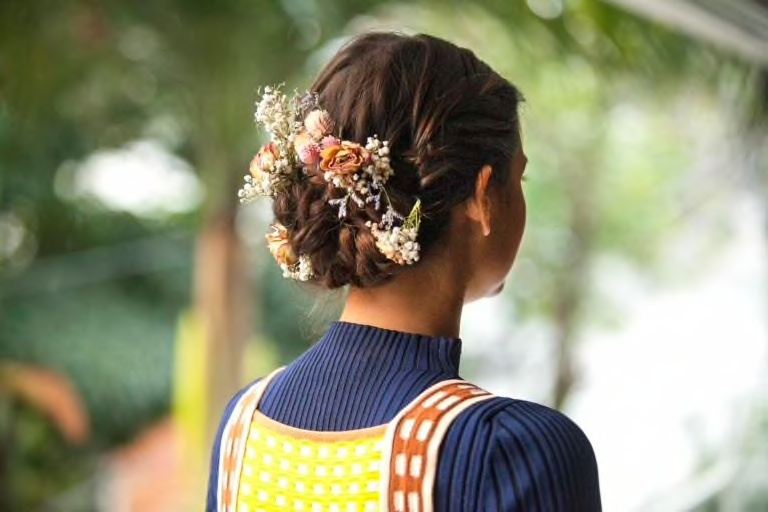 2. Floral Braided Bun
Add a fancy touch to a braided bun with a bunch of flowers. Choose colors that match the ensemble of the bridal party. To create the bun, part hair down the center and create a set of plaits on the ends of the hair. To secure the braids and prevent them from unraveling before you create the bun, backcomb the ends with a fine-tooth comb. Wrap all of the braids into a bun and pin to keep in place. Insert the flowers around the bun to create a back crown look. Finish the look with TRESemmé TRES TWO Freeze Hold Hairspray to lock the look in place.
3. Accessorized Lob
Does the entire bridal party have long hair except you? No worries, you can still get with the program by accessorizing your current casual bob with more formal-ready fare. But first, make sure you've got texture down pat by sealing down any frizzies with TRESemmé TRES TWO Freeze Hold Hairspray. Then comes the piéce de la resistance: your pearl or glitter clip of choice!
4. Elegant Messy Bun
Go for a bridesmaid hairstyles updo with a slightly undone finish. Gather hair into a low ponytail, secure with a hair tie then wrap the ends around into a big messy bun. Secure with hairpins to keep the bun in place. Pull out some pieces of hair from the bun to create the messy texture. To finish the look, spray with holding spray—especially if the wedding is outdoors on a particularly breezy day. Try Dove Style + Care Extra Hold Hairspray for a natural hold that lasts all day.
5. Twisted Updo
Section off the front middle section of your hair and create a few flat twists. Secure the twist with a rubber band. Gather the remaining hair up into a bun, twist the hair around in different directions to create this beautiful coiled effect, then pin it into place with hairpins. When you're done, cut the rubber bands with a scissor to remove.
6. Fun with Braids
An attractive bridesmaid hairstyle for long hair, braids are a fantastic way to showcase a classic and feminine style through many variations. This could include the fishtail, French braid, waterfall braid, side braid or sleek braid. Another option is to create a crown braid that serves as a chic headband, that entails you braiding hair at the hairline and crown, following the pattern of your part and finally securing on the side opposite where you started for an incredible look. Finish off with some light hairspray to maximize its hold and to make it last till after the reception. You can also vary the standard braid by creating braided buns or half-up styles, depending on your preferences. Bonus: Once this look is created, you will barely need any maintenance throughout the entire ceremony.
7. Low-Slung Braided Bun
Looking for more bridesmaid updo hairstyles that look perfectly put-together? Check out this really cool low-slung braid bun. A variation on the regular chignon, this variation gives depth and personality to hair via a signature braided look that's hung low, with wispy pieces of hair loosely escaping and softening the frame. The woven style also creates a romantic feel that can be enhanced with accessories or small hair jewels.
8. Stylish Beehive
For a vintage bridal look, we adore the puffed out bouffant bun. A take on hair from the '60s, the half-up beehive hairstyles creates volume in the front of your head that is controlled with a loose bun or ponytail, much like a beehive hairdo. To achieve a signature bouffant look, blow-dry your hair using a round brush on the underside of your strands. As you blow-dry your hair upwards, spray the pouf with some hairspray to keep it intact. Then all you have to do is pin the bouffant down with some bobby pins and work in a half-pony, pony or bun using the second-half of your hair.
9. Twisted Halo Updo
For a simple bridesmaid hairstyles updo that really shines, we love the twisted halo. Great for all hair types, this look gets your hair out of your face as you create a smooth look on the crown and bottom half of your tresses. To create the look, twist each side of your hair and join the sections together to create a half pony or piece both together with a cute clip.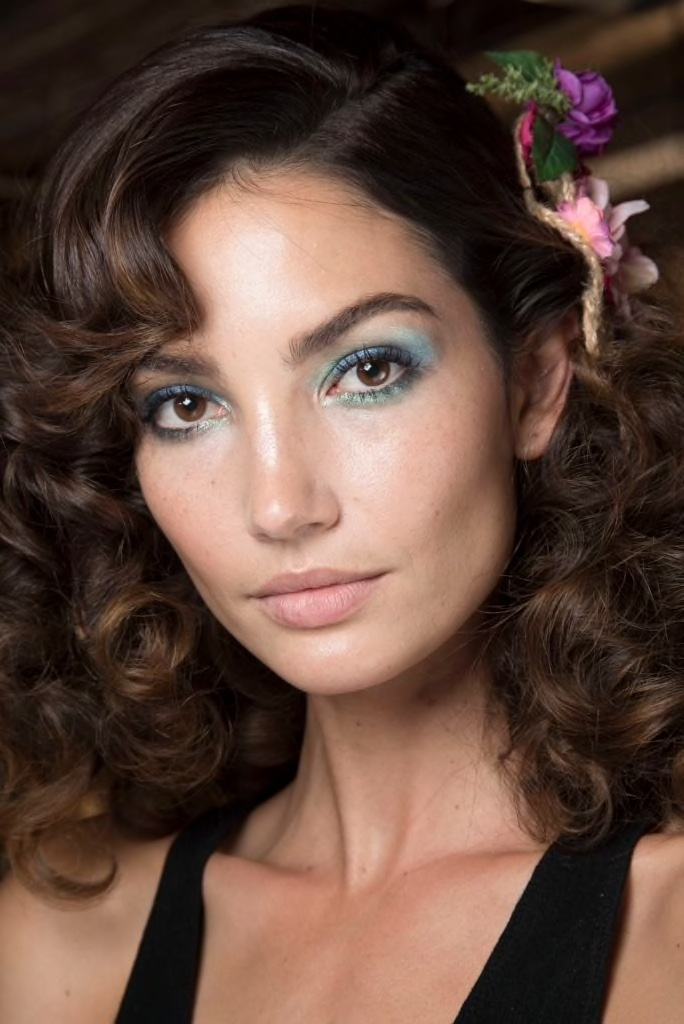 10. All Over Curls
For girls who love volume, creating big curls could be a great option. This style works for all hair types, and those who are naturally curly can even let their locks roam freely. Ladies with straight or wavy hair can work with their texture to create this look as well. For those that have waves or straight hair, a curling iron or rollers can help achieve the look. Enhance this look with a jeweled headband or some delicate, glittery accessories, and be sure to lock in the style by using some hairspray.
11. Side Ponytail and Braid Combo
Another easy idea for your wedding is the side ponytail with a twist. Unlike your typical weekend hair look, this twisted side pony with a braid can be curly or super straight. Simply start by creating a slick and evenly brushed side-pony which is then refined and straightened (or curled) even more with an iron. Ed's tip: Try out a direction that's opposite your typical style for a quirky take on this look.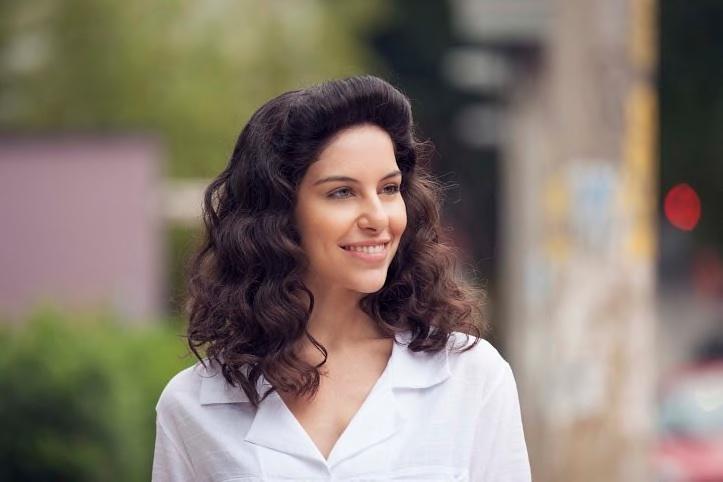 12. 1950s Waves
If curls aren't your thing, subtle waves that feature a modernized nod to the '50s might be up your alley. Achieving these waves starts by creating curls and volume with a curling wand. Next, lightly brush out the curls for a softer molten look. Lightly spray the curls with some hairspray and secure your hair waves with some large bobby pins. In about 20 minutes the new curls will be set, creating a smoother, more mellow wave.
13. Playful Short Curls
Short-haired gals can also have fun with their 'do on their wedding day. In addition to trying a variation on all of the styles listed above, they can create a charming look with accessories. This can be especially stunning if you have a pixie cut or a bob that you and embellish with some flowers or a beautiful headpiece. Getting creative with your short haircut is surprisingly easy and only requires some cute accessories to dress everything up. After you create your style, smooth out any frizz or flyaways with some serum.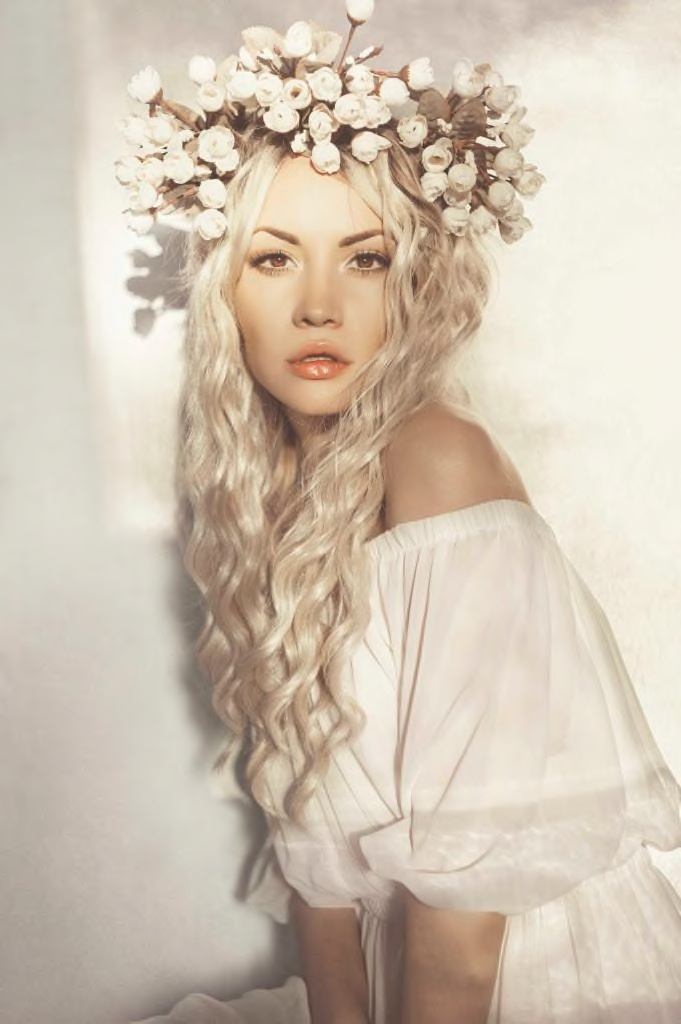 14. Floral Crowns
Look regal on your big day with a floral crown. There are tons of variations on the crown where you can opt for big or a subtle use of flowers.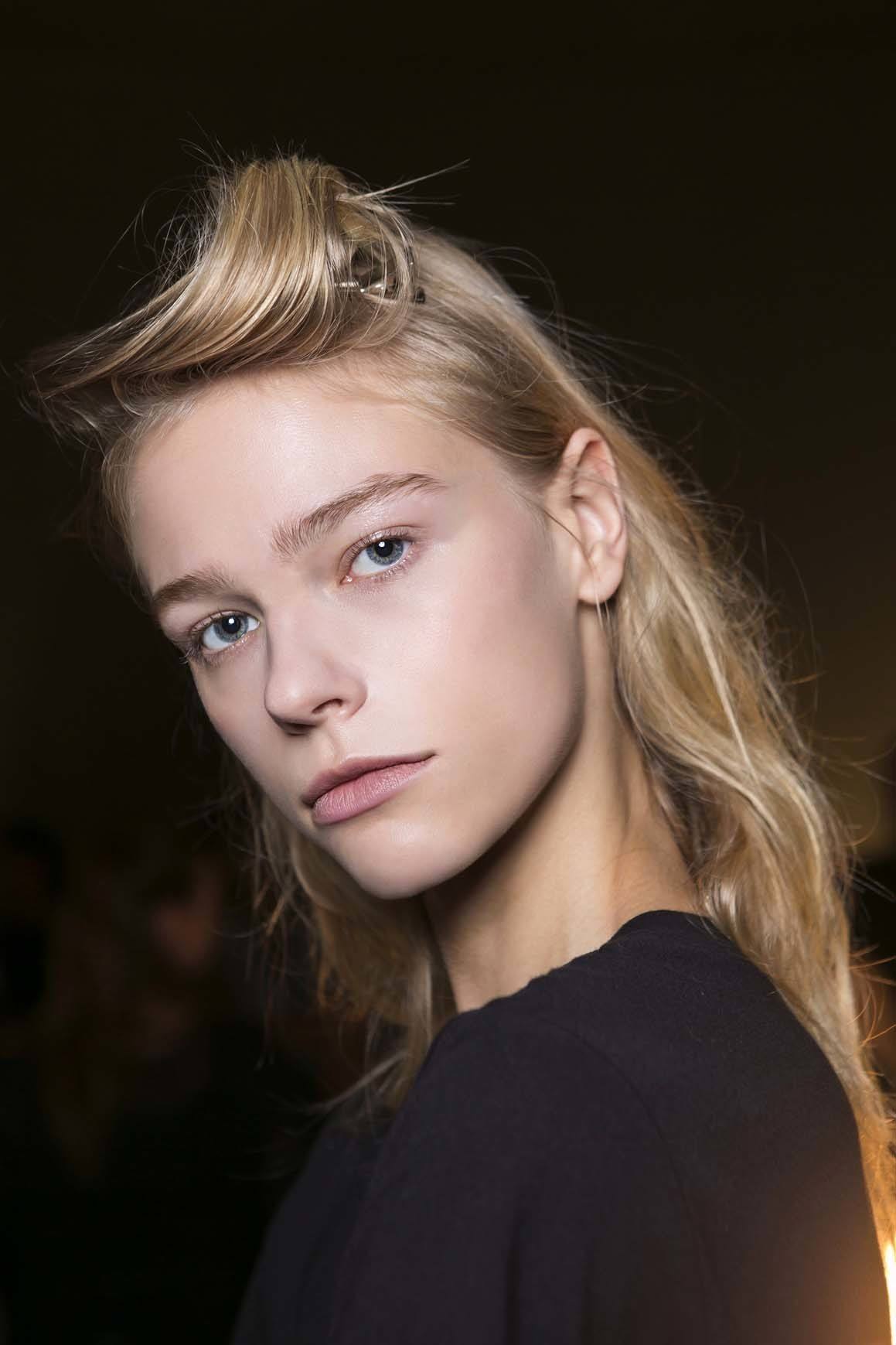 15. Vintage Half-Updo
If the wedding has a fun vintage theme or subtle vintage elements, why not try out this '50s-inspired half-updo. You just need to create one simple victory roll with the front section of your hair and pin in place. Go for a slight angle to keep it from looking too much like an early-aughts pompadour.
16. Braided Updo
An outdoor event in spring necessitates an updo. The more hair you keep off your face and neck, the better it will look in photos, trust us. Check out our curly braided updo tutorial to help you master this look, and lock in your style by spraying some of the TRESemmé TRES Two Extra Hold Hairspray on your finished 'do.
17. Braided Low Ponytail
For a similar take that doesn't hide all of your gorgeous curly hair, try out this trendy low ponytail. Simply braid back the front section of hair where you can opt to show-off your center part or go for a sleek base. Then, secure your hair into that low ponytail and you're good to go!
18. Wrapped Chignon
This wrapped chignon looks so much more complicated than it actually is, so naturally we're obsessed. This look is best suited for bridesmaids with long hair, or have a good long set of clip-in extensions. We like to start off this style with a silky blowout for that smooth texture. Prep your hair with TRESemmé Keratin Smooth Serum to ensure that your hair is polished and frizz-free. Then create a low ponytail, but on the last loop of your hair tie, only pull your hair halfway through. You want a little fold to create the bottom of this chignon. Then, with the rest of the ends of your hair, wrap around the hair tie to cover and create the cool effect! Secure the hairdo in place in the back with some carefully placed bobby pins.
19. Braided Half-Updo
Another great option for gals with hair to spare is this long braided look. It's a fun one for more casual weddings. You'll start this style by braiding back two sections of hair, one from above each ear. When the braids are long enough to reach the center back of your head, combine them together to create one braid. Then, braid it on down to the ends and complete the look by creating beautiful beachy waves.
20. The Side-Swept
The side-swept hairstyle is an easy but subtly romantic style. You can create it in a cinch! You can rock this look with your natural hair texture, perfectly sculpted curls, or a silken pin-straight style. Just do a deep center part and smooth back the shorter side. Pin into place and you're done! See, we told ya' it was easy.
21. Simple, Loose Curls
For a tame, braid, twist and coil free look, try these loose waves. This style is actually created with pin curls, which we know make for some gorgeous getting ready photos! You'll just need to heat set large pin curls, and let them cool down all the way. After they are cool, you can take them out and you're left with these beautiful curls.
22. Coiled Braid Updo
This dreamy coiled look couldn't be easier to accomplish in a hurry. For this double braided look, you'll need to start by splitting your hair in half, horizontally. Braid each section all the way down to the ends. Then, take the bottom braid and coil it around into a bun, securing in place as you go. Then, take the top braid and keep wrapping around that bun. Hide the tails of the braids underneath the coil for a clean look.
23. Elegant Twisted Half-Updo
We love this twisted style for bridesmaids with shorter hair. This look is best replicated by following our twisted half-updo tutorial. Trust us, it's easy to do, you just need a handful of mini hair elastics and some patience to get it nice and smooth.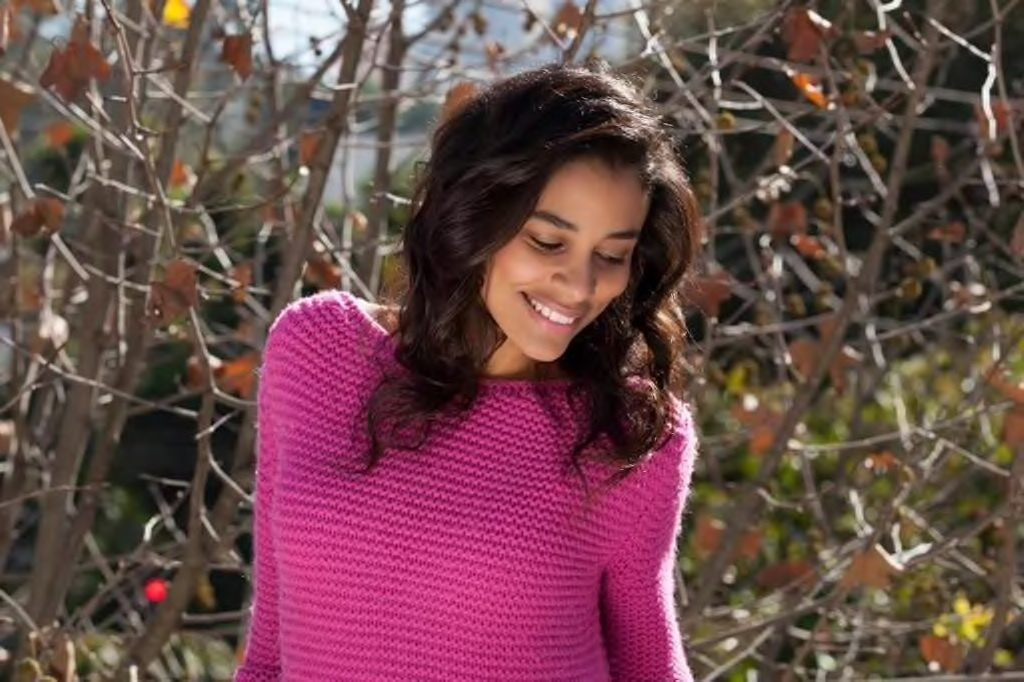 24. Hollywood Curls
Nothing is more evocative of glam than Hollywood curls. They go with any bridesmaids dress, wedding venue and theme! It's one seriously flawless hairstyle. This style is essentially just curling your hair, but in a specific way to make it take on the Hollywood heights! Follow our tutorial for Hollywood hair so you can see just how this style is created.
25. Silky Blowout
On the flip side, if curls aren't your thing, the other goes with anything style is the silky blowout. We're totally on board with doing home blowouts! Once you get a hang on it, home blowouts are a time (and money) saving hack. After you achieved your stunning blowout, be sure to apply some serum to your hair to ensure that your hair stays frizz-free and smooth all day long.
26. Half-Up Bow Bun
Add some cuteness to your friends' wedding with this cute half-up bow bun look hairstyle. As a low-key and pretty easy hairstyle, you can enhance this style a bit by adding fun accessories, like ribbons, to complete the look.
27. Rolled-Back Boho Waves
Finally, we couldn't miss out on featuring hairstyles for those beachy wedding affairs! For those going to literal beach weddings or not, these boho waves can do no wrong. You can sculpt these relaxed waves with a flat iron. Instead of curling or twisting, just bend the hair this way and that way. You'll get a much more casual feel! Finish off this style with a little twist, pin and some hairspray for good measure.
We hope this collection of hairstyles for bridesmaids has inspired you! Do you need even more wedding hair ideas? Check out our feature on wedding hair accessories.
Prev Article
Next Article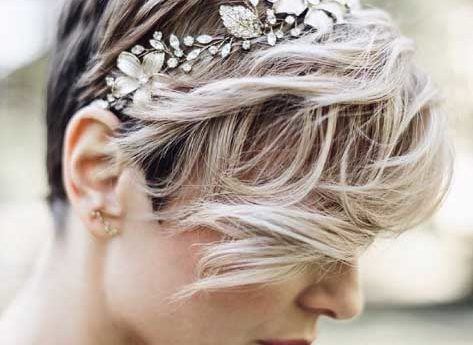 Gallery
9 Wedding Pixie Cuts: Inspiring Looks for Your Special Day
Rock your pixie at your wedding with these inspiring looks.
See article
All Things Hair on Instagram