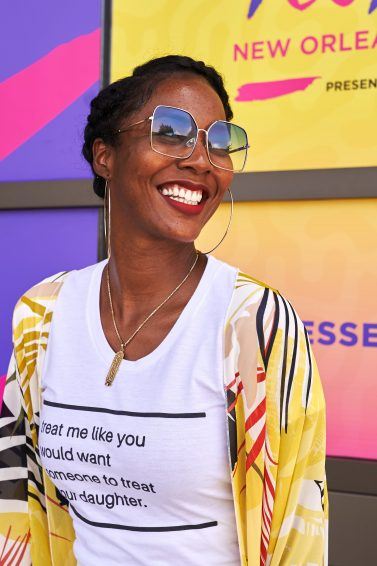 Day 3 at ESSENCE Festival with Samjah Iman
Just when we thought that we've seen it all at ESSENCE Fest, Day 3 proved us wrong. On this final day, the attendance of women was even greater than the previous days. And, we must say, much of the crowd came out in their Sunday's best, including Samjah Iman of fashion and lifestyle blog, Style and Energy, who we had the honor of catching up with and getting a scoop into her day at ESSENCE Fest.
Read on as Samjah gives us tells us why she's not into hair typing, how her hair complements her outfits and her go-to styles:
ESSENCE Fest Day 3
Meet Samjah Iman
All Things Hair: How would you best describe your hair type?
Samjah Iman: I'm really not that knowledgeable on hair types because I don't pay too much attention to them. However, an expert did explain to me the different hair types and I believe I am a 3c. My hair has somewhat loose curls when it's wet. Sometimes, sections of hair tend to be straighter than others. In other words: My hair has a mind of its own.
ATH: What are your go-to hairstyles?
SI: I chopped all of my hair off at the end of October. Since I'm currently at the stage of growing my hair out, my go-to hairstyle has been crown braids and a high ponytail. Every now and then I'll wear it out, but that strongly depends on the weather out here in Louisiana. Louisiana's humidity has no mercy on natural hair sometimes.
ATH: Tell us about your blog? How did you embark on this journey?
SI: I've always loved to write. I majored in Mass Communications in undergrad and graduate school. Shortly after completing my studies, I began freelance blogging and writing for various publications. I decided to take the leap and started blogging for myself. As a result, styleandenergy.com was born.
ATH: We love your style! How do you decide what hairstyle to wear with your looks?
SI: Thank you! My motto has always been, "less is more." With that being said, whatever outfit I choose to wear, my hair will always complement my look because it will be in a simple style. When all else fails, simple always works.
ATH: Tell us how you created your hairstyle today:
SI: Today, being that the heat is brutal, I put my hair in braids. That way, I won't have to worry about sweating it out or losing curl definition. In weather conditions like this, comfort is my go-to.
How to Create Samjah Iman's Crown Braids:
Step 1: Part hair.
Start by parting your hair in the direction you want your braids to go. One popular option includes a side part.
Step 2: Detangle hair.
Using a wide tooth comb, or your fingers, begin detangling hair from ends to root. If you need to add moisture to your hair, you can spritz lightly with water or apply your favorite detangler spray. Our go-to is Suave Professionals Cream Detangler Spray for Natural Hair.
Step 3: Apply styler.
Whether it's a gel to ensure you have a smooth base, or a cream based styler to soften your hair, apply a styler to help you create your crown braid style. Work Suave Professionals Curl Defining Cream for Natural Hair through your hair for added softness.
Step 4: Braid hair.
Starting at the hairline, begin braiding hair French braid style. You can create one braid on each side and connect the two with hair pins to create your crown.
Step 5: Add shine.
Finish your look with a shine spray or oil like Love Beauty and Planet Vetiver and Jojoba Natural Oils Infusion for added shine.
For more styling tips and hair care advice, check out our dedicated All Things Natural Hair page.
Prev Article
Next Article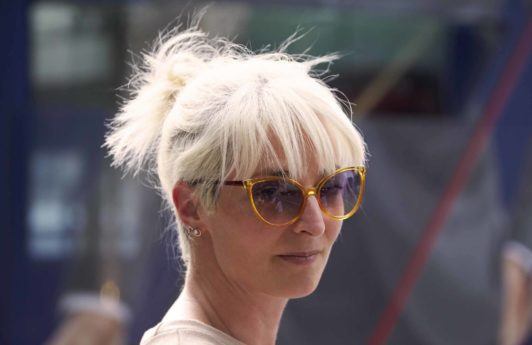 Gallery
How to Wear Platinum Blonde Hair: 16 Styles to Consider
Styles for your awesome platinum blonde hair.
See article
All Things Hair on Instagram