How to Use Hair Curlers for Sexy Volume
Make them form a line under the mistletoe.
Hair Types
Volume
You Will Need
With all of today's innovations, learning how to use hair curlers may seem like a rickety, outdated skill from the bygone, super-retro 1960s and 1970s. But make no mistake: They're still a pretty handy device one can use to achieve loose, full-bodied curls without a telltale bend, all in one go.
Very effective when "setting" hair for some body—particularly while you, goddess that you are, are doing your makeup in the meantime—hair curlers also come in a variety of shapes and sizes. Knowing how to use hair curlers and their different sizes also make a big difference in the overall look. The smaller barrels made it easy for those with shorter hair to still form a curl (thus making the feathered, curly look of the 1970s accessible to all hair lengths). Nowadays, we like using hair curlers as a way to encourage fat, beach-bombshell volume that instantly ups the sex appeal of any look. Read on for a quick guide on how to use hair curlers properly:
Tutorial: How to Use Hair Curlers for Sexy Volume
Step 1: Start with clean, freshly washed hair.
Oil, buildup and residue can cause hair to go limp faster or make hair harder to volumize. Prep by washing hair with a gentle cleansing system that also primes hair for big, wavy hairstyles, like TRESemmé Perfectly (un)Done Shampoo and TREsemmé Perfectly (un)Done Conditioner. Rinse thoroughly and towel-dry.
Step 2: Apply a heat protectant and blow-dry your hair.
Shield your strands from mechanical styling damage by first coating hair with a thermal protectant. We like the lightweight conditioning we get from TRESemmé Thermal Creations Heat Spray. Spray onto hair and blow-dry till 90% dry.
Step 3: Apply a curl mousse.
Mousse helps create volume and lift, while also giving curls structure. Spritz a ping-pong ball-sized amount of curling mousse (less for shorter hair), such as Dove Style+Care Curls Defining Mousse, onto one palm and spread it from root to tip. Comb through to ensure even distribution.
Step 4: Section hair.
Divide hair into three sections: left, middle and right. Then, using the biggest rollers of the set and working from your hairline backward, roll hair around the hair curlers in a forwards motion (Tip: Hair should be going inwards, not flipping outwards). Secure each with a pin.
Step 5: Go bigger to smaller.
Use the medium-sized barrels on each side of your head, working your way downwards till you're left with the smallest hair curlers to be used near your nape. You should end up with a neat grid of curlers that go from big to small, top to bottom.
Step 6: Let it set.
Leave your hair curlers on for around 30 minutes (around 15 to 20 with hot rollers) to help set the curl (Do your makeup or pick out your ensemble, in the meantime!). When time is up, unfurl the bottom-most curlers first, gently removing the pin and unrolling each barrel so you don't disturb the curl.
Step 7: Brush it out.
Using a flat, natural-bristled brush (we love the Nexxus Ibiza OC7 Oval Flat Hair Brush for this), gently and carefully brush out your curls to soften and align the wave. Settle on a part.
Step 8: Finish with hairspray.
Finish with a light misting of a touchable-hold hairspray, such as Dove Style+Care Flexible Hold Hairspray, for a frizz-proof look that still has some movement. Accessorize with a shiny clip on your minor part for some holiday sparkle, and you're all set!
You Will Need
Prev Article
Next Article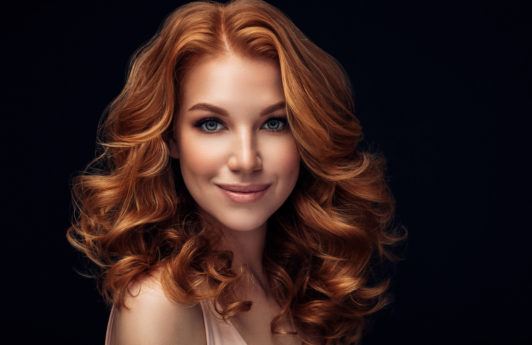 Tutorial
70s Hair: How to Do Feathered Hair with Hot Hair Rollers
Why, of course they're back!
See article
All Things Hair on Instagram