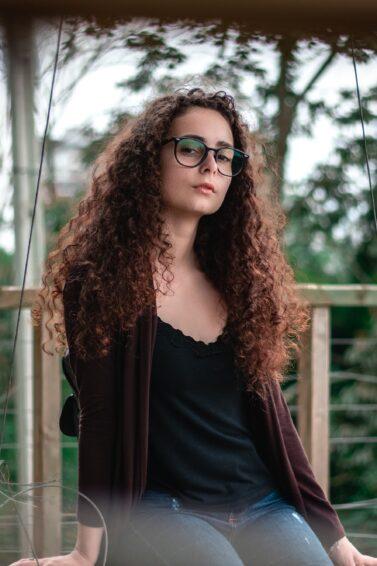 How to Use a Curling Gel For Bouncy, Well-Defined Curls
Get out of sticky situations with a product that defines without the crunch.
Curly-haired girls rejoice: There's a classic product that has the power to help make your natural curls spring back to life. Curling gel is a styling product specifically formulated to help define and enhance your natural curls while they work to tame frizz. Bonus: It helps create structured, curly looks that can last all day long!
Ready to rock your curls? Read on to learn exactly how to use this awesome product.
Curling Gel: A Curly Girl's Best Friend
1. Start off with clean hair.
To effectively use a curling gel to get structured, defined ringlets, you'll need to start off with clean hair. Washing curly hair needs to be done with an extra step of precaution. Make sure you totally saturate your hair with water before heading in with shampoo. You can also lightly detangle your wet hair with fingers if you are prone to knots after washing. A hydrating shampoo and conditioner that's packed with moisture is best for curly locks.
2. Squeeze out excess water.
Once your hair is clean and conditioned, it's time to soak up a little bit of that water so your hair isn't dripping wet and water-repellant. Use a soft piece of cotton, like an old cotton T-shirt (regular old towels can cause frizz with their rough texture) to squeeze water out of your hair. If your hair is particularly fragile, it's a good idea to detangle your hair with fingers while it is still wet, before completing this step.
3. Apply some gel.
Now it is finally time to apply curling gel! Before letting your hair dry too much, apply your product. We like TRESemmé Flawless Curls Defining Gel and its alcohol-free formula (a must for curls), and love that it gives high hold and high shine while it moisturizes. To apply, flip your head over and lightly coat your hair with the gel. Around a dime-sized amount of gel is a good place to start.
Fans of a creamier texture or if your curls are susceptible to dryness can also go for a gel-crème, like TRESemme Make Waves Shaping Gel Cream, which has sunflower seed and jojoba oil to moisturize while giving bounce and definition.
If you can do without a crunchy, stiff texture typical of traditional gel formulas, you also might want to look into a gel-serum hybrid, such as Suave Professionals Luxe Style Infusion Curl Defining Gel Serum. It blends the conditioning properties of a serum with the hold of a gel for a whole day of soft, sexy curls.
4. Scrunch it in.
When you have a nice even layer of the gel over your hair, you can scrunch it in for maximum bounce. The goal of applying the gel is to coat your curls so that they maintain their natural shape as your hair dries. It also gives a layer of protection from not only the elements, but also humidity and other factors that could contribute to frizz. It's a curly girls BFF.
5. Let your hair dry.
Gel works as a sort of insurance for drying your curls and maintaining your curl shape. You can either let your hair air-dry, or blow-dry your hair. If you opt to speed things up with a dryer, you should use a diffuser to help define your curls as they dry.
6. Style your hair.
When your curls are dry, you're good to go! Some of our favorite looks for curly girls include date-night curly hairstyles and cool short hair ideas.
Need more tips on using hair products? Read about how to use mousse vs. blow dry lotion.
Prev Article
Next Article
Article
Hairspray and Gel: When to Use What in Your Hair Styling Routine
Similar goals met in totally different ways.
See article
Attempt to assign property "alt" on null
All Things Hair on Instagram