Top 10 Best Hair Gels for Your Hair Type 2022 Edition
Learn more about gel in our ultimate guide to this styling product.
Are you looking for the best hair gel for your hair type? Hair gel is having a major moment in the hair world right now. As one of our OG hair care products, it's certainly been around for a long time but has seen a resurgence with the wet look hairstyles that have been dominating trends for the past few seasons. And while the best hair gel is out there in your drugstore, you also have to consider what hair gel to get based on your hair type and what type of hold you are looking for.
The Best Hair Gel for Each Hair Type
To help you out, we're sharing a list of some of the best hair styling gel products that you can easily find at your local drugstore. Read on to learn about the best hair gel for your hair type:
1. Straight, Fine Hair
Thinner locks crave volume, so make sure to use products that don't weigh your hair down or leave them prone to going limp midday. Lightweight styling gels, such as Suave Professionals Define & Shine Serum Gel are a fun, useful innovation, since most of these coat hair strands evenly while providing some bounce.
2. Straight, Thick Hair
Looking for the strongest hair gel for your thick hair? Thicker hair is fortunate enough to be able to withstand more styling wear and tear, but then can also be prone to dullness and unmanageability. Take control of your hair type's density with a gel that adds lightweight shine and smoothness, like TRESemmé TRES Two Extra Firm Control Gel, which also gives you the super-firm control you'll need without sacrificing body.
3. Wavy Hair
Frizz is public enemy number one for ladies who have naturally wavy hair. The best product for this type is one that both shields from humidity and enhances your natural texture—this is your golden unicorn. An alcohol-free formulation that locks out frizz, such as TRESemmé TRES Two Extra Firm Gel, is ideal for giving moveable but long-lasting hold, a.k.a. the best control for wavy looks.
How to Pick the Best Gel for Curly Hair
Hair gel is one of the trickier hair products to choose for curly hair because the formula and consistency of the product can greatly impact your final results.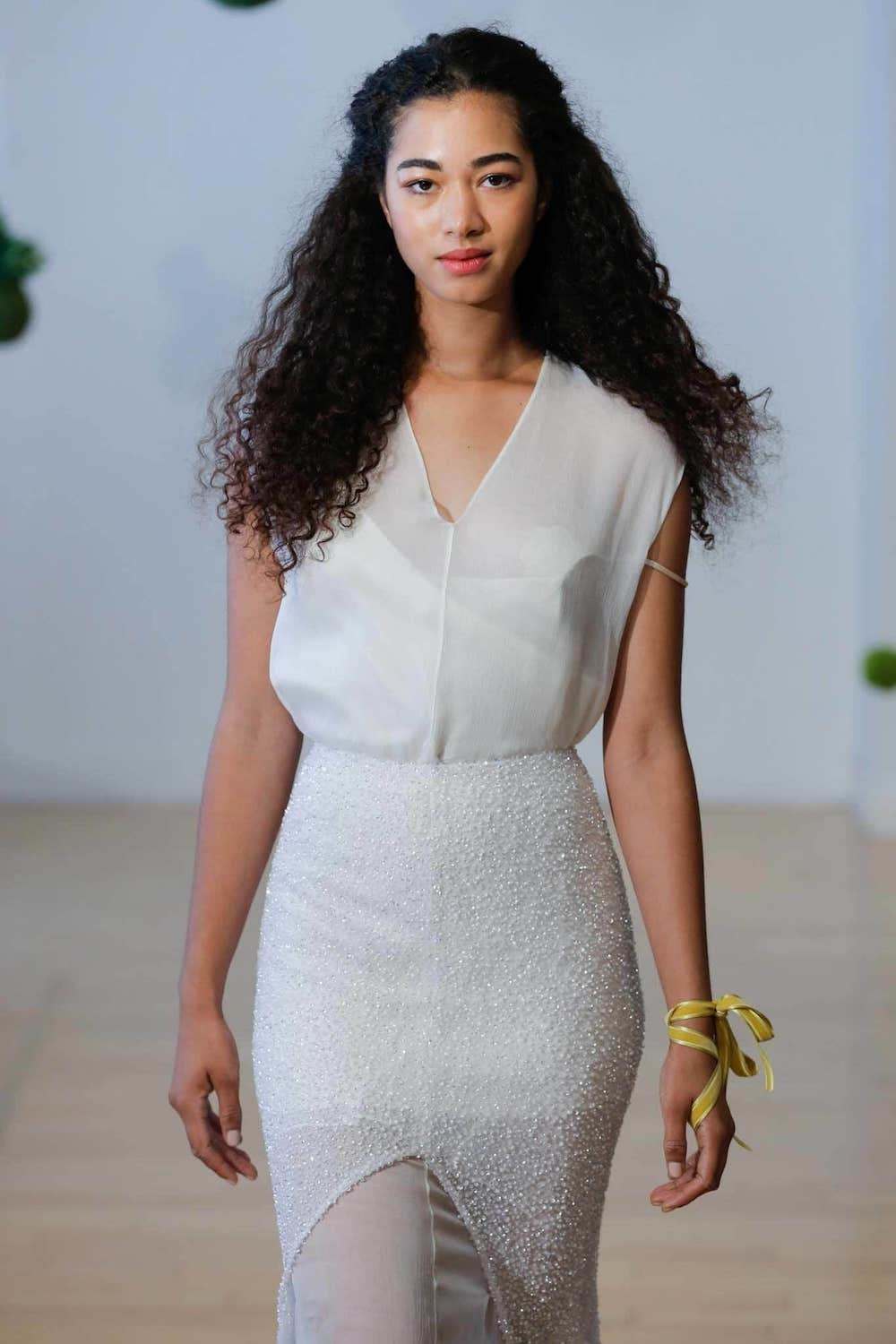 It's important to start by determining if you're looking for a strong curl-defining product, are on the lookout for more of a serum consistency, or are in the market for an on-the-go, easy-to-use spray option.
1. A strong, curl-defining product.
If you're looking for the best gel for curly hair that leads in strength and definition, then TRESemmé Flawless Curl Defining Gel is the one for you. The classic gel-like consistency of this product helps transform your curls into defined and bouncy ringlets. It's truly a miracle product in that it provides dependable hold without making your hair feel stiff.
2. A softer serum consistency.
If you're looking for something that's a little more low-key, then you'll want to opt for a gel serum. The best gel for curly hair that falls within Type 3-4 curl types is Emerge Style Goals Gel. This gel combines the conditioning properties of a serum and the hold of a gel. The results are soft, beautifully defined, natural-looking curls.
3. A quick volumizing solution.
Add strength and volume to your curls with a gel spray, like The Good Stuff Curl Definition Jelly. This product helps give your curls movement and volume without leaving them stiff or sticky. It's also a great option for mornings when you're in a little bit of a hurry; the spray bottle is easy to use and narrow enough to stash inside your bag.
How to Nail the Wet Effect with Hair Gel Products
1. Hairstyle Inspiration: Long, Slicked-Back Tresses
Hair Gel You'll Need: Suave Max Hold Sculpting Gel
Achieving a sultry yet laid-back look with the help of styling hair gel. Using a fine-tooth comb, apply some of the gel throughout your locks to evenly distribute from root to mid-shaft. Leave your ponytail gel-free for an airy and light finish.
2. Hairstyle Inspiration: Wispy Deep Side Part
Hair Gel You'll Need: TRESemmé TRES Two Mega Firm Control Gel
Mix things up with a stylish half controlled, half messy hairstyle. Create a deep side part apply gel only to the front fringe and let it dry. You can give your bangs some extra detail by creating a piece-y look. Simply use the tail of a rattail comb to separate your bangs against your forehead. Once the gel dries, bangs will be set in place. While your hair is drying style the back section of your hair. First, comb or brush to remove any tangles, and to position your long tresses into place, gently tease for a wispy finish.
3. Hairstyle Inspiration: Wet-Effect Updo
Hair Gel You'll Need: TRESemmé TRES Two Ultra Firm Control Gel
Create a sleek, neat, and smooth updo by applying gel to the base of your hair. You may use a brush to help smoothen out your look, especially if you're working with a bit of texture. Secure your updo with an elastic and allow the style to air-dry.
4 Things You Can Do with Hair Gel Products
1. Create a lacquered look.
Want to work that wet look you've seen so much of on the runways in real life? Well, now you can! Check out our wet hair gel guide to get this high-fashion look.
2. Style your short hair.
When it comes to styling shorter cuts, hair gel for women is brilliant for achieving a variety of looks. Use it to smooth down your locks and comb it back for a sharp and slick '80s-inspired 'do, or to create a more shiny, voluminous finish. Work the product through your strands before blow-drying backward with a brush to achieve a fairly strong hold that lasts all day.
3. Gets rid of frizz.
If you're struggling to tame your frizz, try Suave Max Hold Sculpting Gel. This product works to hold onto your style that'll help calm frizzy hair, without weighing it down or getting flaky. Mix in the palm of your hands and apply it to your tresses before or after blow-drying to get a sleeker effect that'll help banish pesky flyaways, too.
4. Pump up the volume.
This holy grail product isn't just for creating spellbinding shape and texture, it can help you achieve volume, too.
We hope you find a hair gel you love in this collection!
Prev Article
Next Article
Article
The Ultimate Hair Gel Guide for Every Hair Type
Get the 411 on the styling gels you need, all tailored to different hair types and styles.
See article
Attempt to assign property "alt" on null
All Things Hair on Instagram