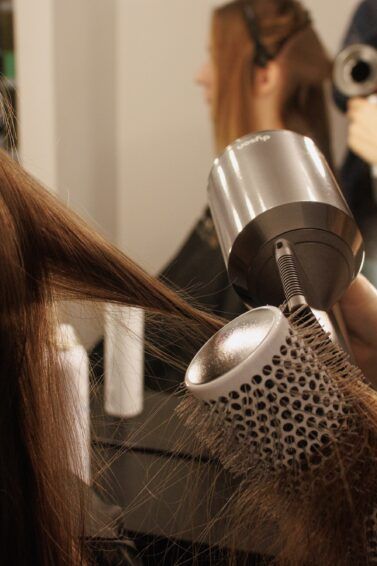 Mastering Your Hair Dryer Attachments: A Foolproof Guide
Accessories make the hairstyle!
Using a blow-dryer to style your strands is never just a 10-minute process of applying heat and going from damp hair to dry. If you're expecting a professional style to come without the use of hair dryer attachments, you might just be disappointed!
We know hair dryer attachments can be incredibly overwhelming and it's easy to decide to leave them in the box and turn to straighteners or curlers post-hairdryer to create your style.
We're here to tell you, however, that you don't need to add all of those hot tools to the mix. Hair dryer attachments are essential for that final touch, and once you understand what they're for and how to use them, you'll be able to achieve that salon-quality finish you crave. Follow our nozzle guide to find out which hair dryer attachment is best for your styling needs. Read on:
How to Use Your Hair Dryer Attachments
1. Concentrator Nozzles
Concentrators are the tapered attachments that direct airflow for a smoother, more concentrated style. They help give you control over the shape of your look, making these the ideal hair dryer attachments for smooth, sleek, straight blowouts.
How to use: Using a medium-heat setting with your hair over a round brush, direct the concentrator nozzle downwards, from roots to ends, for a frizz-free blowout. Repeat the process on the same section, but this time with a blast of cool air for shine.
Finish styling by adding extra volume with a few sprays of TRESemmé Pro Pure Volume Invisible Styler.
2. Diffusers
Diffusers are ideal for wavy or curly hair types. As the name suggests, these hair dryer attachments disperse hot air over a wider-pronged surface to minimize frizz. Some diffusers come with a mesh covering instead of brush-like prongs, which can allow for more democratic wiggling.
Before using, prep your curls with some Suave Professionals Curl Defining Cream. This will hydrate your strands and create fuller, more defined curls.
How to use: As opposed to concentrator nozzles, which work better from top to bottom, diffusers are meant to be used in an upwards motion. Position your diffuser at the ends of your hair, then gently wiggle back and forth to dry hair and sculpt curls with its more gentle airflow.
3. Picks
Picks are those hair dryer attachments that look a lot like hair picks. Some dryers might come with two versions: one short for short hair, and a longer one for long hair. They are meant to create volume and lift, as a regular hair pick does.
How to use: Position the hair pick at the root or base of the hairstyle, and run hair through the prongs while drying, with a slight lifting motion. Much like how gently tugging hair up with our fingers while blowdrying helps create lift, a hair pick helps shoot more volume into the root area and give it hold.
4. Stylers
Styling attachments for hair dryers have recently become a popular option to help users nix other hot tools. These attachments can look like brushes with boar bristles or combs with fine or wide teeth, all provide a smoother and shinier finish.
How to use: Simply run these attachments through your hair like a brush to create your desired finish. You can also create more volume with these stylers. Take sections of hair and focus under the root—this may be easier than trying to master the concentrator.
While learning the ropes of blowing your hair dry like the professionals can seem overwhelming and impossible—it's not! understanding each hair dryer attachment and its role will help you achieve the finish you desire. Don't ignore the attachments that come with your blowdryer, as they are included for a reason. Have fun and don't forget to tag @allthingshairus on Instagram in your pro-worthy looks!
Prev Article
Next Article
Article
What to Look for When Buying a Blowdryer
Know what to look before you go searching for a blowdryer!
See article
All Things Hair on Instagram