How to Find the Best Blowdryer for Natural Hair
Read this before making your next blowdryer purchase. 
Many stylists, hair educators and naturalistas preach that heat is the enemy. If it were up to them heat styling tools such as blowdryers won't be used. Us, on the other hand, we believe that as long as you have the right products and heat styling appliances you are free to do whatever you want with your natural hair texture. I know for sure that I love to wear my hair both curly and straight. After all, the ability to be versatile with my hairstyles is what makes me love my hair even more. However, it wasn't until I found the best blowdryer for my natural hair that I became comfortable with heat styling. If you need a hand looking for the right blowdryer for your natural hair, take the below tips with you on your next shopping trip.
Tips for Finding the Best Blowdryer for Natural Hair
1.You must invest if you're looking for good quality.
True story: One time I desperately needed a blowdryer to style my hair before a holiday party. I headed to the my nearest drugstore and bought the cheapest one I could find (which shall remain nameless). In my mind all I needed was something that would dry my hair and prepare it for straight styling. Long story short, I experienced the worst heat damage ever! Never again will I ever skimp on buying quality heat styling tools.
2. Buy a blowdryer that can be used with a diffuser or comb attachment.
Even if you consider yourself to be a straight natural (wearing your hair straight instead of curly), you never know when you just may want to wear your natural texture. It's good to keep your options open. Do yourself a favor by purchasing a blowdryer that allows you to create any hairstyle you want.
3. Choose ionic over ceramic.
All ceramic heat styling tools aren't bad, however, with an ionic blowdryer you can cut down your blowdrying time, it also helps retain moisture in your hair — which is a must in natural hair types— and helps to reduce frizz. Therefore, the best blowdryer for natural hair is one that is ionic.
4. Heat settings are non-negotiable.
If the blowdryer you're using doesn't allow you to control the heat setting, back away now. You need to be able to alter the heat. Here's something I learned over the years of heat styling my hair: Some areas of my head dry faster than others, and some require lower heat settings than others. This is how I'm able to prevent heat damage along with using protective products.
5. Find a blowdryer you can travel with.
This is something I wish I had in mind when purchasing a blowdryer. Since I don't want you to make the same mistake, here's a tip: Find a blowdryer that fits well into your suitcase or carry-on. You never know when you may need it on a vacation. Sure, most hotels have blowdryers but they may be low quality and it's not worth the heat damage.
For more styling tool tips for natural hair, learn how to use a diffuser on your curlicues. 
Prev Article
Next Article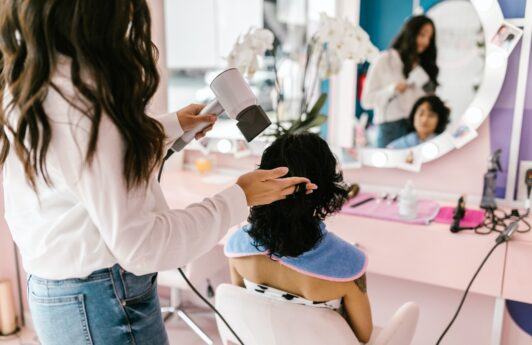 Article
How to Use a Hair Dryer Diffuser in 9 Easy Steps
The hair dryer diffuser is your new best friend.
See article
All Things Hair on Instagram