The Best Hair Dryer for Fine Hair Does This
It gives you mega volume without breaking a sweat. 
When we talk about thin or fine hair, the first thing we usually think of is adding volume with hair products. But hair tools are also an option to scoring some major volume. The best hair dryer for fine hair makes getting more voluminous styles super easy: Your hair dryer should easily work with you in order to achieve fuller-looking, volumized hair without having to put in much effort to get there. The best hair dryer for fine hair should also be able to get this all done without frying your hair and leave it vulnerable to heat damage.
Read on to learn more on what having the best hair dryer for fine hair can do for you:
How the Best Hair Dryer for Fine Hair Helps With Volume
What to look for in a hair dryer
When looking for the best hair dryer for fine hair, you'll want it to be light and easy to handle. Look for hair dryers that are around 1 lb so you don't get tired halfway through the drying process. You'll also want it to have a nice long cord so you don't get caught in a tangled mess. Also, having several temperatures and speed options is also super helpful so you can tailor the process for more efficient drying.
Important attachments
Most hair dryers come with a concentrator nozzle. This attachment is especially important if you'll be using your dryer to add volume to your hair. The concentrator nozzle, as you might guess, focuses the air flowing out of the dryer into one direction. This makes for a faster and more efficient drying process, leading to more precise styles and to help completely dry sections of your hair in a jiffy.
Heat and power
As for power, bigger is always better. The best hair dryer for fine hair should have wattage somewhere around 1875 watts. This will make sure the motor of your hair dryer works hard enough to be able to dry your hair in less time. You'll also need to make sure that your hair dryer has multiple heat settings. This is extra important for fine hair because you may sometimes want the option of a hotter airflow for setting hair in a particular style, and then a cool function to seal in shine, or for everyday blowdrying.
Tools to use with your hair dryer
Besides the concentrator nozzle that should come with your hair dryer, you should look into getting a round brush to use with it. Using a round brush is a super-easy way to add fullness to fine hair. We're big fans of round brushes perfect for fine hair. It has super flexible bristles and a medium size that makes it perfect for adding volume to fine hair without inflicting damage. It's also a mixed bristle version, combining nylon with boar bristles, which are great for adding shine onto hair at a more democratic price point.
How the best hair dryer for fine hair is properly used
The best way to add volume to fine hair is to give yourself an at-home blowout! Start off by protecting your precious strands with a thermal protectant, such as TRESemmé Thermal Creations Heat Tamer Spray on your damp, freshly washed hair. Quickly give your hair a once-over with your blow dryer to get your hair about 80 percent dry. Then, working in sections, use a round brush to over-direct your roots. Next, just dry the rest of your hair as usual with the round brush to create a smooth, chic style.
Prev Article
Next Article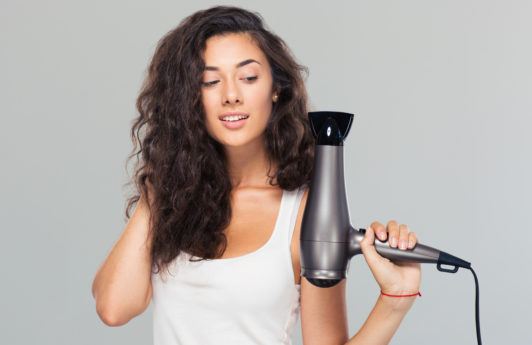 Article
How to Find the Best Hair Dryer for Curly Hair
A guide to help you find the best option. 
See article
All Things Hair on Instagram