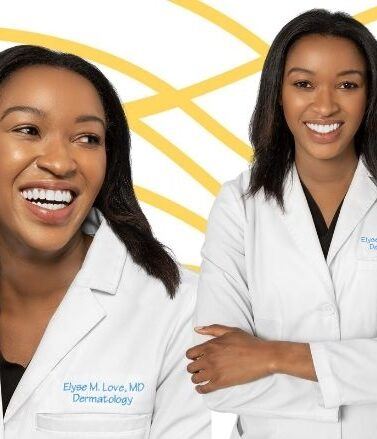 Dove Dermatologist Dr. Elyse Love Explains How Stress Can Lead to a Dry Flaky Scalp
Say goodbye to your dry flaky scalp once and for all.
Has your scalp been feeling extra dry and itchy lately? Maybe you've noticed an increase in hair loss over the past few weeks or months? There's a chance this could be a result of the stress you're experiencing. We talked with Dove Dermatologist, Dr. Elyse Love to learn more about the correlation between stress and a dry flaky scalp. Plus, she also shares her tips for managing a dry scalp and what you can do stop help stop the flaking.
How Does Stress Lead to a Dry Itchy Scalp
Keep scrolling to find out all of Dr. Love's advice for dry flaky scalps.
Dealing with scalp issues can be such a pain. Between the flaking and itching, it can feel like a healthy scalp is such a long way off. However, with the right knowledge and products, you can get a balanced, healthy scalp back.
Impacts of Stress on Your Scalp
It's true, many scalp issues we experience, like dandruff and dermatitis, can be a result of increased stress levels. Dr. Love explains, "Dandruff and seborrheic dermatitis are conditions that present with flaking and itching on the scalp. This is caused by excess oil on the scalp. Stress increases oil production, so dandruff and seborrheic dermatitis can flare with stress." Knowing what is causing your scalp condition is very beneficial so you can start properly treating it. Plus, it's important that you're actively reducing your stress if you think that may be the cause of your scalp concerns.
While Dr. Love explained how stress management isn't a one-size-fits-all approach, she does recommend activities, like physical exercise, meditation, and setting firmer boundaries between being "on" and "off." These three options are a good place to start. You can always adjust based on how you feel and what works for you.
It's no surprise though if you have been feeling more stressed over the past few months or even years. Since the pandemic caused stress and changes in peoples grooming routines at home, Love noticed an increase in scalp conditions. When asked about the increase she told us, "This is partially due to increased stress levels, and partly due to changes in grooming routines with work from home. People are, in general, washing their hair less which sometimes allows oil buildup on the scalp." If you're opting to wash your hair less frequently, it's extra important to thoroughly clean your hair and scalp when you do wash your hair.
Caring for a Dry Flaky Scalp At-Home
If you're looking for an at-home approach to tackling your dry flaky scalp, Dove DermaCare Scalp Thickness Recovery Shampoo, and Dove Dermacare Scalp Soothing Moisture Anti-Dandruff Conditioner. This shampoo helps control the recurrence of itching, flaking, and irritation that is often associated with dandruff. Plus, it provides thicker, fuller-looking hair.
Both the shampoo and conditioner uses Pyrithione Zinc to help control the itching, flaking, and irritation you experience with dandruff and other common scalp conditions. "Pyrithione Zinc is an active ingredient featured in the Dove DermaCare Scalp collection. It contains antifungal and antibacterial properties, which help reduce the amount of fungus and bacteria that can trigger irritation and inflammation on your scalp," explains Love. 
Using a scalp scrub, like Nexxus Clean & Pure Invigorating Detox Scalp Scrub to exfoliate and remove dead skin on your scalp is so important. You can either use this product on wet hair before shampooing or mix your shampoo into it. If you don't want to use a separate scrub to exfoliate your dry scalp Love shares how you can still exfoliate on hair wash days. "When it's a hair wash day, gentle exfoliation and a scalp massage will help to unclog any buildup in your hair follicles.
This will improve dandruff and visible flakes. Feel free to use your own fingertips or try a gentle scalp brush designed to bring into the shower or bathtub with you, says Love." Removing any build-up is a must when dealing with dandruff. 
When to Visit a Doctor
Products like Dove DermaCare and at-home remedies are great for everyday use and may help improve your scalp condition. However, there may be a point when you have to visit the doctor. If your scalp condition ever reaches that level, it's important to know what signs to look out for. "Hair loss, scalp pain, Itching, flaking, and redness that does not resolve with over-the-counter treatment should be evaluated by a board-certified dermatologist," explains Love. Your doctor will be able to prescribe your stronger products than what you're able to buy at the drugstore. 
Stress has the ability to cause a dry flaky scalp. To help with concerns, it's important to keep your stress levels low while also using the correct products.
Prev Article
Next Article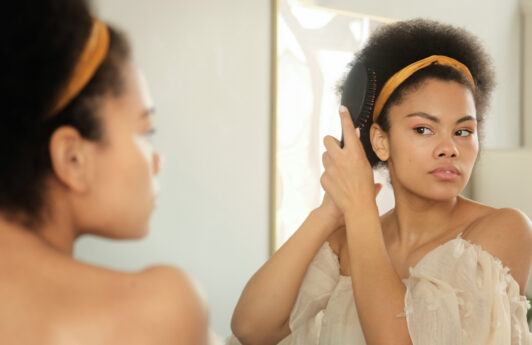 Article
Everything You Need to Know About Itchy Scalp Causes and Cures
Itchy scalp? It doesn't have to be a problem. Let's tackle it.
See article
All Things Hair on Instagram