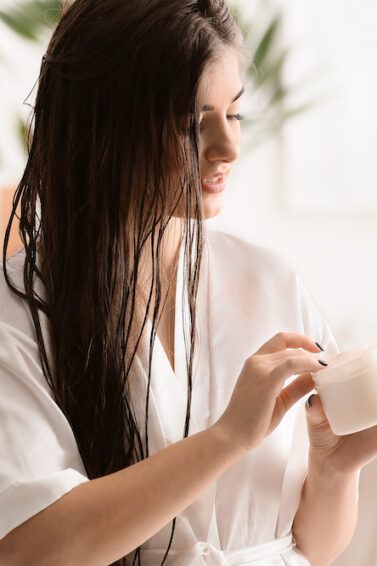 Guide to Apple Cider Vinegar: Hair Benefits and How to Use It
Frizz-fighting, detangling, and cleansing..what can't this essential ingredient do?
This multi-tasking product seems to be cropping up everywhere, from apple cider vinegar-infused gummies to face masks that boast ACV as the first ingredient. The benefits seem endless, and it's no surprise that this beauty closet essential has benefits for hair. Admittedly strongly-scented, we are willing to bet that you won't even care about the pungent smell when you realize that ACV might be the haircare solution you have been searching for.
Think of apple cider vinegar as a fermented version of apple juice, where yeast and bacteria are added to convert the sugars to alcohol. From there, the alcohol is converted to vinegar, which promotes a healthy scalp and makes your haircare routine much easier. Are you curious to learn more about ACV? Read on:
The Benefits of Apple Cider Vinegar
ACV is frizz-fighting.
Apple cider vinegar fights frizz by flattening the hair cuticle for a moisturized and shinier finish. The acidity agents battle roughness by smoothing and sealing the cuticle. Incorporating ACV into your hair will help you cut down on the frizz factor in your strands.
A master detangler.
Because ACV smooths the hair cuticle, it automatically makes your hair easier to detangle. Consider this all-natural alternative for a detangling product that won't let you down.
A healthy scalp essential.
Because apple cider vinegar is antibacterial and anti-fungal, it can help keep the pH levels on your scalp balanced. Seek out ACV-infused products or create your own DIY concoction to boost your scalp's health.
A cleansing superstar.
If you are someone who uses dry shampoo on the regular or depends on mousse to keep your curls in check, ACV might be the best way to cleanse your scalp from buildup.
The acidity in apple cider vinegar cleanses in a deeper way than most shampoos and might be a helpful addition to your haircare rotation. Be prepared for a super-clean feeling unlike anything you have felt before.
Apple Cider Vinegar and Hair Types
Because apple cider vinegar is extremely acidic, it's one of the strongest ingredients you might ever use on your hair outside of the salon. Due to that reason, it's essential to dilute the ACV in a formula that balances out its strength.
ACV is suited for all hair types, and anyone with color-treated locks shouldn't worry about how it will affect the longevity of your color. Those with dryer hair types can also use ACV, but experts recommend a stronger water: ACV ratio to make sure the vinegar doesn't further dry out your hair.
How to Use Apple Cider Vinegar
Step 1: Mix your formula.
Experts recommend mixing a ratio of 5:1 parts water: ACV for best results.
Step 2: Spray away.
Combine these basic ingredients into a clean spray bottle and spray your scalp well, focusing on the roots of your hair.
Step 3: Work your solution in.
Use your fingers to work the product into your roots and down through your strands, really taking time to massage it into your scalp.
Step 4: Let the ACV work its magic.
Allow the mixture to sit for 10 minutes, and then rinse your hair and scalp well!
Editor's note: Plenty of hair products on the market are infused with apple cider vinegar. If you aren't quite ready to go the DIY route, they might be a good place to start!
Prev Article
Next Article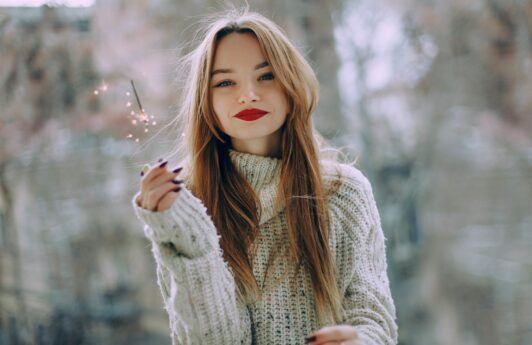 Article
Benefits of Using Natural Oils for Hair and How to Choose the Right One
Find out how to use these oils and how they really work on your hair.
See article
All Things Hair on Instagram