How to Do a Man Bun in 3 Ways
Tap into the man bun life with these easy tutorials.
You Will Need
You're the kind of guy who marches to the beat of his own drum and you've patiently grown your hair out past your shoulders. But you've started to realize that day-to-day hair maintenance is no joke. From your new washing routine to brushing your hair, you might even be starting to feel the pain us ladies have been enduring for years! We'll let you in a little secret/not-so-secret: You can put your hair up into a man bun as another option to style your hair. This look can be worn for the office, a casual weekend or when you play sports. Whether it's your first time trying or you've had several unsuccessful attempts already, we've got you covered in your path to creating the perfect man bun.
Read to learn more about how to do a man bun in three stylish ways.
Look 1: How to Man Bun
Step 1: Use dry shampoo.
Dry shampoo helps soak up all of the grease and excess oil in the hair leaving your hair feeling refreshed and ready to style. Hold Dove Detox & Purify Dry Shampoo six-inches away from your roots as you spray the product on your hair. Use your fingers to massage the product throughout your hair. After this, use a brush to detangle your hair.
Step 2: Use a blow dryer to create a bit of volume.
With the concentration nozzle attached, use a blow dryer to give your hair and roots a quick blast to create a bit of volume to your hair.
Step 3. Brush hair upwards to create a smooth high ponytail.
Apply some of Dove Men + Care Defining Pomade to create a smooth base and to tame cowlicks. Use your brush to smooth hair up into a high ponytail. Try to position your man pony at eye-level, this is a great technique to use when trying to determine which height is best for you. Secure your ponytail with a hair elastic.
Step 4: Wrap hair ends [neatly] into a bun.
The goal of the modern man bun is to have a bun that's neat, controlled, and handsome. Brush the ends of your hair to smoothen, then twist the length of your hair. Roll your coiled ends into a bun right around your hair elastic.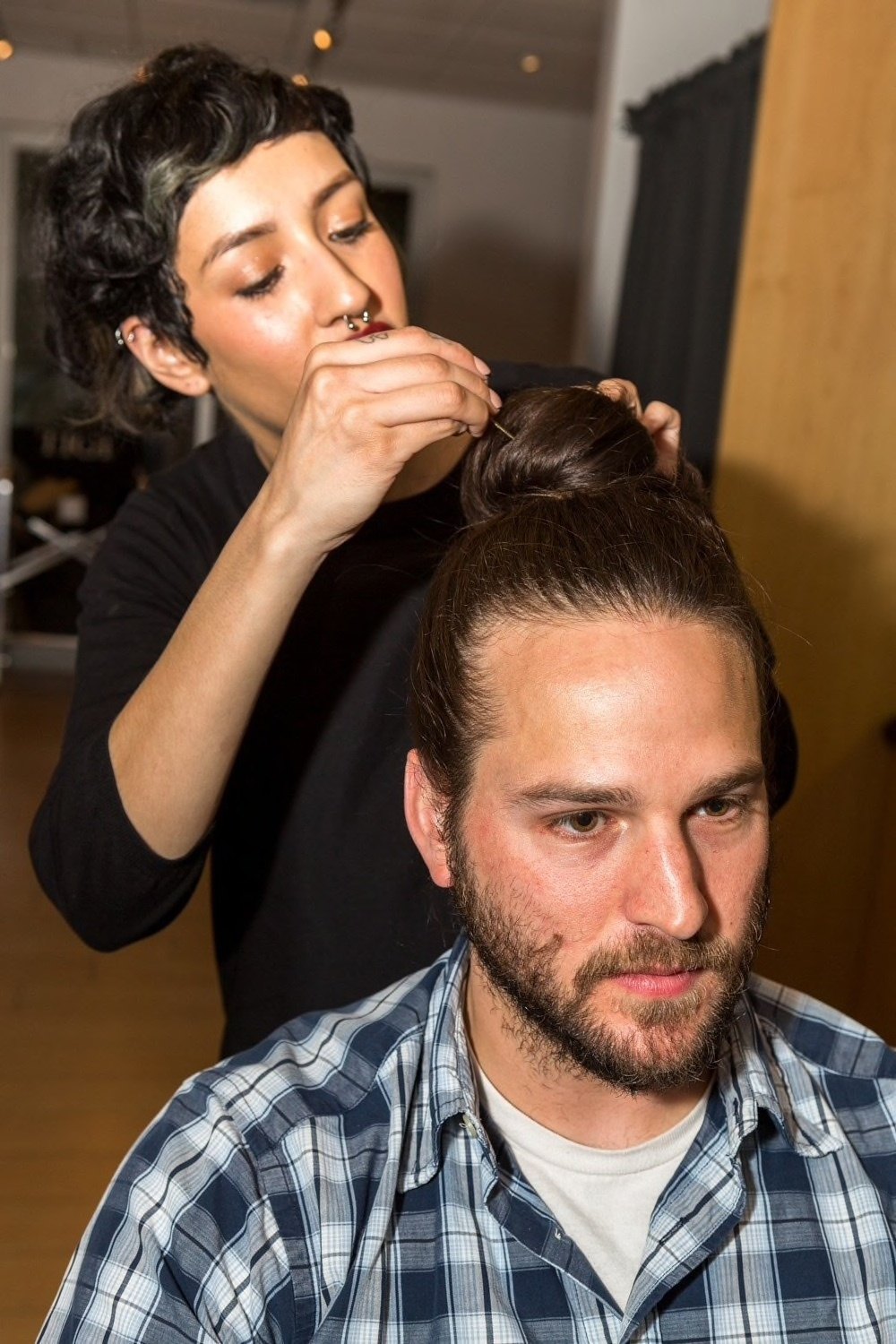 Step 5: Use hairpins to lock your modern man bun in place.
Grab some hairpins and tuck them into the bun. This will ensure that you won't have to worry about re-doing your man bun again throughout the day.
Look 2: How to Put Your Hair in a Man Bun (with a Twist)
Look 3: How to Tie a Man Bun in Under 3 Minutes
Step 1: Brush your hair.
Skip the morning shower—you're wearing an updo, all is forgiven—and just reach for that flat brush. Remove all tangles with some well-meaning brush strokes from roots to ends. Time: 30 seconds.
Step 2: Apply some pomade.
Providing your hair isn't limp from buildup from the day before, you'll definitely benefit from a styling product to keep that look polished and frizz-free. Apply a finger-swipe of non-greasy pomade—we like Axe Signature Clean Cut Look: Classic Pomade—evenly onto palms. (Tip: Rubbing your palms warms it up for a smoother application.) Spread evenly from hairline to ends. Time: 1 minute.
Step 3: Refine with a comb.
Give your strands a quick pass with a fine-toothed comb just to make sure your product is evenly distributed. Get your hair tie on the ready. Time: 30 seconds.
Step 4: Tie it up.
Short to medium hair: Gather hair up into a ponytail, and with a free hand, keep looping your elastic around the ponytail until it's tight enough to be left as a knot. The ends are to be left tucked into the elastic for the final look.
Medium to long hair: Gather your hair up into a ponytail, then twist the hair tightly to resemble a rope. Coil the rope around itself, forming a bulb or knob. Tie the elastic around the base of the knob, maybe twice or thrice, to secure. You're done! Time: 1 minute.
You Will Need
Prev Article
Next Article
Gallery
7 Hip Hairstyles for Long Haired Men for Summer
Summertime, and the hairstyling is easy.
See article
All Things Hair on Instagram