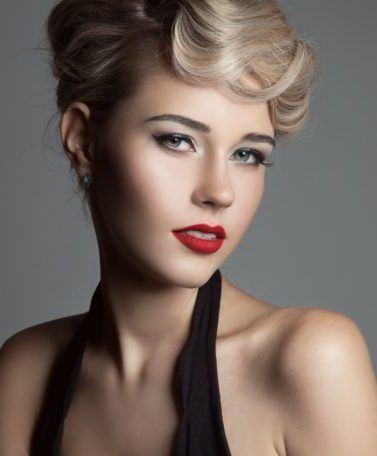 How to Get the Perfect Vintage-Inspired Haircut
Old school hairstyle tips to inspire your look in 2017.
Is your hair goal to re-live a long-gone era with your hair? We think that's awesome! Vintage-inspired haircuts are some of our favorites because they have so much history and style at the same time. You may or may not know that a lot of styles that are popular today started off as vintage-inspired cuts. Hello, modern lob? We're looking at you! Read on to learn more about how to score the perfect vintage-inspired haircut.
Getting a Vintage-Inspired Haircut: What to Do First
1. Do Your Research
What is it about vintage-inspired haircuts that you totally love? What decades inspire you? The first step to figuring out your best vintage-inspired haircut is to get lots of inspiration! We've done quite a few articles on popular haircuts through the ages. Take a look at the cuts that were popular in the '40s, for some old school inspiration. Or maybe look through hairstyles that were popular in the '70s for that flower power look.
2. Find a Flattering Cut
Whatever era of style is your favorite, you'll want to find a haircut that looks good on you! The good thing is, most vintage styles look good on just about everyone. Can you imagine someone not looking super cute wearing victory rolls? We certainly can't. When you're looking at vintage-inspired haircuts, think about what length you find most flattering on yourself. The 1950's gamine pixie is super cute but it's also on the short side for modern pixies. You may then want to look at longer cuts like the '40s pageboy, or the '70s shag!
3. Make Your Cut Modern
Did you know that the modern bobs and lobs you see pretty much everywhere were vintage-inspired? They have come a whole long way from the original bobs of the 1920s. Bobs in the '20s were often worn with short, blunt bangs and were almost always curled under. The bobs and lobs we know and love have evolved to be less vintage inspired and more modern. So, take a look at your preferred vintage cut. Is it typically worn with bangs? Try it without the fringe. Have you found it to be mostly worn with pin straight hair? Try it with beachy waves.
4. Vintage Hair Styling Essentials
When styling your fresh new vintage-inspired haircut, why not use vintage-inspired tools? Using a boar bristle brush is great for making those sleek, soft vintage looks, and it's also super good for your hair. Brush with a little bit of styling gel to get that sleek finish. We love adding a spritz of TRESemmé One Step Styler Curls Crème-Gel as we brush for that perfect shine and smooth texture.
If you're more into the va va-volumized look of the late '50s and early '60s, get friendly with your hairspray. Use TRESemmé TRES Two Freeze Hold Hairspray after you finish your hairstyle will ensure that your retro hairstyle lasts all day long.
These are our steps for achieving a vintage-inspired haircut, have fun with it!
Prev Article
Next Article
All Things Hair on Instagram