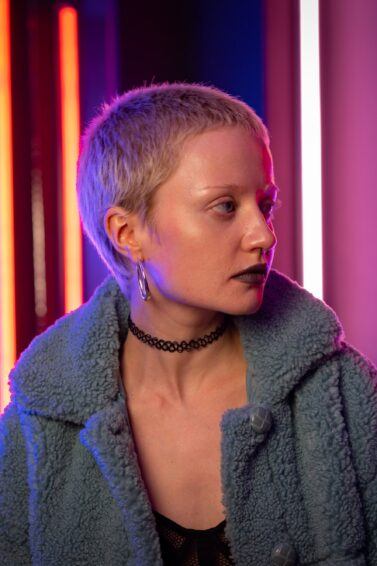 Shorter and Sweeter: How to Style a Pixie Cut with Accessories
Bring that short 'do into new heights.
There's nothing quite like a simple, unembellished pixie to showcase your personality. That head-turning cut is the hallmark of the style, after all. But that's not to say we don't love a good hair accessory now and again! In the end, the trick to knowing how to style a pixie cut lies in being just a bit more creative; what it lacks in length, it makes up for in texture and sometimes, those all-important add-ons.
Now that the hard part is over (getting the cut itself), we can focus on the fun: accessorizing! It's challenging to create different looks on really short hairstyles, but with a few well-curated and ingenious products, it'll be a while before you go back to a basic 'do. Check out a list of some of our favorite accessories below:
How to Style a Pixie Cut with Accessories
1. Thin headband
We're betting you already have this in your vanity for emergencies (you know, that time when you cut your own bangs?). It's high time to bring this essential out to play again, as it's going to prove to be the most versatile hair accessory you own when it comes time to learn to how to style a pixie cut. To style, apply a mousse (we like the natural-looking results from Nexxus New York Salon Care Mousse Plus Volumizing Foam on damp hair and blowdry the top of your head with a round brush for volume. Create a side part at the hairline, leaving the crown sectioned off towards the back. Wear the headband right before your crown starts for a faux beehive effect.
2. Double-strand headband
Like your thin one, only better! Using our pre-established bouffant trick, wear the headband on blowdried hair but leave the bangs piecey for an unexpected modern twist. Rub some molding balm, such as Bed Head by TIGI Joyride, onto your fringe and finger-style as needed.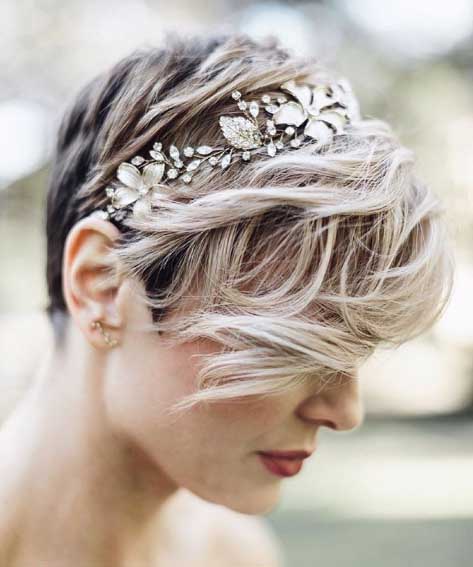 3. Fabric headband
Before you think that this was solely for gym territory, think again. A thick elastic band is a cute, vintagey accessory that looks especially fetching with equally mod hairstyles like the pixie cut. Wear as you would a thin headband with your bangs swept to the side from under the band, or for a gamine, '60s appeal, wear the band over a side-swept hairline to keep your hair out of your face. Bonus: The better to see with!
4. Embellished hairband
You don't need to look like you're actually going to the races to wear your glamorous headgear. Look for hairbands with built-in flourishes such as feathers, bows, tiny fascinators and even mesh for some old-school romance. To keep with the glam of the era, make sure your locks are seal-slick by using a shine serum that also conditions, such as Dove Regenerative Nourishment Serum-In-Oil.
5. Video-vixen fedora
We may have thought we brought sexy back with the resurgence of the fedora… and we were right (God bless the Noughties!). Thankfully, this is also a hat that accentuates the funk appeal of your 'do without being aggressively in your face. Paired with a plain tee and bug-eyed shades, the look is pure dandy-boy cheek. Muss up your strands—especially the ends, which peek out from under the brim—with a texturizer like Nexxus New York Salon Care Exxpand+ Volumizing Whip to keep the look modern.
6. Bow barrette
Sweet but also a tad meta, the ribbon-shaped barrette is a fun update on the normal hair clip. Shake up its practical function by wearing it on unexpected sections, like on the center of a pouffed-up crown (see: thin headband) or on a random middle section where it has no purpose but to yes, look devastatingly cute. And how to style your pixie cut with a bow clip? Blowdry hair that's been prepped with a styling lotion such as TRESemmé Beauty-Full Volume Hair Maximizer and you're good to go. 
7. Bobby wave
#Throwback to the Roaring Twenties with a set of bobby pins worn on one side of your pixie cut. For the whole nine yards, create flat waves with a curling iron and secure your main part by affixing several bobby pins, one atop the other, on your bang area. If you're in a rush, simply smoothen hair down with a glossy shaping cream like TRESemmé Make Waves Shaping Gel Cream before sectioning and pinning away.
8. Hippie headband
Whether you want to channel Daisy Buchanan or go the full-on festival route, spiff up your pixie cut by wearing a thin elastic headband around your entire head—yes, over your bangs. To keep strands from greasing up your forehead, wash with a clarifying shampoo and keep some dry shampoo, such as Suave Professionals Moroccan Infusion Weightless Dry Shampoo, on hand for revitalizing touch-ups.
What accessories do you use when asked how to style a pixie cut?
Prev Article
Next Article
All Things Hair on Instagram