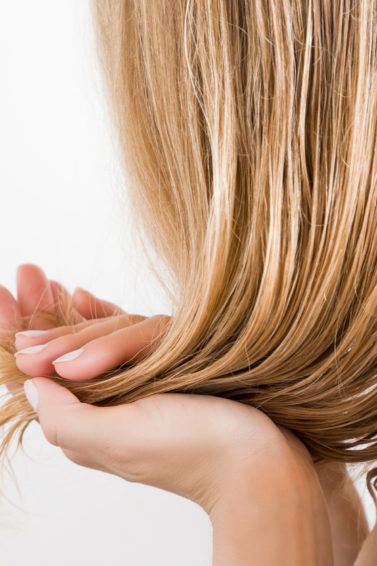 No-Rinse Hair Conditioners: What Every Lazy Girl Needs
Changing the wash day game.
There seems to be a huge craze about no-rinse hair conditioners and we're sure all the girls that prefer a seamless and quick hair care routines are happy. There's nothing like spending less time on your hair on wash day. No-rinse technology not only saves time, but they contribute to the well-being of our planet by decreasing water consumption.
Not sure what no-rinse actually means? Don't overthink it. The name says it all. It is essentially a leave-in conditioner. No-rinse products are meant to be applied to your hair without following up with rinsing it out. Love the sound of this? Read on for new no-rinse hair products on our radar.
No-Rinse Hair Conditioners for Lazy Girls
1. No-Rinse Conditioner for Damaged Hair
Need no-rinse conditioners for your damaged and dry hair? The Good Stuff Complete Repair Balm is formulated for damaged hair is packed with highly-potent, active ingredients. Use this leave-in formula for repair, moisturization and smoothness. The lightweight micro-silicones shield your hair from daily damage and the glycerin found in the formula provides hair weightless moisture.
2. No-Rinse Conditioner for Colored Hair
It's already a rule of thumb to wash less frequently when you have color treated hair. So it's a good idea to incorporate no-rinse hair products into your hair care routine. The Good Stuff Color Protect Milk provides your colored hair with the strength and protection it needs. The plant-based smoothers nourish and revive tired, colored hair, leaving it radiant and glossy.
3. No-Rinse Conditioner for Frizzy Hair
The Good Stuff Frizz Control Oil is a conditioner oil blend. However, don't let the word oil throw you off. The lightweight formula absorbs quickly and doesn't add heavy weight to your strands. Use this conditioner for smoothness, flyaways and shine.
Prev Article
Next Article
Article
Follow These 5 Tips to Achieve the Long Hair of Your Dreams
Yes, it is possible to get the long hair you've always wanted!
See article
All Things Hair on Instagram