The "Stand Out In a Crowd Hairstyle" Tutorial from the Monse NYFW SS '18 Runway
The spotlight is on you, girl!
You Will Need
While sporting the latest hair trends that everyone and their best friend is in love with is cool, there's just something unique about wearing a hairstyle everyone else isn't wearing. This is how you set yourself apart from the crowd. After all, we all get tired of trends and want to try the next best thing. A unique hairstyle will help you stay ahead of the game. Don't you consider yourself a trendsetter anyway? Monse fully supports this idea. For the SS' 18 collection, TRESemmé New York Fashion Week Stylist, Odile Gilber created a "stand out in a crowd" hairstyle.
This season, we're challenging you to step out of your comfort zone. Don't watch what everyone else is doing and try a hairstyle that draws all the attention to you. Whether you're looking for a unique style for your birthday, your wedding festivities or just to make your own style statement, read on to learn more about how you can create stand out from the crowd hairstyles straight from the runway.
Monse NYFW SS '18 Stand Out In a Crowd Hairstyle Tutorial
At a glance you're probably thinking, this is just a simple ponytail hairstyle but it really isn't. Your average ponytail 'do would take you about five minutes, you don't need any product and you can do it without a mirror. For this "stand out in a crowd" hairstyle, you need all of the above. Sorry ladies, sometimes standing out requires a little extra effort but it's worth every single minute.
Step 1: Start by washing your hair with TRESemmé Keratin Smooth Color Shampoo & Conditioner to smooth and protect colored hair.
Editor's note: If you're not starting off with clean hair, use a dry shampoo to help you start off with an oil-free base before creating your hairstyle.
Step 2: Spritz damp your hair generously with TRESemmé Keratin Smooth Heat Protect Spray to safeguard your from heat styling tools.
Step 3: Use a diffuser to rough-dry your hair, then gently wrap small sections of your hair around your finger to frame the face.
Step 4: Lightly spray some of the TRESemmé TRES Two Freeze Hold Hair Spray over all the hair, comb back with a brush and secure in a ponytail at the top of your crown. According to Odile Gilber, TRESemmé NYFW Stylist "The level of the ponytail is important, align with the top of your ears to give you just the right amount of height."
Step 5: Back comb your ponytail to create messy texture and volume.
Editor's note: If you need a quick lesson on how you tease hair to create volume. We've got the easiest backcombing tutorial for you.
Step 6: Wisp your hair out around the hair line to create an effortless, sporty look.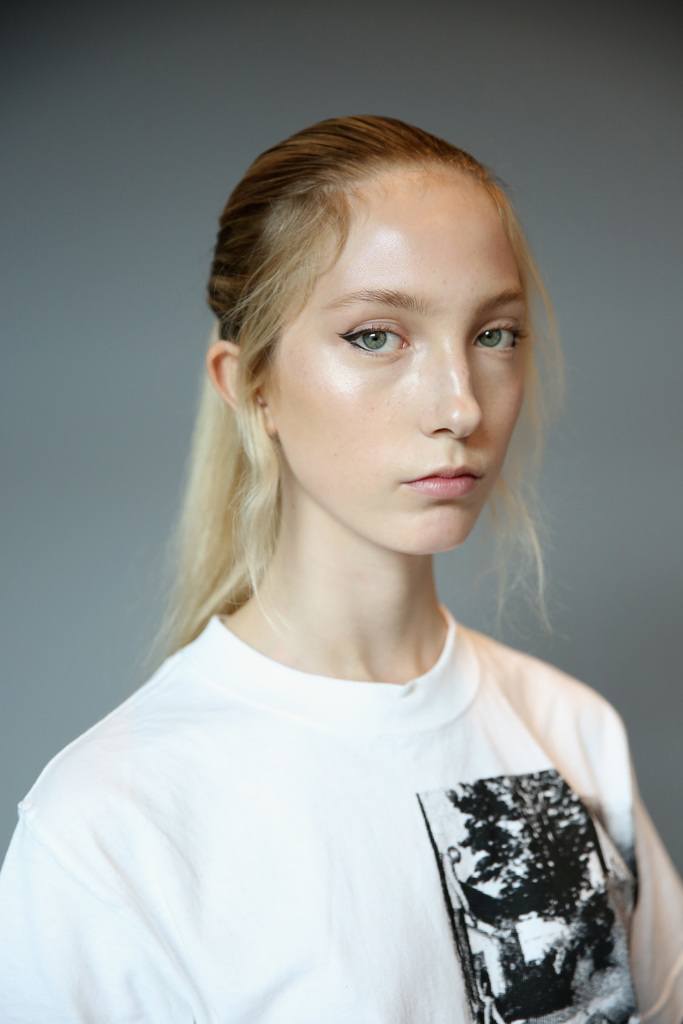 If you love textured styles like this, you'll also love the look from the Jonathan Simkhai Runway. Here's how you can get textured hair with secrets from backstage. 
You Will Need
Prev Article
Next Article
Gallery
Independence Day Hair: 9 Red White and Blue Hairstyles for 2020
Red, white, and blue sure look good on you!
See article
All Things Hair on Instagram