5 Easy and Chic Brunch Hairstyles
Step up your brunch game with these fabulous hairstyles
For many of us, brunch has become a weekly ritual. This mealtime get together is so much more than just delicious salty and sweet indulgences, it's a lifestyle. Brunch is about the venue, the drinks, the food, and looking/feeling as good as that eggs benedict you ordered. Sometimes you have time to pick out an outfit and style your hair to look perfect for that 'gram you know you're going to want to post, and sometimes you had a late night out Saturday and want to sleep in until the last possible minute before brunch commences. These brunch hairstyles are great inspo for your next Sunday meal out with friends, family and loved ones.
5 Brunch Hairstyles Perfect for Your Next Sunday Out
1. Styled Waves
Effortless waves are great for any event and time of day. Adding some tighter waves and texture gives the style more of a natural look and is easy to create with day old hair. When using your curler, create some looser waves and some tighter waves. Focus on starting lower on some sections of hair and higher up on others to create more of a chaotic look. Spritz in some Suave Professionals Sea Mineral Infusion Texturizing Sea Salt Spray and run your fingers through your curls to separate the ringlets to add a "bedhead" aesthetic.
2. Statement Headband
If styling your hair in the morning before brunch is just too much effort, then don't stress! Find a fun statement headband that you can use either to hold your hair out of your face or to solely serve as a cute accessory, it's easy and will add to your brunch aesthetic.
3. Messy High Ponytail
Ponytails are great for a Sunday hairstyle. They can be used on clean or dirty hair so whether you woke up early or hit snooze one too many times and are rushing out the door, a messy high ponytail will always look good. This carefree style is more dependent on volume and height in the ponytail than from the root, so back-comb your ponytail until gets the volume you desire and then spray it with TRESemmé Compressed Micro Mist Hairspray Boost Hold Level 3 to keep the "messy" look intact during your brunch!
4. Emphasize Curls
Emphasize your natural curls and give them lots of volume for a natural brunch hairstyle that requires minimal styling time. Keep your curls soft and hydrated with TRESemmé Flawless Curls Extra Hold Mousse. This product will keep your curls healthy and defined all day with its extra-hold styling power and alcohol-free formula.
5. Box Braids
Box braids are overall a great hairstyle choice. They're protective, stylish, and long-lasting. This is a great brunch hairstyle since they're low maintenance but add texture and style to any look. Consider adding jewelry or highlights to the braids to step up your brunch box braid game.
Prev Article
Next Article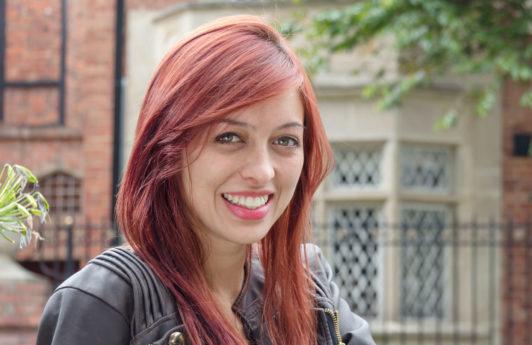 Article
Should I Dye My Hair Red? Tips to Know
Tips you need to know for getting a red dye job.
See article
All Things Hair on Instagram