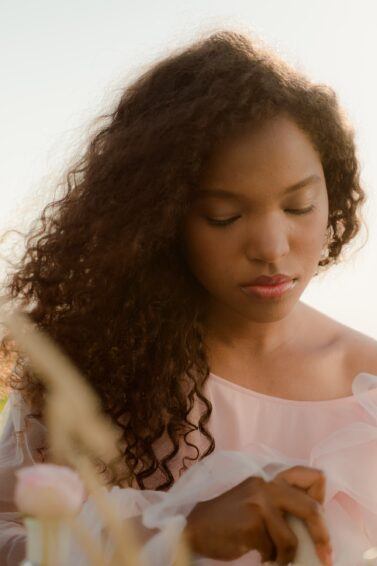 How to Curl Your Hair With a Curling Wand
All about that #ClampFreeLife.
Learning how to curl with a wand is easier than you might think. If you're ready to add curly texture to your look, then it's about time you try using a curling wand. We love wands specifically because the tool gives a looser, more lived-in curl, which is totally on-trend this year–it's practically becoming a classic look.
Our curling wand tips will help guide you through using your hot tool, as we've accumulated all the little tricks up our sleeves for making sure you get the best style ever. Read on to learn how to use a curling wand, how to curl specific lengths or hair, and our best curling wand tips:
How to Create Loose Waves with a Curling Wand
Learning how to use a curling wand is a lot easier than you may think. Scroll down for our tutorial and tips.
Step 1: Choose your curling wand.
Curling wands are fabulous tools for more than one reason due to their shape and the fact that without a clamp, they don't create unsightly creases that are pretty much inevitable with regular curling irons. What's more, the universal tool allows you to create everything from tight curls to super loose waves based on the way you twist your hair around the barrel. When it comes to bouncy flowing waves, simply choose a curling wand wider than 1″.
Step 2: Prep your hair.
Before you begin styling your hair, we recommend nourishing it with an ultra-moisturizing, curl-prone combo like Suave Luscious Curls Shampoo and Conditioner. This duo will target the driest patches of hair so that your curls will be full of life and shine.
After you towel-dry your hair, add in Dove Curls Defining Mousse to set the stage for your look. Not only will the product boost your curls, but it will smooth your cuticle too which will lead to a more polished headful of waves.
Step 3: Select your heat.
Now that your hair is dry, you're ready to curl. To shy on the side of caution, start by selecting the lowest heat on the wand. Once you begin curling your hair, if the curl keeps falling out, it's safe to assume you can amp up the heat a bit in order to achieve a lasting look. This often happens with super thick hair because it tends to require a bit more heat to lock in the look.
Step 4: Start curling.
Once you're ready to begin curling, pick a section and simply wrap your hair at the base of the iron and move towards the tip. To set the curl all you have to do is hold the wand in place for a few seconds, but not longer than five to seven to avoid burning your hair. When curling, your iron should be on its end so that the base is higher up on your head and the tapered point is more towards the ends. Focusing your curling wand on this position, it will allow for a more natural curl pattern.
Step 5: Shake out your curls.
After curling your whole head of hair, flip your head over and shake it out. And just like that, #CurlMagic.
Now, we know you're going to love, love, LOVE your waves, but it's important to never overdo it with heat.
That said, when you use your curling wand but want to make the look last, simply refresh your hair with a little dry shampoo, like Dove Volume and Fullness Dry Shampoo
How to Use a Curling Wand: Our Top Tips
These tips on how to curl with a wand are quick, easy, and will help you achieve the perfect curled style.
1. Start With Day-Old Hair
This is one of those often-mentioned tricks that really work. If for whatever reason your hair is a little bit oily, it tends to hold a curl much better. Keep this in mind if you have hard-to-curl hair! Just make sure you brush your hair through with a boar-bristle brush to distribute all the oil before curling.
If your hair looks a little limp after styling, use dry shampoo like Suave Hair Refresher Dry Shampoo to refresh your roots.
2. Never Skip Heat Protection
Before you ever use heat on your hair, you need a protectant. Spritz TRESemmé Thermal Creations Heat Tamer Spray for a soft, protected styling experience.
Tip: You'll want to make sure it dries before curling your hair to avoid "hot spots."
3. Curl Vertically For Ringlets
Have you ever seen those photos that show different curling wand tips on how to wrap your hair around the barrel? Those are cool and all, but the angle you hold the wand is almost more important. You want to keep your angle the same over your whole head to get a uniform look. But, on top of that, the angle will change the look of your curls. Straight up and down? That will give you uniform ringlets. Sideways? A more structured wave.
4. Curl Horizontally For Voluminous Waves
For bodacious bombshell waves, hold the curling wand totally horizontally. This encourages your waves to look larger and more voluminous. Oh, and on top of that, if you follow our next two curling wand tips, you'll get perfect mermaid hair. Promise.
5. A Bigger Barrel Equals A Wavier Curl
If your goal is big waves, go for a big barrel. Sure, you can achieve a larger curl from a 1-inch curling wand. But when waves are the goal, the bigger the better when it comes to barrel size. Start with a 2-inch barrel for your best bet.
6. Curl Lower On The Head
To get an effortless look, begin your curls lower down your hair shaft. You don't need to start curling all the way up by your roots. Instead, start curing your hair around ear height. This leaves your roots mostly straight, and your lengths curly. Using this curling method achieves a fresh, modern look.
After your hair is completely curled, add more grit with a sea salt spray if that's your thing. Lastly, shake through for texture.
7. Use The Ponytail Trick
If you have thin-ish hair, you can curl it in just under five minutes. Yes, we're totally serious!
Start by pulling your hair into a high ponytail. This prevents you from curling your roots (which basically nails our previous curling wand tip all on its own). Then, just curl the ends and lengths of your ponytail. That's it! You'll have to hold your hair on the barrel a few seconds longer, but it's overall a much faster way to curl.
How to Curl with a Wand for Your Hair Length
The next hurdle is figuring out which wand is best for your hair length.  As you've probably experienced via numerous trial and error sessions yourself, the size or width of the barrel can either make or break a look. However, not only is it impractical to splurge on different barrel sizes as your hair grows out, but it is also unnecessary once you know the basic tricks of the trade to oomphing up each hair length.
How to Curl Short Hair
Tousled curls are a dynamic way to break up the monotony of a bob or short haircut by introducing some volume and movement into the look—not to mention give natural textures a break from the flat iron. You can even experiment with twirling in different directions for a sexy, carefree feel.
Repeat the above steps on all sections and mist with a light hairspray, such as TRESemmé TRES TWO Ultra Fine Mist Hairspray, 12" away from your head for a cute, swingy result.
Curling Medium-­Length Hair
Messy, cool­-girl waves have been making their way to the limelight with medium­ or shoulder-length hair. These waves work rather well with second­-day hair, and after a tiny dusting of dry shampoo at your roots for a quick refresh, all it takes is a spritz of heat protectant, such as Dove Smooth & Shine Heat Protectant Spray, and you're good to go. Using your ears as a reference starting point, twirl hair around the barrel from the mid-length to tip, respectively.
Don't stress about getting each section uniformly curled; on the contrary, a more random, relaxed finish is what you're aiming for. Lightly brush out each section after you're done, then spray some hairspray onto your hands and refine each tendril with your fingers as needed.
How to Curly Long Hair
A lot more length means a lot more volume is allowed. Long hair looks its best with full­-on sexy curls—no need to shy away from drama here. To start, prep hair with a blow-dry primer, like TRESemmé Thermal Creations Blow Dry Balm, for some traction and start sectioning off your locks.
Starting with your bottom sections, twirl hair around a curling wand or iron, this time making sure you twist away from your face—this opens up your features and brightens your overall countenance, imparting that glamorous bombshell vibe.
Using the top-­to-bottom curl method as with medium-­length hair, make sure to twist the entire length of the shaft, from ear-­length to tip. Gently finger-­separate the sections once you're all done just to soften each tendril.
Flip hair over for added va­-va-­voom and set with a light, brushable hairspray such as Nexxus Styling Comb Thru Finishing Mist for good measure.
Whether you have short, long, or medium-length hair you can easily use a curling wand to create voluminous bombshell waves or perfectly curled ringlets.
Prev Article
Next Article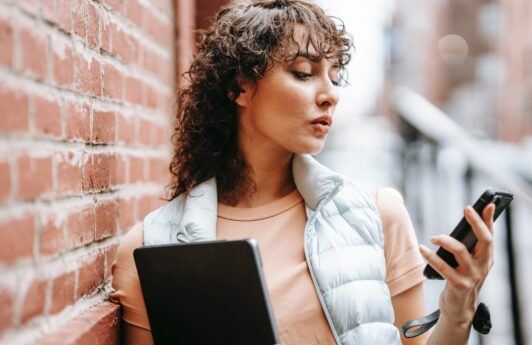 Article
How to Curl Hair with a Flat Iron Like a Pro at Home
Get more mileage out of your hot tools with some styling hacks.
See article
All Things Hair on Instagram