15 Best Hair Color for Dark Skin Tone You Need to Try
A new hair color is always a great idea.
Deciding what color to dye your hair is so thrilling. The simple change of hair color can completely transform your strands and bring new life into a haircut you may have been starting to get sick of. However, we totally understand that shuffling between shades of golden blondes to reds to brunette tones can get a bit overwhelming, but don't worry! We've rounded up the best hair color for dark skin tone.
Keep scrolling to get check out the top 15 hair colors for dark skin tones.
15 Best Hair Color for Dark Skin Tone You Need to Try
Need some inspiration for your next dye job, or aren't quite sure what color to pick? Check out 15 hair colors for dark skin tones that you have to try this season.
1. Dark to Light Ombré
If you want to try a lighter color, but don't want to deal with bleaching your roots, an ombré look may be best for you! We love the light caramel color the natural hair color fades into.
2. Chestnut Brown Hair Color
Looking to go lighter? One of our favorite hair colors for dark skin tone is chestnut brown. This warm shade compliments deep skin tones beautifully.
3. Golden Brown Hair Color for Dark Skin Tone
Brighten your style by opting for golden brown hair color. This color looks best if on skin tones with a warm undertone.
To keep your new shade vibrant, use a shampoo and conditioner set formulated for color-treated hair. We love SheaMoisture Sugarcane Extract & Meadowfoam Seed Miracle Multi-Benefit Shampoo and Conditioner because it uses a blend of Sugarcane, Meadowfoam Seed, Marshmallow Root, and Phyto-proteins to keep hair soft and hydrated.
4. Blue Cornrows
Just because you have dark hair and a dark skin tone doesn't mean you can't sport a vibrant hue. This blue hair color for dark skin tone pops against darker complexions. We love how fun this color is!
5. Light Brown Highlights
If you want a change in your hair color, but don't want to change your all-over hue or just don't want the upkeep, then try out highlights. A milk chocolate color is perfect for dark hair and skin tones because it lightens your hair just enough without being a dramatic difference.
6. Copper Dreadlocks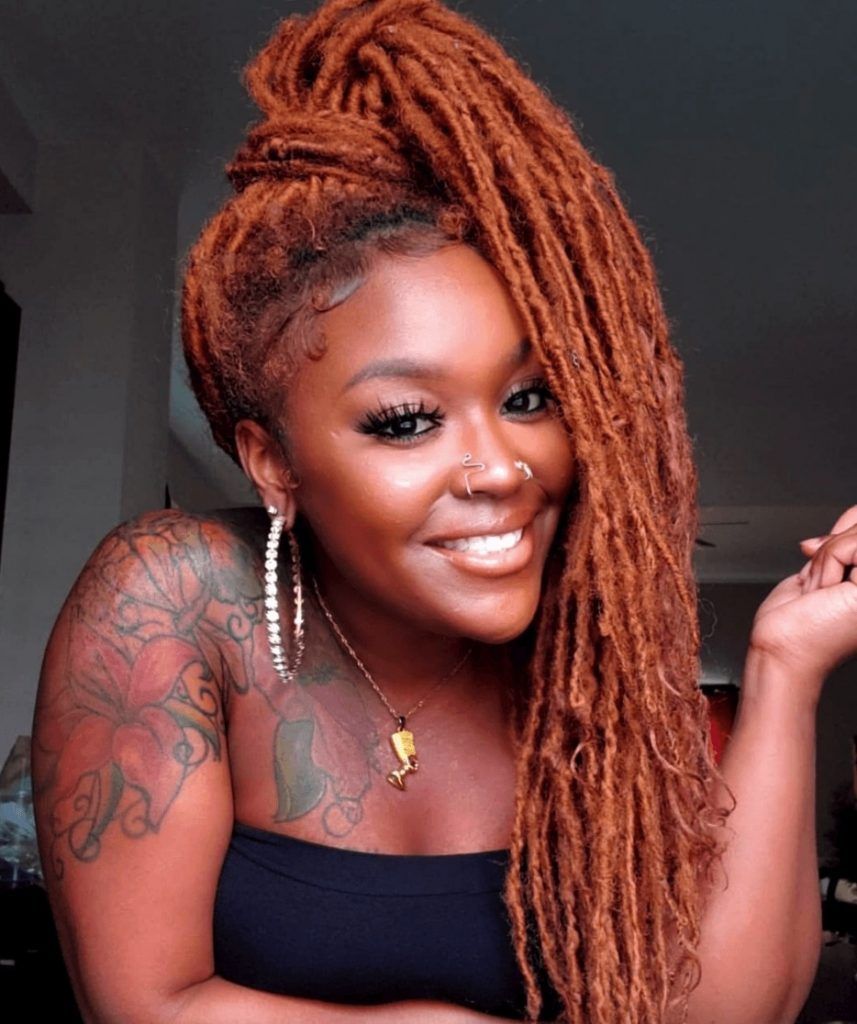 Pumpkin spice hair anyone? This copper shade is a foolproof color, especially during the fall time. This shade is flattering on dark skin tones with either cool or warm undertones.
7. Auburn Hair Color for Dark Skin Tone
If you want to sport a red hue this season, but don't want to go full-on copper, pumpkin spice, this auburn color is a perfect balance! It's perfect for any time of year too, not just fall.
8. Golden Yellow Afro
This color is sure to make you feel like goldilocks in the best way. This vibrant golden-meets-yellow shade pops against dark skin tones.
9. Bold Pink Ombré Hair
If you want to try out bright hair color, go for a bold pink. We love the contrast this color has against dark hair.
If you're wearing braids, use a rinse between wash days to keep your scalp healthy. SheaMoisture Moringa & Avocado Power Greens Hair Tea Rinse is a great product to use because it'll lightly clean your scalp and strands between washes while providing softness and manageability.
10. Blonde Pixie Cut
Blonde hair stands out beautifully against dark skin tones. If you're wanting to go blonde, opt for a cool-toned light blonde that will make a statement when paired with your dark skin.
11. Blonde Ombré Hair
Ombré braids are one of our favorite ways to add color to your hair. You can make a statement by trying out a bright color or keep it on the natural side with a blonde shade like this style.
12. Caramel-Colored Curls
Ready to go a few shades lighter? Caramel-colored curls are a safe option when you want to brighten up your look, but aren't fully ready to step into the realm of blonde hues.
13. Long Burgundy Colored Hair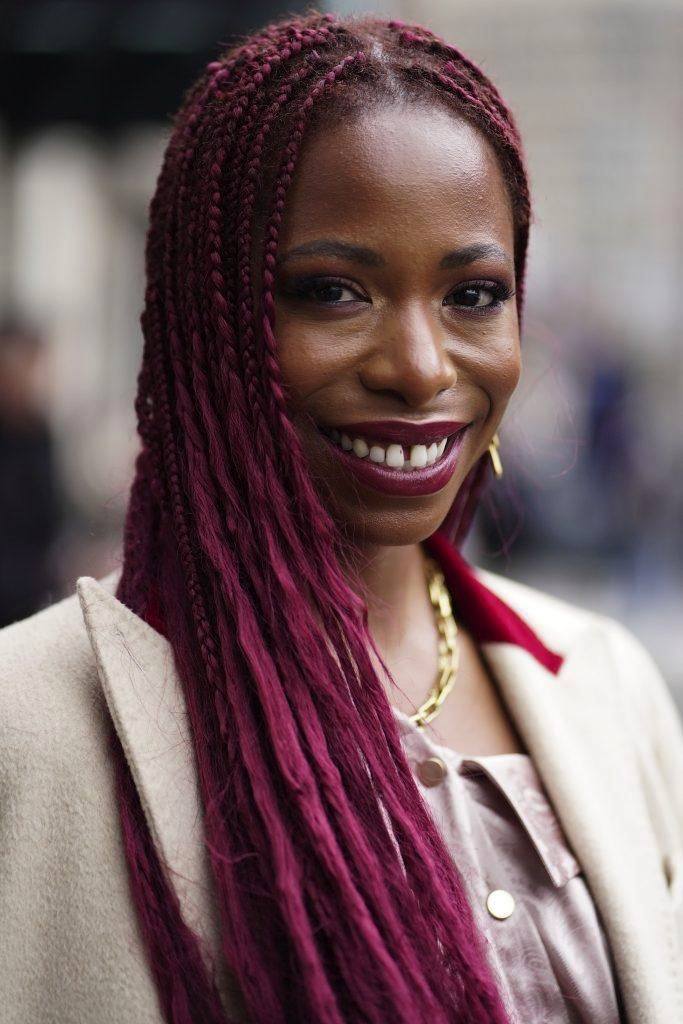 Burgundy hair colors flatter dark skin tones in such a beautiful way. If you're wanting to try out a red hue, this is an alternative to copper and auburn hair colors we commonly see this time of year.
14. Honey Blonde Hair Color for Dark Skin Tone
Honey blonde hair allows you to be playful with your hair and dip your toes in the world of blonde without having to go for full-on blonde hair color. Think of honey blonde hair as that transition color from light brown to completely blonde.
15. Berry Strands
Red hues that have a berry-colored tone are most flattering on very dark skin tones. We love how this color is a step out-of-the-box but is still very wearable throughout everyday life.
Whether you want to try a bold pink color or just go a bit lighter with auburn hair, there are a wide variety of hair colors for dark skin tones that make you glow.
Prev Article
Next Article
Gallery
Keepin' It Wavy: How to Create Wavy Box Braids + 10 Styles to Try
We're making waves with this look.
See article
All Things Hair on Instagram