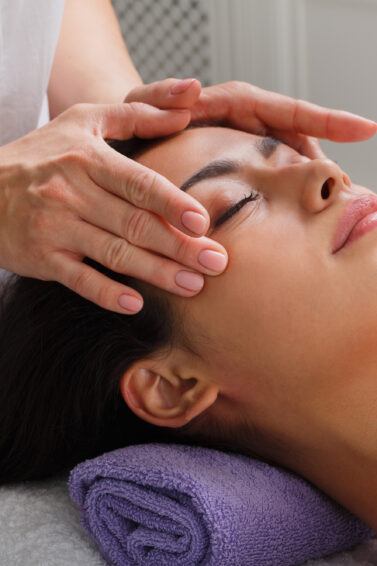 We Asked an Expert How to Give the Most Relaxing Head Massage Ever
It's the at-home hack you never knew you needed.
Alright, so you've had your hair appointment scheduled for weeks now. Maybe you're getting a new cut or color, but that's probably not what you're most excited about. The best part? The relaxing head massage you get during your shampoo and condition sesh.
Since we all love the head massage part of our appointment, why wouldn't we want to feel this relaxed at home–especially now. Doing a quick head massage is the perfect addition to any self-care routine. Plus, it comes with many benefits too. We asked hairstylist Valerie Alessandro for advice on how to give you or someone you know the most relaxing head massage ever. Read on:
How to Give a Relaxing Head Massage
Benefits of a Head Massage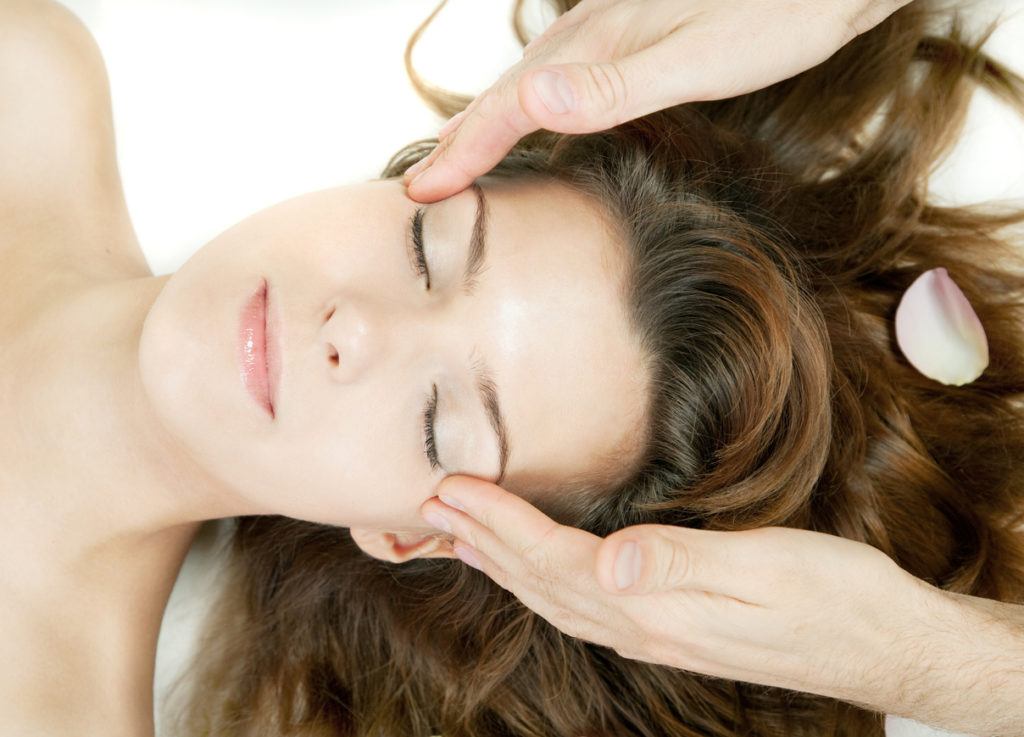 Before we get into the tips, it's important to know what benefits a head massage can actually have for you. "Just a daily 5-minute scalp massage can help increase blood circulation, which stimulates hair growth," says Alessandro. Plus, it can also help relieve stress, ease headache pain and help lower blood pressure. If 5 minutes can help us achieve all of that, sign us up!
A head massage can also help relieve tension and stress caused by external factors that are mostly out of our control such as money or the pandemic.
Among the women, we surveyed most of them expressed increased levels of stress since the pandemic started.
Massage Lightly
When doing a head massage, you want to make sure you're gentle. Use your fingertips to apply light to medium pressure on your scalp. When massaging, work in small circles, covering the entire head.
Use Essential Oils
Incorporating essential oils into your massage is a great way to add a little extra zen. "Using peppermint or lavender oil can add some extra relaxation. The lavender is calming and rejuvenating while the peppermint has that minty sensation that goes hand in hand with improved blood flow," explains Alessandro.
When using essential oils, it's important to dilute them and try a patch test on your skin to make sure you don't have a reaction. Alessandro also told us how you can leave the oil on your head for 15 to 20 minutes post-massage. There's no need to worry about greasy strands. Alessandro recommends washing your hair after your massage if you choose to use essential oils.
Want to carry on your new-found relaxation post-head massage? Follow with a scrub. Nexxus Scalp Inergy Gentle Exfoliating Scrub is one of our favorites because it uses a FusionProtein blend of wheat protein and ginger root, along with amino acids to help strengthen your hair while removing build-up. Next, use Love Beauty and Planet Smooth and Serene Argan Oil and Lavender Shampoo and Conditioner. We love this set because it has the most relaxing lavender scent to it. Plus, it leaves your hair feeling extremely soft and moisturized. To make sure your hair stays hydrated, apply Nexxus Clean & Pure Nourishing Detox 5-in-1 Invisible Oil. This oil helps smooth hair while nourishing, adding shine, fighting frizz, and protecting colored-strands.
Prev Article
Next Article
Article
The Best Shampoo for Oily Scalp
Looking for the best shampoo for oily scalp? The trick is hitting the right balance.
See article
All Things Hair on Instagram