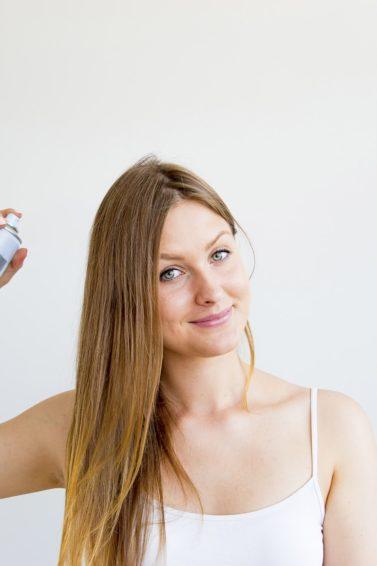 These Dry Shampoo Hacks Will Change the Way You Do Your Hair
Rethink the way you're using your holy grail hair product. 
Over the last few years, dry shampoo has become the Holy Grail product of the hairstyling world. Used to extend your style between washes, absorb oil and refresh your hair, it can also give you a touch of volume and movement and take your style from tired to textured in no time. These dry shampoo hacks will make you fall even more in love with this haircare favorite (if possible) and help you get the most out of every bottle. It's especially ideal for anyone at home extending the time between hair washes!
The Dry Shampoo Hacks You Need to Know
A big part of the draw when it comes to dry shampoo is how easy and effective this product is. All it takes is a quick spray, some strategic massaging of your roots and ta-da! You're ready to go. A bit of know-how and dry shampoo education will streamline your method and make this product so much more effective. Here are our top hacks for making sure you're getting the most out of your dry shampoo of choice:
1. Spray from a measurable distance away from your head.
While you may be tempted to spray your dry shampoo as close to your roots as possible, that actually isn't the most effective way to use the product. Hold the can 8-12 inches away from your head for an even and light mist of product throughout your hair and more noticeable results. This will also keep you from inflicting that dreaded coat of white film all over your strands.
2. Spray at night before you go to sleep.
We tend to think of dry shampoo as a quick refresher to use as we're running out the door. Try spraying your roots with dry shampoo before you go to sleep and let the powdery consistency absorb oil overnight. Simply apply the product, throw your hair up in a messy bun and get some shut-eye. You'll wake up to refreshed and voluminous hair that looks like it's just been blown out. For even more volume, opt for Dove Refresh+Care Volume & Fullness Dry Shampoo.
3. Give the product time to work.
Even if you don't remember to spray your dry shampoo in the night before, you'll want to give the product time to absorb oils and grease before massaging it in. Start your morning routine with a spray of dry shampoo, let it sit while you do your makeup and grab breakfast and then circle back to finish up the process. This will give your hair a chance to work with the product for even better results.
Prev Article
Next Article
Tutorial
How to Use Dry Shampoo, Once and For All
We bet you're wondering how you're doing it wrong.
See article
All Things Hair on Instagram