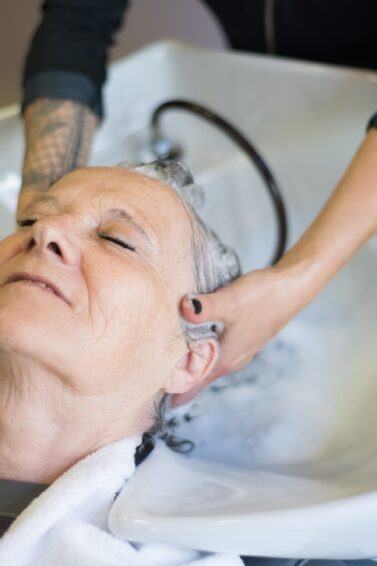 Washing Hair During the Day vs. Night: Which is Better?
Do you wash your hair in the morning or at night? Here are the pros and cons of both options.
Does it make any difference whether you wash your hair in the morning or at night? The choice of when it's the best time to wash your hair usually depends on a number of factors including your current routine, how dirty your hair feels, and what kind of shape your strands are in. It's important to be aware that each option will have different effects on your hair.
When's the Best Time to Wash Your Hair?
It's worth weighing the pros and cons of whether it's better to wash your hair day or night before you settle into a routine. Read on to learn more about each option and to inspire your own routine!
Nighttime:
Many people prefer to wash their hair at night before they head to sleep. This is an ideal option for those who don't want to use excessive heat on their hair and would rather let their hair dry overnight. You can simply wash and condition your hair, gently comb through your strands, and head to bed.
There are some who say that heading to sleep with wet hair can be damaging. This is because sleeping with wet hair can sometimes damage the hair, leaving it more fragile and more prone to breakage. In addition, the texture of your hair will be affected and you may find that your hair gets greasy faster.
So when deciding whether to wash your hair at night, keep your styling routine in mind. And remember that you will need to spend extra time with your hairdryer before you sleep!
If you do decide to dry your hair before you head to sleep, make sure to prep your hair with a heat protectant spray, like Dove Style+Care Smooth and Shine Heat Protection Spray, to avoid damaging your strands. You can either rough dry your hair to ensure it's dry before you head to bed, or you can do a DIY blowout.
Daytime:
If you do decide the best time to wash your hair is in the morning, and you want to wake up a little earlier to wash your hair, know that you may be investing in healthier strands. For starters, you can let your hair air dry naturally, as there is no rush to dry your hair most of the time. And avoiding hot tools contributes to healthier hair!
Another advantage is that you will avoid waking up to any surprises. Sleeping on wet hair usually means gambling on your texture and how your hair falls. When you style your hair in the morning, you can have more control.
If you're looking to add moisture to your strands while you wash, try Dove Daily Moisture Shampoo and Conditioner. This duo will give your hair a smooth and shiny boost in no time.
If you do decide to wash your hair in the morning and let your strands air dry, try a leave-in product to smooth strands. We love TRESemmé Pro Pure Detangle and Smooth Leave-In Conditioner for this! Run a dime-sized amount of product through the ends of damp clean hair and let your strands do their thing.
Prev Article
Next Article
Article
The Answer to All of Your Tired Hair Problems
Liven up those tired strands with this hair care line.
See article
All Things Hair on Instagram