4 Dry Hair Remedies and Solutions Extremely Effective
Want to learn how to treat dry hair and protect it for the colder months to come? Say no more.
Dry and damaged hair can happen to anyone. While we always recommend using a shampoo and conditioner system that's formulated for your hair type, sometimes you need a little extra TLC to revive those dried-out strands. Enter Dry hair remedies that can help give your hair some much-needed relief right in the comfort of your own home! It can take a little time, so a break is the best time to enjoy some hair treatments for dry hair. Dry hair can also vary from person to person, so we've got some options for you to choose the best fit for your specific needs.
4 Effective Dry Hair Remedies
Read on to check out some of our favorite fixes and find the dry hair remedy that works best for you:
1. Hair Mask
A weekly hair mask is a great hydrating option to keep in mind when figuring out how to fix dry hair. Just shampoo your hair as usual, then apply your hair mask. Leave it on for the time directed, then rinse thoroughly. Try out Suave Professionals Coconut Milk Infusion Intense Moisture Mask for lighter but still serious moisture.
2. Hair Rinse
For a more D.I.Y. dry hair treatment, try a hydrating hair rinse. Apple cider vinegar (ACV) is a good choice as an at-home hair treatment for dry hair that gives added shine. ACV works to seal the cuticle of your hair, which helps dry and dull-looking locks not only look shinier and also helps close the cuticle to seal moisture in. Make sure you rinse out the vinegar really well and follow up with a hair mask, so your hair can be bouncy and smell clean (and not sour). Follow up with a deep-conditioning treatment, like Nexxus Humectress Moisture Restoring Masque, to help with hydration.
3. Hook up a humidifier.
Winter is so dry that it can mess with your whole body, from your face to your skin to your hair. Another way to learn how to get rid of dry hair (and benefit your skin as well) is to invest in a humidifier during the colder months. This helps combat winter dryness by adding moisture back into the air. It's a good idea to use a humidifier near your bed as you sleep for maximum impact. You can also find tiny versions (palm-sized, even!) that you can have on your desk, so you can soak up the moisture at work too. Bonus: Using a humidifier can also help static winter hair too!
4. Train your hair to last longer between washes.
If you are a student with breaks or have a long holiday vacation planned, use the time to train your hair. The longer you can go between washing, the more natural oils your hair will get to hydrate it. Brush the oils through your hair every day with a boar-bristled brush for the best results. All you need to do is add an extra day in between washing. Until then, use dry shampoo, like Bed Head By TIGI Oh Bee Hive! Dry Shampoo to refresh your hair between washes.
Follow us over @AllThingsHairUS for more hair tips and tricks!
Prev Article
Next Article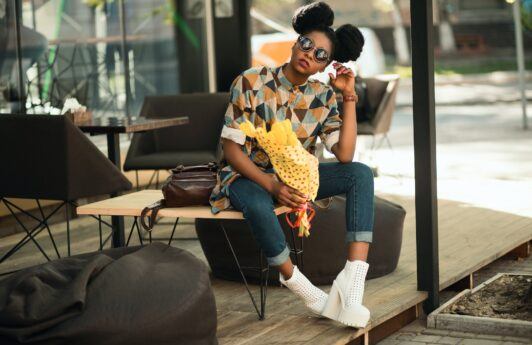 Article
This is the Best Conditioner for Thick Hair
Hydrate your coarse strands with one of our top picks.
See article
All Things Hair on Instagram