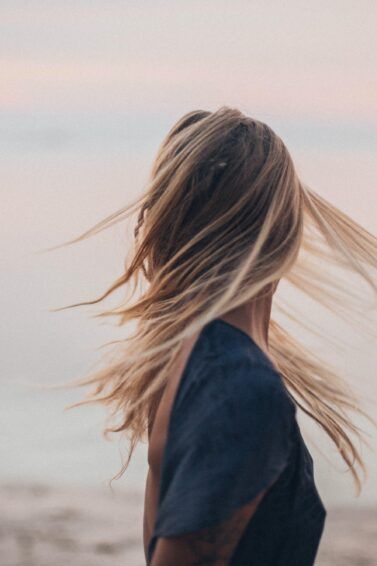 5 Causes of Dry, Brittle Hair and How to Deal With It
Treat yourself (and your potentially dry brittle hair) the right way.
No matter what type of hair color or length you have, there's one major culprit that can sneak up on each of us at any moment: brittle hair.
Dry, brittle hair can be agonizing to deal with and may take months to renourish. Don't let your hair fall flat in the luster department, and give it the TLC it deserves. Treat your hair right by educating yourself about the different dry brittle hair remedies and finding out the causes of these problems. Some of them may surprise you!
Finding out the causes is the first step before even considering a brittle hair treatment. When you're ready for a treatment, we've got you covered there, too:
5 Causes of Brittle Hair
Dry, brittle hair may seem like it comes out of nowhere, but there are actual causes to it. Read up on some important causes to this hair issue:
1. You color or bleach your hair:
While switching up your hair color every now and then is fun, it's not doing your strands any good. Any time you dye your hair (even for the very first time), you're causing some sort of damage to your delicate strands! This damage can be even worse if you bleach your hair, so factor this into your hair care routine.
2. You chemically treat your hair:
This may seem like an obvious one, but if you often undergo chemical straightening or perm treatments, know that they can make your hair more susceptible to breakage. Often, the treatments can leave your hair weak and brittle, so it's best to research it before you commit.
3. You use heated styling tools too frequently:
We get it: some of us have a love affair with our straighteners and curling wands. But you should definitely be stepping away from the heated styling tools if you want healthier hair. By using them too frequently, you can cause your tresses to become dry and brittle, and, as such, increase the likelihood of breakages.
4. You brush your hair too vigorously:
Your strands are much more delicate than you think so you don't want to be too rough while you brush your hair. Being too rough with your brushing regimen can cause major breakage and damage, especially if your hair is wet. Light strokes are all you need for healthy knot-free hair.
5. You have a poor diet:
Yes, even your beloved fast food can affect your hair in some form. We're probably not the first ones to tell you this, but what you eat (and don't eat) will also have an effect on your tresses. Having a balanced, healthy diet is the best way to keep you healthy from the hair on your head all the way down to your toes!
How to Revive Brittle Hair
If you're already suffering from dry, brittle hair, don't lose hope. We have a few brittle hair treatments for you to try!
1. Use the right wash and care system.
It's important to keep your strands nourished and hydrated! This is especially crucial if you're prone to dry, damaged and brittle hair. Try out TRESemmé Pro Pure Light Moisture Shampoo and Conditioner. This duo will work to help provide your hair with deep moisture while making it soft and healthy-looking.
2. Use a hair mask.
Another way to ensure your hair gets much-needed moisture is by using a hair mask. Masks are extra hydrating and you can use them after your regular shampoo in the shower. To complete your moisture regimen, try out Emerge Back to Life Hair Mask at least once a week. Your hair will feel seriously smooth after just one use!
3. Use oils. Seriously.
For crispy, dry hair you'll want to try hair oils. It's one of our top recommended dry brittle hair remedies, and we're all about coconut oil for deep conditioning hair because the molecules are so tiny they can penetrate the whole strand. This means hydrated hair from the inside out. Remember to use a small amount of oil and work your way up. A little goes a very long way with oil.
4. Try a leave-in.
Another go-to staple in our bathroom is leave-in products. Great for dry, frizzy hair, leave in products, like Love Beauty and Planet Smooth and Serene Argan Oil & Lavender Leave-In Smoothie Cream work to help treat damaged hair. It's also super hydrating and can help to smooth out rough cuticles, leaving hair super soft. Bonus: It's safe for color-treated hair!
5. Protect your hair.
If all of that isn't enough to get your hair hydrated this season, it's time to turn to serums. Hair serums are particularly great because they can seal the moisture into your hair. They also protect from the elements. We like Suave Professionals Keratin Infusion Smoothing Hair Serum for an extra soft finish on strands.
These essential products are sure to help you revive your brittle strands!
Prev Article
Next Article
Article
Hair Treatments For Frizzy Hair: How to Finally Get Smooth Strands
Smooth things out once and for all.
See article
All Things Hair on Instagram