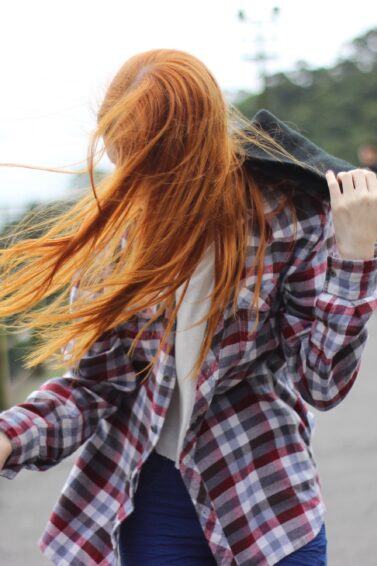 How to Make Your Red Hair Dye Last Longer than Usual
When it comes to dyeing your hair a completely new color, the decision is a big one and quite the commitment. The last thing you want is to lose your hair color quickly, as it's expensive, time-consuming, and an overall bummer to have to re-do it. Red hair is a color we've seen trending recently and we know it's a lot of work to maintain. If you decided to take the leap and go for this sassy color, you should know how to make red hair dye last. Don't stress, we've got you!
7 Ways to Make Red Hair Dye Last
Read on for several tips and tricks that help make red hair dye last the longest:
1. Wash your hair with cooler water.
The temperature of water you use to wash hair can play a huge role in how long your red hair dye will last. As delightful as it might feel when you rinse with hot water you're swelling up your hair's cuticle even more, which allows color to seep out and your hair to fade. We're not saying you have to drop it down to icicle levels, but keep it at a tepid rinse if you're trying to make the most of your dye job.
2. Gloss is your best friend.
Put simply, the glossier your hair is, the more pigmented it will appear. Getting your hair dyed, while adding loads of color, typically takes away loads of luster which means you need to supplement the loss with glosses and shine serums. These products help enhance vibrancy and strand luster for a brighter overall appearance.
3. Use products with UV blockers.
Yes, it's a thing! Just like your skin needs SPF to protect from UV rays, your hair benefits from UV blockers as well. Using them helps make red hair dye last and protect your color from fading while leaving hair moisturized.
4. Use leave-in conditioner religiously.
While you might use loads of conditioner in the shower, it's equally as important to top it off with a leave-in conditioner to help your hair stay super hydrated all day long. We love Nexxus Humectress Lightweight Conditioning Mist for its formula containing Vitamin E, coconut oil, and honey extract that altogether create lustrous, healthy tresses all day long.
5. Instead of frequent washes, opt for dry shampoo.
The more you wash your hair, the quicker you're washing your red hair dye down the drain. That said, invest in a quality dry shampoo like Dove Refresh+Care Detox & Purify Dry Shampoo: Not only will it give you gorgeous second-day hair without the grease, it smells fab, too!
6. Cut it with all the heat styling.
Point blank: Colored hair is more vulnerable to heat than natural locks. While all hair is affected by high temps, colored hair will, unfortunately, show it the most. It could show through ultra-fried-looking tresses or a quick loss of color. Make red hair dye last by using your heat tools less with the addition of dry shampoo or practicing some fab heatless looks.
7. Use a color depositing or color-safe wash and care.
Lower-sulfate and color shampoos and conditioners are great options to make red hair dye last. Their formula is gentler on strands, with some even depositing color pigments to help brighten and intensify your shade. We love Nexxus Color Assure Rebalancing Shampoo and Color Assure Restoring Conditioner. This duo offers a nutrient-infused, low-sulfate solution to help make colored hair look fresh and shiny for longer.
Prev Article
Next Article
Article
Cotton Candy Dreams: Why Light Pink Hair Dye Works on Natural Brunettes
Candy colored pink hair that complements your natural color. 
See article
All Things Hair on Instagram