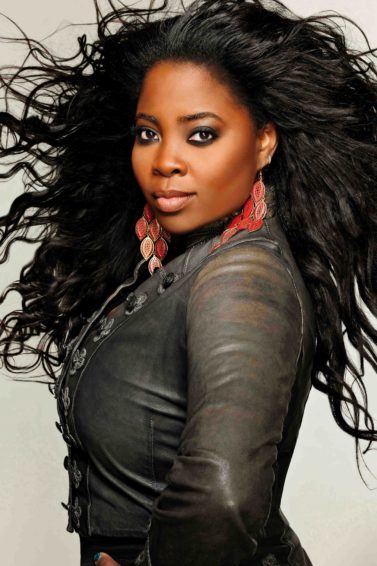 Kim Kimble on Hair Care: Things to Know for Every Hair Type
The celebrity hairstylist talks hair care, styling tips, and more. 
Kim Kimble slays or #kimbleized (as she calls it) the hair of some of our most favorite celebrities. It's no secret that the celebrity hairstylist turned entrepreneur knows how to create the most iconic hairstyles for her clients, which in turn breaks the Internet immediately after its debut — talk about quick turnaround!
We wanted to talk to Kim Kimble about hair care — this woman's hands has taken immaculate care of the manes that belong to so many A-list celebrities (who also inspired her solution-based hair care line, Kimble Beauty) that we definitely admire with some serious #hairgoals. So who wouldn't want Kim's tips on how to keep their hair in #formation every single day — even if it's a bad one? We caught up with the mogul to talk about fall hair care tips, the emergency hair weapons every woman needs in her bag, and keeping your appeal fresh no matter how busy your schedule is. Have you seen Kim's new workout hairstyle? Ladies, we have no excuse!
Read on to check out our interview with Kim Kimble:
Kim Kimble on Hair Care
All Things Hair: When did you first fall in love with hair and beauty?
Kim Kimble: I'm a third generation. My mother and my grandmother did hair; it was something that I was exposed to very early on— and I got my hair done on a regular basis!
All Things Hair: What do you suggest every woman needs in her bag in case of a hair emergency?
Kim Kimble: Ponytail holders and serum. You can put the serum on your hair to create shine to make it look good, and then a ponytail holder to throw your hair up into a cute top knot or bun.
All Things Hair: You've created your own hair care line, what inspired you to make that move?
Kim Kimble: I'm all about solutions. My products are solution-based, so whatever your hair issues are. I started to create products to solve some of the issues my clients have.
All Things Hair: How do you manage to keep your hair on point with your busy schedule?
Kim Kimble: I choose hairstyles that I can maintain very easily. I also work with a bunch of great hairstylists at my salon, so a lot of times they'll help me with my hair. Right now, I'm busy working, and I'm exercising so I'm wearing my hair braided up into a ponytail. This style is easy for working out. I definitely do my hair often because I believe in having different looks, and really making sure that my hair is always done because this is my profession.
All Things Hair: Some of our readers are updating their hair care arsenal for the fall/winter season. What are some quick tips by hair type?
Color Treated Hair: Hydration is the key like with a conditioning mask or a hot oil treatment.
Natural Hair: Definitely using the right shampoo and conditioning products that have hydration to them.
Fine Hair: You want to add volume to it. Use products that are going to create volume and not weigh the hair down.
Dry, Damaged Hair: Protein. A strengthening, conditioning treatment to replenish the hair.
Oily Hair: Great cleansers that are not stripping.
All Things Hair: What has been the most rewarding lesson you've learned during your career?
Kim Kimble: You have to put the work in. It's one thing to believe in something but if you don't put the work in you have nothing. Anything that is worth having requires work.
Want more tips from celebrity hairstylists? Check out our interview with Ursula Stephen.
Prev Article
Next Article
Tutorial
Tutorial: Curly to Straight How To the Perfect Do Blow-Dry at Home
Go from curly to straight in a flash.
See article
All Things Hair on Instagram