Dove DermaCare Scalp Experience at the Ursula Stephen Salon
A new hair care line you need for your dandruff issues. 
Like most women, I suffer from severe dry scalp during the winter season. It's so bad that I have to wash my hair every week, or else it's a battlefield, or should I say, a winter wonderland in my hair. Only thing, though: my flakes aren't made out of snow! I've tried countless over-the-counter dandruff shampoos, but to be honest, I didn't like the way the made my hair feel. My hair, which has a thick natural texture, prefers shampoos that are moisturizing. Anything else makes my wash routine extremely tedious and not something I look forward to doing. If you're like me, read on because I am here to tell you all about the wonders of the new Dove DermaCare Scalp collection.
Dove DermaCare Scalp Series Experience
To celebrate the launch, what better way than to head down to Unilever Hair Care Expert & Celebrity Stylist, Ursula Stephen's salon, located in Brooklyn. As soon as I headed to the wash station, Ursula immediately saw my dry scalp condition as was elated to try the product out on my hair. It was sort of like being a lab rat, but obviously better. I was thrilled to finally say good-bye to my dandruff and dry scalp issues.
Before shampooing, Ursula gave my scalp a bit of a scalp massage with a comb — which you can also do with your finger tips — to loosen up the flakes. "You have to wake up the flakes a bit before washing" explains Ursula. After waking up my flakes, Stephen applied the Dove DermaCare Scalp Mint Anti- Dandruff Shampoo to my damp hair, focusing on my scalp. She massaged my roots, lathered, rinsed and followed up with the conditioner. This formula quenches dry hair — which is great for my naturally dry curly hair texture —while refreshing the scalp, leaving my hair smooth and manageable.
First thoughts, this minty scent smells mighty good. After washing, my scalp was noticeably clear, which is quite rare for me during the harsh winter months. My hair was extremely soft, easy to detangle and blowdrying was a breeze. Now, I'm thrilled to say that I have found my new winter hair care staple.
For more info about Dove DermaScalp check it out at Dove.com. If you need more winter hair care tips, here's how you can deal with dry and damaged hair during the winter season. 
Prev Article
Next Article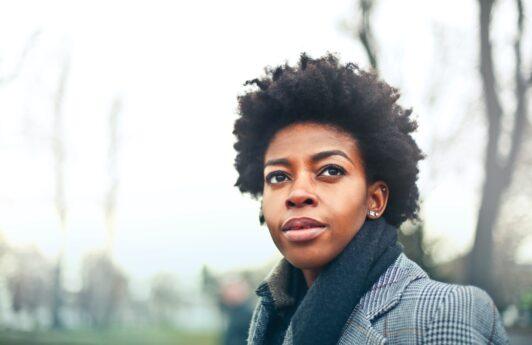 Article
3 DIY Scalp Scrubs to Try in 2021 + Our Favorite Store-Bought Options
We love this practical (and super-sweet!) way to indulge in #SelfCareSunday.
See article
All Things Hair on Instagram