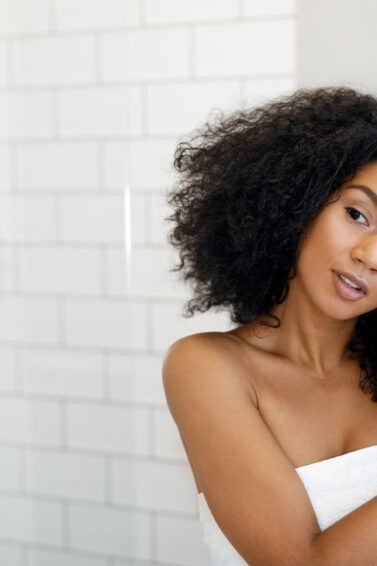 How Often Should You Wash Your Hair?
It's not a one-size-fits-all situation.
Experts say there's no single answer to how often people should shampoo. For some, every other day without washing is generally fine. Others can last a bit longer in between washes, and some people with dry or curly hair can wash much less frequently, foregoing wash day for several days to a few weeks. Additionally, if your hair is styled with a keratin treatment or you have a blow-out, you may not need to or want to wash more than once a week as it can put even more stress on your hair.
A general rule is: If hair is visibly oily, your scalp is itching, or you're experiencing some flaking due to dirt or residue, those might be signs it's time to shampoo.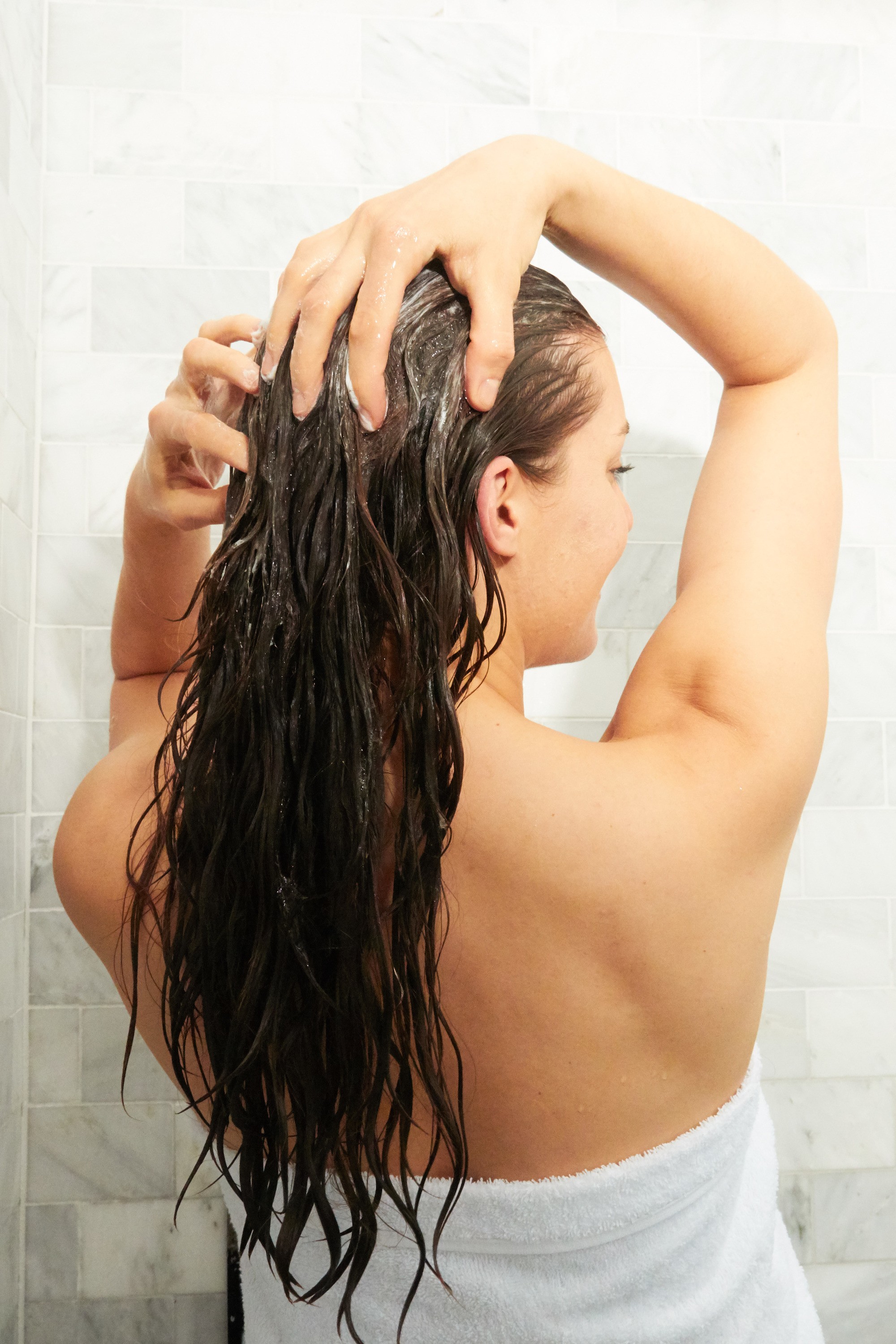 Is it bad to wash your hair every day?
Over-washing, especially with harsh shampoos, can damage hair and lead to hair loss, especially when combined with chemical treatments or hairstyles like tight braids that tug at the roots. The 'no poo' approach has given us another alternative to wash and care, and it's becoming more common for people to ditch shampoo and head straight for conditioner, or have their natural oils balance out with the help of alternative shampoos or plain water.
Oily hair gets a bad rap, but the sebum your scalp produces is vital to healthy, shiny hair. How much oil you produce depends on your age, genetics, sex and environment. Straight, thin hair needs to be washed more frequently than curly or wavy hair. People with tight curls or textured hair can space out washing their hair to once a week or every other week. 
Despite what shampoo commercials lead you to believe, washing your hair can be a key contributor to a bad hair day. Hair that is completely stripped of its natural oils can feel coarse and be dull and difficult to style.
How to Properly Wash Your Hair
There are different ways to wash your hair depending on your hair type. We've broken down the 5 different types below.
1. Thin, Fine Hair
Fine hair can easily feel weighed down by too much oil. To make sure your fine hair is always looking at its best, wash your hair every day to every other day. Going much longer than that can leave your hair falling flat and worse, looking and feeling greasy. Get the most volume out of fine hair by washing with Suave Up The Volume Shampoo and Suave Up The Volume Conditioner. We love this system in particular because it gives body and volume without a lot of effort.
2. Straight, Thick Hair
Straighter hair textures tend to get oily looking faster because oil moves down quicker down the hair shaft. If you have very thick hair, oil may help give a refining effect without turning to thinning shears.
Thick, straight hair can usually start to look oily on the second or third day. Wash your hair with a system that helps moisturize and give shine without the weigh-down, such as Dove Daily Moisture Shampoo and Conditioner.
3. Wavy Hair
Wavy hair is usually a bit drier than straight hair. A good rule of thumb for wavy hair is to use a system that enhances your natural texture while adding a bit of moisture so it doesn't frizz out (a.k.a. public enemy no. 1 for wavy hair types!). We like the hydration we get from Dove Nutritive Solutions Coconut & Hydration Shampoo and Conditioner.
4. Curly Hair
Curly hair is typically considered the driest of all the different hair types. Because of its spirals, oil from the scalp doesn't work its way down the hair shaft as quickly, leaving the ends drier than straighter hair. Depending on just how curly your hair is, you may not need to shampoo your hair as often. Wavy to curly hair may want to wash every third day. If you have a tighter curl pattern and texture, you may only need to do a full-on shampoo once a week, if that. In between shampooing curly hair you can cleanse, suds-free, by co-washing or picking up a dry shampoo that refreshes your scalp, such as Dove Refresh+Care Detox & Purify Dry Shampoo.
5. Damaged Hair
For severely damaged hair, your locks can use all the moisture it can handle. Avoid further drying and stressing damaged hair out by washing as infrequently as you can manage, or when your locks start to look and feel greasy. When you do wash your hair, try to be gentle and focus the product at the roots, where you need it most. You can use a super hydrating system to help repair damaged hair. We like TRESemmé Pro Pure Damage Shampoo and Conditioner.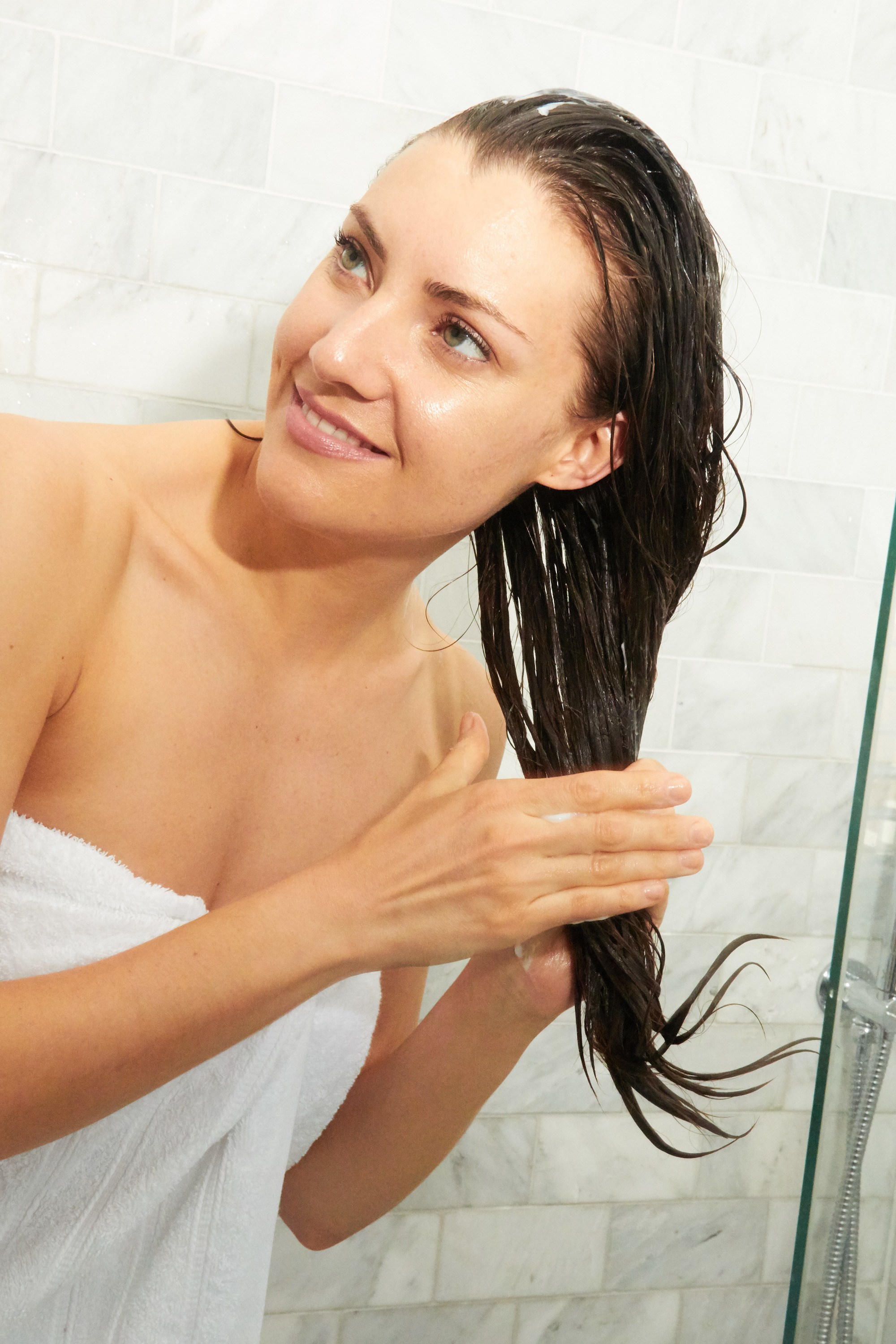 What Happens If You Don't Wash Your Hair
The longer you go between washes, the more dirt and oils will build-up on your scalp. Dry shampoo can soak up excess oil while also adding volume to your hair.
Ask an Expert: Is it Bad to Wash Your Hair Everyday?
We've all heard the cautionary tale or two about hair washing, that not only is it not recommended, but that it is actually downright risky to wash hair every day. Admittedly, there are days that we've also been on the alt-right side of this spectrum—that is, ultra-conservative, opting rather to squeeze a good hair day in via some dry shampoo instead.
But is it really, honest-to-goodness harmful to wash hair every day? We tapped Unilever resident expert, North America Senior Manager for Hair in Research & Development, Leon van Gorkom, to shed light on this FAQ:
He puts it in black and white: "Washing with a good shampoo and conditioner is not harmful to hair," van Gorkom says, clearing up the debate once and for all. "It is really up to the consumer [to determine] what fits within their daily routine."
1. Facts, facts, and more facts
"On average, women in the U.S. wash (and condition) their hair four to five times per week. Sometimes, women may choose not to wash and [instead] use dry shampoo—it's quicker. Also, the oilier your hair, the more frequently you tend to wash," van Gorkom noted.
It is therefore safe—and as it turns out, pretty normal—to wash hair every day, provided you use the correct system for your hair type. Clarifying systems cleanse the hair without stripping your strands of moisture.
And although quite gentle, non-oily hair types might find it beneficial to rotate a clarifying system with a regular moisturizing duo as part of their full regimen, just for balance. Hair needs, as well as the product buildup and sebum levels, can vary depending on certain factors (the weather, hormones, etc.), so it's best to keep attuned to how your strands feel for the day and wash accordingly.
2. The case for dry shampoo
That said, you might also find yourself in situations where you don't feel like you need to wash hair every day, or anytime that week, for that matter. Curly and natural hair types can go weeks without a full wash—even more, if hair is done in a protective hairstyle, such as a rope twist or box braid. This is where dry shampoo becomes a crucial agent for that scalp refresh, as it helps sop up any excess oil and grease without disturbing your 'do.
3. The last word
"Hair gets damaged from daily styling when it isn't in good condition, especially when wet," van Gorkom cautions. "Therefore, you need to make sure that your hair is well-conditioned during the wash by using a good shampoo or conditioner." It all circles back to knowing which products are best suited for your hair type, and to being mindful of what your hair has been through prior.
For instance, colored hair is more fragile and vulnerable a few days after processing, so maybe hold off on a complete and thorough washing till the end of the week (plus your new hue will thank you too!). Fine or thinning hair might need more frequent shower time than coarse or curly hair as well. It always pays to work with your hair type and listen to your needs of the day and knowing whether to wash hair every day or not will soon be like second nature. After all, what can be more therapeutic or satisfying than a clean slate?
Prev Article
Next Article
Article
The Best Shampoo for Oily Scalp
Looking for the best shampoo for oily scalp? The trick is hitting the right balance.
See article
All Things Hair on Instagram