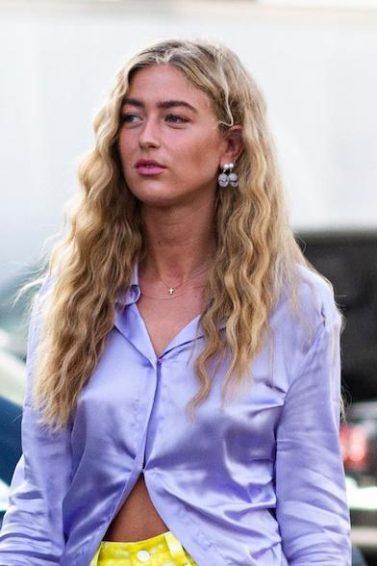 5 Heat Protection Tips: From Washing to Everyday Styling
Strengthen, smoothen and safely shield hair from styling damage.
It is commonly known that heat is a major cause of hair damage. It dries out the hair, making it susceptible to dryness, breakage and split ends. This is most prevalent in summer when the hair is more exposed to UV rays. It can also be caused by heat from styling tools. Luckily, we've come leaps and bounds in the realm of heat protection and styling. We now have numerous ways to shield our locks from all this heat.
Heat Protection and Styling Your Hair
1. Know your hair.
First off, it's important to know your hair type and how to handle it. For thin hair, make sure to look out for products that provide lightweight moisture (we like starting off with Dove Oxygen Moisture Shampoo and Oxygen Moisture Conditioner); otherwise hair can turn greasy. For coarse, thick hair prone to frizzing, products that have natural oil infusions, such as Suave Professionals Moroccan Infusion Shine Shampoo and Moroccan Infusion Shine Conditioner, nourish and provide smoothness and manageability.
2. Limit the use of hot tools.
Blowdryers, straightening irons, curling wands and hot rollers are generally safe for styling hair, but as all things, can dry out hair when overused. It is vital to give the hair a rest from time to time from these styling tools, especially in the summer where hair can be exposed to a double dose of heat. Let hair dry naturally (start small—perhaps once a week?), or make the most of beachy waves and work with your natural texture hair for the summer months.
3. Use a hair mask.
How do you encourage heat protection while still in the shower? Indulge in moisturizing masks. Hair masks are great when it comes to providing a massive shot of moisture and TLC to hair. Formulas and infusions that are rich in natural oils like jojoba, coconut, almond or avocado, or shea butter, such as Suave Professionals Moisture Mask with Almond and Shea Butter, help give intense nourishment to parched hair. They can also reduce the likeliness of frizz by increasing moisture content in the hair.
To get the most out of your hair mask, proper usage is key. Apply a quarter-sized amount of product to one palm, gently tap to distribute to the other palm and carefully rake through your entire hair length, making sure to concentrate more product on your ends. A wide-toothed comb can be used to ensure all the strands are evenly coated. Leave on for a minimum of five minutes (Ed's tip: Covering hair with a shower cap during a hot shower helps the setting process—the steam helps the product soak in more efficiently.). Rinse as normal.
4. Use thermal protectant. Always.
Heat protection when styling mainly comes from products that are specifically formulated to be applied before using heat tools. These are crucial in protecting hair from damage. Products with silicones are widely considered to be the best for this, as these silicone sprays work to coat every hair strand and lock in hair's natural moisture. They also help eliminate "hot spots," or the exact point of contact with a hot tool, which can cause singeing. Some also take it a step further, like TRESemmé Thermal Creations Heat Tamer Spray, which also reinforces strands against frizz and breakage, resulting in a smooth hairstyle.
5. Wear a hat.
Yep, it's really that simple! When out and about in the sun or when you're soaking up at the beach, a hat can help prevent those harmful rays from bleaching and drying out your strands. With all of the cute hats out there, ranging from baseball caps to summer hats, we are sure you'll be able to find the right cap to suit your style and personality.
Prev Article
Next Article
Article
5 Amazing Essential Oils that Work as Great Heat Protectants for Natural Hair
You probably already own them all.
See article
All Things Hair on Instagram