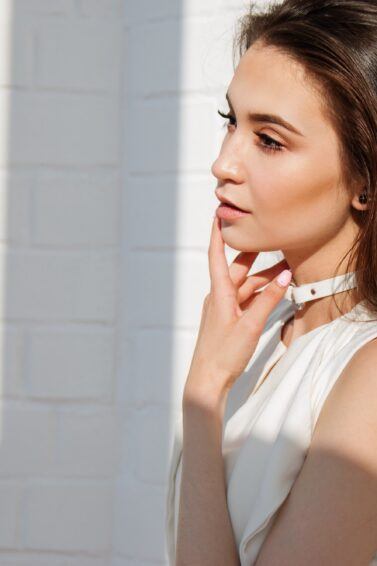 How to Use a Straightening Serum + 8 Serums to Try
How to get smooth and silky hair with a straightening serum.
Whenever it's time for me to straighten my naturally curly hair, I always opt for a straightening serum. For me, it's more about using a product that doesn't revert my hair back to its naturally curly state after blow-drying. Plus, the shine factor that a serum provides without the weighed down feeling can't be matched.
Over the years I've experimented with many straightening serums. I've even gone as far as trying natural oils that have a serum-like consistency like Argan oil. However, a true straightening serum is different than oil, as it acts as a barrier from heat—similar to a heat protectant—to ensure that your hair stays protected, smooth, and super shiny.
A little goes a very long way with this stuff. Another thing to love is that serums can also prevent frizz. There's nothing like straightening your hair and having it last for only an hour. When applying the serum, focus more on the areas you tend to see the most frizz. Keep scrolling to learn how to use a straightening serum and find out some of our favorites.
Straightening Serum: What to Use and How to Use It
How to Use a Hair Straightening Serum
There are many ways to use a straightening serum on your hair. However, one rule we suggest you don't break is: Don't apply too much. A few drops really goes a long way. You can also opt for applying it to your hair as you style. To do this, section off your hair, apply your serum, then blow-dry or flat-iron and continue this process with the rest of your hair.
Serums can also be applied after styling your hair for additional shine. If you're using it as an aid for straightening your hair, it's best to apply before heat styling.
Products You Can Use as a Straightening Serum
Straightening Serum Alternatives
This oil is a great alternative and actually has a serum-like consistency. It leaves you with soft, manageable, and frizz-free hair.
This serum can be used on wet or dry hair. Apply it to your wet hair before drying with a blow-dryer or apply it before using a flat iron. The keratin-infused formula seals the hair cuticle to make it smooth, frizz-free, and shiny.
Like the products mentioned above, this serum also provides hair with a grease-free finish. What stands out most about it, is the ability to make your hair shiny. Use this serum whenever you're trying to get a salon-like blowout or straight style at home.
This serum is perfect for anyone who wants a silky smooth feel without their hair feeling heavy or weighed down. We love how it also helps fight humidity and add shine to your strands.
Often times, an oil will deliver similar smoothing and straightening benefits as a serum would. This anti-frizz oil is perfect for curly-haired ladies to wear on their own, or it can be applied before or after straightening your strands. We love how smooth and shiny it leaves the hair.
This oil is perfect for any hair type. It helps protect your hair while taming frizz, adding shine, and making strands appear shinier. To achieve an even sleeker look, apply this oil from the mid-shaft of your hair through the ends after straightening your hair.
Want to achieve similar benefits as a serum, but have color-treated hair? This oil is perfect for hydrating, taming frizz, and soften strands. It can even be used as a pre-wash treatment to achieve the sleekest look possible, or it can be applied after styling for a shiny and soft finish.
This oil blend is a great option for anyone who is dealing with damaged tresses, but still want the smooth look a serum can offer. We love this particular oil because it helps repair hair, making it appear healthier and shinier. Plus, it hydrates your hair too!
Whether you're a first-time serum user or you're looking for new products to add to your routine, there are so many serums and oil that can help you achieve a smooth straight look.
Prev Article
Next Article
Article
10 Anti Frizz Products to Try in 2022
Say goodbye to that humidity-induced poof.
See article
Attempt to assign property "alt" on null
All Things Hair on Instagram