Earth to Overwashers: Go No-Poo for Earth Day
Because we don't get a plan(et) B.
Wednesday, April 22, is Earth Day, a day of collective fossil fuel guilt, go-green action, and—fingers crossed—global awareness surrounding the grim realities of environmental pollution and climate change (it's not #fakenews, people!). And although we applaud all the big-ticket efforts we've all taken to minimize our carbon footprint (recycling, #MeatlessMondays, solar energy, upcycling, thrift-shopping), we'd like to advocate another tiny way we can help that doesn't require that much of a radical lifestyle change: a no-poo day. Hear us out:
No-Poo Day this Earth Day
No-poo, or "no shampoo," is a burgeoning movement that encourages washing hair with something other than commercial shampoo. Some even take the term to mean skipping on washing hair at all—at least for a few times a week, or as long as your strands or scalp can manage.
And while men and women in the natural hair community are definitely no strangers to the no-poo movement, it's also a small step that we all can incorporate into our regimens, regardless of hair type. Who knows, simply opting for one no-wash day a week, multiplied on a global level, might actually tip the scales in favor of Mother Earth someday, somehow.
How to no-poo?
For whatever reason, we think it's safe to say most of us have already gone a day or two without shampooing their hair ('sup, brunch bun). Maybe we're already staunch supporters of the movement, or maybe we just like the look of second-day hair better. Maybe we're already fans of the co-wash, or benefit from that extra Day 3 slip, or just love sleeping in too much a few days a week. However way you do the no-poo thing, it's certainly a step that counts: Especially for all of us who lavish in our extra-long hot showers on the daily, it behooves us to be mindful of the global water crisis, which has left around 1 billion people on the planet without access to clean, safe water (read more on the movement).
No-poo Movement: Natural vs. Non-Natural Products
We ran a survey among our readers and asked them if they rather purchase a natural hair product over a non-natural alternative and their answers spoke volumes. Join the movement!
Dry shampoo, leave-in conditioners, and non-aerosols
You can help! Start by choosing to use lightweight hair moisturizers that nourish strands without a greasy feel, such as leave-in conditioners, which can provide hair with a refresh during no-wash days (and don't need to be rinsed out!). Dry shampoo also works wonders in degreasing an oily scalp, as well as provide texture where you need it when days you opt-out of a hair rinse. For all of you, a bit more ahead of the green game, however, perhaps some non-aerosol alternatives to your favorite hair products, then?
Bonus: Shampoo bars
We love how shampoo bars cut down on packaging waste while retaining the ingredients you know and love with your regular formulas (castor oil!).
Some even come in 2-in-1 formulations that make them handy for travel, so yeah, win-win.
Remember, Earth Day—for us earthlings, anyway—is Every Single Day Ever, and it's high time we all got serious about taking care of literally the only home we have in the universe. The key to long-lasting change: small, sustainable habits that not only keep our looks on point but more than that, play a bigger part in environmental progress.
Prev Article
Next Article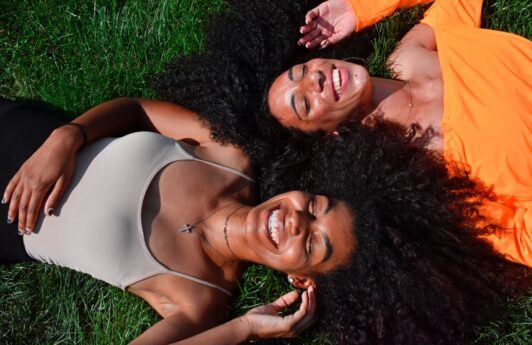 Article
Benefits of Hot Oil Treatment for Dry Hair
It's one of the key products to retaining moisture in your hair. 
See article
All Things Hair on Instagram