Deep conditioner for natural hair: From daily conditioners to intensive masks & leave-ins, too
All the essential info you need to know about natural hair conditioner. Your curls and coils will thank us!
Any natural-haired queen can tell you the importance of conditioning – it's right up there with detangling and protective styling. However, if you're in the middle of transitioning or you're looking for a new way to care for your strands, knowing where to begin might be hard. But don't stress, because the All Things Hair team have put together a simple guide to everything you should know about deep conditioner for natural hair, below.
Leave your curls gleaming with our natural hair conditioner cheat sheet
Don't skip conditioning your natural locks
The unique twists and turns of natural hair make it difficult for oil to travel down the hair shaft and evenly coat each strand. This is why using a hydrating conditioner is so important.
Pick a conditioner specially formulated for natural hair
If a conditioner mentions anything about being specifically designed for curly hair, you're on to a winner!
Conditioners for natural hair are often formulated to provide the extra nourishment and moisture required to keep it looking and feeling healthy, so don't forget to closely read that ingredients list!
Don't be so hasty!
We're all guilty of washing out our conditioner too quickly, especially if we're pressed for time. But try to leave your natural hair conditioner on for the allotted amount of time, as this will give it time to really work its moisturising magic on your tresses.
Just remember to concentrate your application predominantly on the lengths and ends so as not to create unnecessary build-up at the roots.
Our top 3 natural hair conditioner recommendations
TRESemmé Botanic Moisture & Replenish Conditioner
As we've mentioned, natural hair needs extra moisture, so anything that's going to help up the hydration is a winner.
The TRESemmé Botanique Nourish & Replenish Conditioner is formulated with two well-known nourishing ingredients – coconut milk and aloe vera – to give strands a double whammy of moisture and make it easier to comb through.
Dove Daily Moisture Conditioner
The Dove Daily Moisture Conditioner contains a Pro-Moisture Complex which smooths the outer layer of your hair while deeply nourishing from within. It's also light enough to use regularly, so you won't have to worry about build-up – bonus!
TRESemmé Moisture Rich Conditioner
Give your hair the moisture it needs with TRESemmé Moisture Rich Conditioner. This moisturising conditioner delivers optimised hydration that locks in moisture, giving you healthy, beautiful hair.
Enriched with Vitamin E, this advanced moisturising system helps to nourish and restore vibrancy, transforming your hair into soft, luscious strands with an enviable shine.
Deep conditioner for natural hair
Now, while using a wash-out conditioner for your natural hair is key to keeping your locks in shape, sometimes it just isn't enough. What to do? Enlist the help of a deep conditioner to give you that extra boost…
Why add a deep conditioner into your routine?
When it comes to natural hair, it's safe to say there's no such thing as having too much moisture! So, even if you're using a wash-out conditioner religiously, your thirsty tresses might be in need of more hydration. That's where deep conditioner for natural hair comes in.
A deep conditioner for natural hair is more intensive than a daily conditioner, offering more concentrated benefits. With a blend of natural oils, the Dove Nourishing Oil Care Treatment Mask is a great option. Use once a week or whenever your hair feels like it needs that extra boost of moisture. Then leave it on for the stated amount of time and let it work its magic.
Try a leave-in
Want to know another quick and easy way to top up your hair's moisture levels? The answer is easy: use a leave-in conditioner!
Because of the ease of application, we suggest using spray formulations, as they're the best conditioner for natural hair for on the go and a super convenient way to add daily moisture without having to wash your hair.
Most importantly… create a routine that works for you
When it comes to natural hair conditioner and hair care, this is probably one of the most important factors to consider. Unfortunately, there's no exact science to caring for natural hair and, even if there are general similarities between different curl types, essentially, no two curls are alike!
So how should you go about creating the perfect hair care routine? Just listen to how your hair reacts. Don't feel obliged to follow one hair care path and don't be afraid to experiment to see what really works for you.
Prev Article
Next Article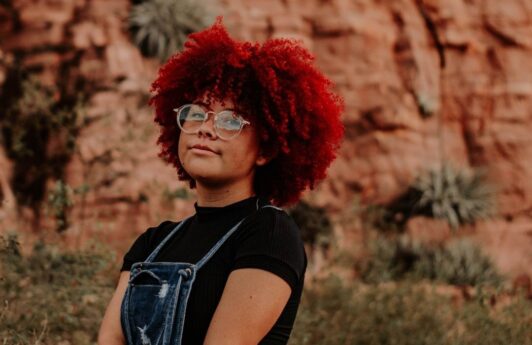 Article
How Long Does Semi Permanent Hair Dye Last? We Reveal How Often You Should Be Colouring Your Hair
Depending on the type of dye used, and your hair's condition and colour, a semi-permanent hair dye can last anywhere from 6-8 weeks, or on average 28 washes. Whether you're decorating your Pinterest board with acid brights, burnt orange balayage, or bold berry hues, experimenting with colourful hair has never been so popular. But before […]
See article