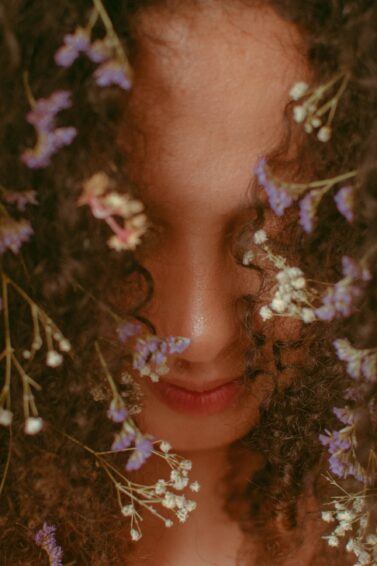 Hair Powder: The Ultimate Weapon For Greasy, Unruly Hair
Give your hair a fresh feeling with hair powder.
Let's be honest: We all skip washes every once in a while. Sometimes, we just want our salon-prepped look to last a day or two (or three, we're not judging) longer. But hair can easily go from fresh and clean to greasy and unruly when left unwashed, especially for those with naturally oily hair. To avoid that greasy look, you're going to have to use some products meant for in-between washes. One of the best products to use for your greasy locks is hair powder, which some may know in its other, more market-friendly form, dry shampoo. This product sops up excess oil and gives your strands a clean, polished look. But what exactly is hair powder? We're giving you a crash course on what this product exactly is, and why you should be using it to extend the life of your unwashed locks:
Everything You Want to Know About Hair Powder
What exactly is this miracle powder? Well, it's the same thing as dry shampoo. Hair powder can be found in aerosol spray cans and in regular powder forms. This product is great for revitalizing your roots and strands when your hair feels a little too greasy. It functions to remove excess oil, dirt and debris within your unwashed tresses in between washes. It's basically a pick-me-up for your hair to feel refreshed and cleansed during those days where you can't actually wash your locks.
Something For Everyone
Hair powder is found in a variety of styles. You can purchase hair powder products that give your hair a matte, oil-free and anti-sheen look, or you can get it in an aerosol can for an easy, handy, travel-friendly option. You can even create your own as a fun D.I.Y. project if you want a natural, homespun version.
One of our favorite hair powder products is Love Beauty and Planet Volume and Bounty Juicy Grapefruit Day 2 Dry Shampoo. It absorbs excess oil and grease harboring in your hair, and imparts a just-washed, freshly cleaned feeling on your scalp and strands. The formula is also silicone and dye-free, and you don't feel like it is weighing down or clumping on your locks. It leaves hair feeling voluminous with a light, fruity scent. This is definitely part of our hair care utility belts.
If your hair is feeling a little flatter than usual, then try Dove Refresh+Care Fresh Coconut Dry Shampoo. This aerosol hair powder boosts roots and lifts your hair to give it a more voluminous, full look while sucking out any excess dirt and oil from our hair.
Prev Article
Next Article
Article
What is Dry Shampoo and How Often Should You Use It?
Who doesn't love a mid-week refresher? Learn how dry shampoo can save your hairstyles.
See article
All Things Hair on Instagram