Sun Met 2020: Top 10 Show Stopping Hair Styles
Are you ready for the Sun Met? It's the number one occasion where horse racing meets high fashion. Besides being Africa's richest race day, it is the stomping ground for Africa's most affluent. In short, the Sun Met is an opportunity for one and all to gather looking their finest.
Style matters the most when you want to stand out at the Sun Met. After all, not all eyes are on the horses. With one of our favourite brands, TRESemmé, as the official hair sponsor of the event, here are our top ten hairstyles for this year's Sun Met to compliment this year's theme of African Luxury.
1. The Tapered Curly Afro
What shouts confidence more than a popping afro? This look demands attention and is sure to be an absolute showstopper.
Editor's tip: You'll want to keep your locks looking smooth and shiny. Try TRESemmé Keratin Smooth Shine Oil for a bouncy, sleek look.
2. Hairpiece with a twist
For the girl who glistens, dazzle your friends with an elegantly placed brooch on a twist of plaits. The contrast between the twisting plait on long straight hair is bound to bring on a double-take at the Sun Met.
3.
 

Pretty in Pink
You can never go unnoticed when rocking a cropped and cute bob with a statement colour. Straight out of Wonderland, this look carries all the whimsy worn by A lister's Kylie Jenner and Nicki Minaj, just to name a few.
Editor's tip: With great colour comes great responsibility. TRESemmé Colour Revitalise Shampoo and Conditioner promises to keep your colour bright and hydrate your hair for a healthy and glowing look.
4. Spiral Braids
There is nothing low-key about this knockout of a look. At the Sun Met, self-expression is key. Show off both your length and creativity in this intricate look.
Editor's tip: To show off those beautiful braids, your hair will need some volume. To keep your hair full all day long, be sure to use TRESemmé Extra Hold Styling Hairspray. Flip your hair over and spray liberally. Then flip it back and smooth down the flyaways.
5. Beaded Beauty
This look is a fun twist on a classic. 20's luxury meets African flair with this ornate beaded headpiece.
6. The 'Alice Band'
Who says tying your hair back means downplaying your look? Play it up and pop on your crown, queen! After all, the Sun Met is all about extravagance.
Editor's tip: Your hair needs to keep up with you, so make sure you use TRESemmé Volume and Lift Styling Mousse to have perfect volume all day long.
7. Centre Braid fit for a Queen
To pull off the drama in this look, you might need to rock some extensions. Why not make an accessory of your hair by braiding in a tiara? All day, you'll be wearing a crown. Everyone will be racing to check out your winning look.
8. Flower Crown
Summer in SA is at its finest. So why not look the part with a popping headpiece? This flower wreath makes the ultimate statement that you need to stand out at the Sun Met. Add a matching lip colour and you'll be off to the races!
9. A Pop of Red
This year's Sun Met will be filled with all the fabulous people standing out in their own way. Stand out above the rest with a jaw-dropping, bold colour. Wear your hair with one thing in mind, love your look and enjoy the day!
10. Flower Power Afro
It's summertime, so let's get playful! Bring out your inner flower child with this popping do. Wear some flowers in your hair for this fresh look.
Editor's Tip: Keep your 'fro hydrated and healthy-looking with the TRESemmé Botanic Rich Oil Mist.
Prev Article
Next Article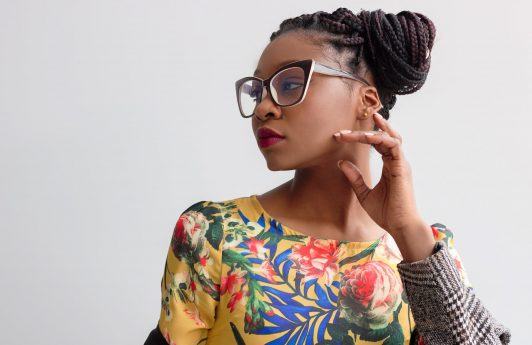 Gallery
25 Best Long Professional Hairstyles For Women in 2020
Trying to style your long hair can get a little frustrating, especially when you want professional hairstyles for work that are still super cute. On the flip side, having an office-approved style can also be tricky when you want to be unique and creative with your look. But have no fear, we're here to help! […]
See article