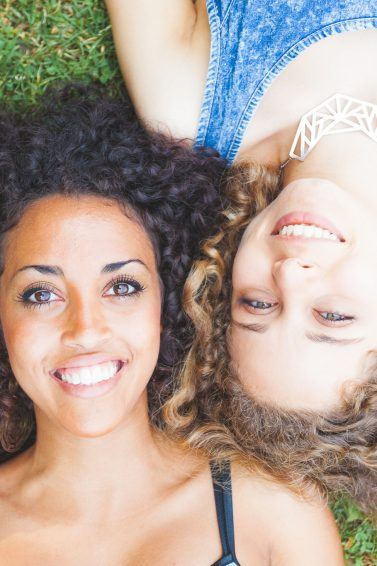 Permed hair care: Decoding the best products and tips for long-lasting curls
Confused about your post-perm hair care routine? Our experts reveal what you need to know...
Break out your shoulder pads and get ready to #throwback to the '80s – perms are officially back in fashion. If you've just stepped out the salon with a head full of fresh curls, you might be wondering exactly what your new permed hair care routine entails.
Covering everything from the best products for permed hair, to your essential mane-tainance tips, ATH has got the lowdown on preserving your perm.
Ultimately, you should treat permed hair the same way you would treat natural waves: with products and styling techniques designed specifically for curls.
Get ready to take notes as we decode the ins and outs of permed hair care, from wash to wear…
Permed hair care: The basics and beyond
How to care for permed hair in the first 48 hours
Whatever your hair type, length and texture, it's important to have a grooming routine that accommodates freshly-treated curls.
The first step? Speak to your stylist. Be sure to ask them as many questions as possible about permed hair care and follow their advice to the letter. They will know the texture and condition of your hair pre and post-treatment and will give you bespoke feedback on what your next styling steps are.
How long do you have to wait to wash your hair after getting a perm?
Remember that iconic scene from Legally Blonde? The one where Elle Woods wins her court case because she knew you had to wait before washing just-permed hair? Well, as it turns out, that piece of advice wasn't just strictly for the script.
One of the biggest faux pas you can make is washing your locks too quickly after the treatment. Always take your hairdressers advice – it's common that after a perm, you will need to wait 48 hours before washing your hair.
What are the best products to use for permed hair care?
Perming the hair is a chemical process and as such, it can cause damage. To combat this, use products that nourish your locks from root-to-tip, helping them to maintain a healthy appearance.
When washing your tresses, use formulas that help restore any damage to the appearance of your strands caused by the perming process.
The Dove Intensive Repair Shampoo and Conditioner strengthens the hair inside and out. Visibly repairing while cleansing, it will leave your curls looking healthy and moisturised.
When curating your styling kit, make sure to include tools that specifically cater to curly-haired needs. The Toni & Guy Leave-in Conditioner for example, will give your waves structure and hold, while hydrating them.
How to style permed hair after a shower
It's crucial to treat permed hair the same way you would if your curls were formed naturally. If you're concerned about drying permed hair, the hair plopping method is a great way to form your curls overnight and minimise the appearance of flyaways. Or, if you use a hairdryer with a diffuser attachment to create definition and volume.
What are the best tools to style permed hair with?
Step away from your straighteners. Fresh curls need a few key tools to cover all their styling bases.
For longer or thicker hair: If you're using a hairdryer, add the diffuser attachment. This will direct the heat to exactly where you need it, causing less friction on the hair cuticle, creating a smooth finish.
For shorter or thinner hair: If you opted for a perm to add volume, use a small round brush when blow-drying. This will help lift the hair at the root and give you the appearance of fuller tresses.
Can I put my hair up after getting a perm?
Absolutely! Don't be afraid of misshaping or re-structuring your new curls. As this treatment is permanent, your new waves are locked firmly in place. Giving you an endless new realm of styling possibilities.
Need a head start? Check out these flattering hairstyles to master for short, curly hair. Or, make the most of longer, wavy tresses with these modern ways to rock a loose perm. The curly-haired world is now your oyster.
Wondering how to sleep with permed hair?
If you're new to permed hair care, sleeping with curls can be pretty daunting. To avoid waking up with messy or tangled tresses, try sleeping with your hair tied in a silk scarf or on a silk pillowcase.
This trick will minimise the amount of friction on the cuticle (outside) of the hair, creating a smooth look. Leaving you to catch some beauty sleep, without worry about a bad case of #bedhead. You're welcome…
Prev Article
Next Article
Article
4A Hair Type: How to Take Care of Your Curls
For girls with springy curls. As much as we love talking about braiding and styling hair, we also love getting into the nitty-gritty of understanding different hair types. This is essential so that you can better understand what products will work best for you. 4A hair is positively gorgeous so we knew it needed a […]
See article