These Are the Best Shampoos for Oily Hair
Nobody wants to be trapped in a cycle of washing their hair every single day, but if your hair gets oily quickly then sometimes it doesn't feel like you've got a choice. Using a shampoo for greasy hair can make all the difference. But if you're not already using one or you haven't found one that works for you yet, don't fret.
From finding the top shampoo for greasy hair to understanding the causes of oily strands, consider this your one-stop shop to beat the oil (it's better than it sounds, promise).
Read on below, where we're discussing our favourite refreshing shampoos for oily hair. So get ready to wave goodbye to oily hair once and for all.
What Shampoo Should I Use for Oily Hair?
To help you combat oil and keep your hair looking its best, we suggest you use any one of these shampoos for oily hair. Each product will gently cleanse and refresh your scalp and hair, without drying it out. Are you ready to revolutionise your daily wash routine?
1) TRESemmé Cleanse & Replenish Deep Cleansing Shampoo
When your hair is oily, it's also more likely to look limp. The Vitamin C infused TRESemmé Cleanse & Replenish Deep Cleansing Shampoo helps to clarify and gently remove product build-up and impurities from your hair, while also adding body and life back into your locks.
2) Toni&Guy Deep Cleanse Shampoo
For an oily hair shampoo that cleanses your scalp and leaves your hair feeling softer and more manageable, reach for the Toni&Guy Deep Cleanse Shampoo.
Great for helping to remove product build-up, dirt and oil, this product is one of the best shampoos for oily hair. Especially, for anyone who has gone OTT with the styling products lately and needs a good clean. This makes it especially great for those susceptible to oily hair. It's also great for times when you're styling more often than normal, like over Christmas and New Year's.
3) Dove Nutritive Solutions Daily Moisture Shampoo
When it comes to finding an oily hair shampoo, it's best to avoid products that are heavy and of course, oily. Why? Because these are intended to hydrate drier strands and will only add to the oil factor!
Instead, we suggest opting for a lightweight and cleansing shampoo for oily hair like the Dove Nutritive Solutions Daily Moisture Shampoo, which nourishes the hair but is a light enough formula that it won't leave your hair feeling coated in product.
Prev Article
Next Article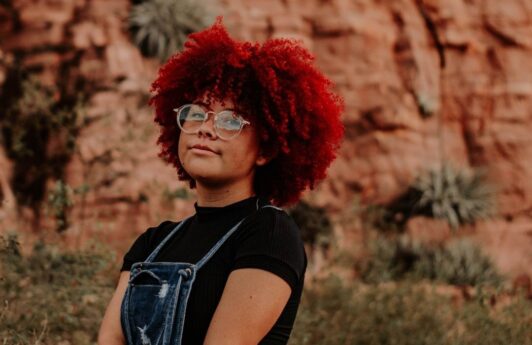 Article
How Long Does Semi Permanent Hair Dye Last? We Reveal How Often You Should Be Colouring Your Hair
Depending on the type of dye used, and your hair's condition and colour, a semi-permanent hair dye can last anywhere from 6-8 weeks, or on average 28 washes. Whether you're decorating your Pinterest board with acid brights, burnt orange balayage, or bold berry hues, experimenting with colourful hair has never been so popular. But before […]
See article