How to Take Care of Natural Hair in 5 Easy Ways
Natural hair is stunning, there's no doubt about it. Have you considered going back to your natural hair? We have all the tips and tricks to guide you on your way!
Natural hair has been a massive talking point in the world of hair in recent years, especially "going natural" or "returning to your natural hair". The natural hair movement is huge, but what does it mean to go natural? Put simply, it means wearing your hair in its natural state and avoiding any form of heat damage and chemicals that straighten or otherwise change the texture of the hair.
Now that we know what it means to go natural, why do people do it? Well, there are three main reasons:
Natural hair is empowering: Hair is truly a woman's crown, and it can be a representation of herself. By accepting their hair as it grows, women are changing beauty standards the world over. They are saying that they are beautiful as they are. And we say yes, your hair is beautiful and you don't have to change a thing about it.
Wearing your hair in its natural state is healthier for your hair: By going natural, your hair will be healthier because you are not using heat or harsh chemicals to change its texture. When you use these methods, especially chemicals such as relaxers, your scalp gets damaged – and a healthy scalp is a foundation for healthy hair. It can also cause irritation, stunted growth and breakage at the root.
Your natural hair looks just amazing! We love all hair, no matter what you choose to do with it. But we have to admit, there is something regal about an afro that you just can't get anywhere else!
So we know what it means to return to your natural hair, and why. But how do we take care of it? Read on for our tips.
1. Preparing Your Natural Hair
Ask any naturalista and they will tell you, cleansing your natural hair is almost a full day's routine! First, undo any hairstyle you have in, then detangle your hair to ensure there is little to no breakage when you wash your hair.
Editor's Tip: Gentle detangling works best, and we love the TRESemmé Botanic Pre-Wash Detangling Butter for this step. It has great slip and it is free of sulphates and dyes.
2. Washing Natural Hair
When choosing products, be sure to choose gentle, highly nourishing products. We love the Organics Dry/Damaged Shampoo and Conditioner with Shea Butter to give you the gentlest cleanse, while also thoroughly moisturising your locks.
Editor's Tip: Not too keen on shampoo for every wash? Opt for a co-wash instead, like TRESemmé Botanic Co-Wash. This is free from parabens, dyes and sulphates.
3. Post-Washing Natural Hair
Also referred to as deep conditioners, hair masks are your natural hair's best friend. After every cleanse, apply a hair mask to your hair for 20 – 30 minutes then rinse thoroughly. The Dove Nourishing Oil Treatment Mask gives your natural hair extra strength, nourishment and moisture.
Editor's Tip: Follow this up with an oil to lock in the moisture. We love the TRESemmé Keratin Smooth Shine Oil for this, as it does not leave behind any greasiness, but it does give your hair that gorgeous shine!
4. Styling Your Natural Hair
When styling, be sure to use a leave-in conditioner, styling cream or gel. Which product you use depends on the thickness of your natural hair strand and the finish you are aiming for.
Once you have applied your styling products, rock it girl! Wear it open and free, put it in a creative 'do, or even try out protective styles. Protective hairstyles protect your hair from over-manipulation as well as the elements, which can all cause harm over time. Here are a few options for you:
The Afro
If you got it, flaunt it. Wear your hair loud and proud in a big, beautiful fro!
Curls
Embrace the va-va-volume or wear your curls sleek and defined, either way, you're guaranteed to turn heads. How do you like to wear your curly hair?
Classic Cornrow Braids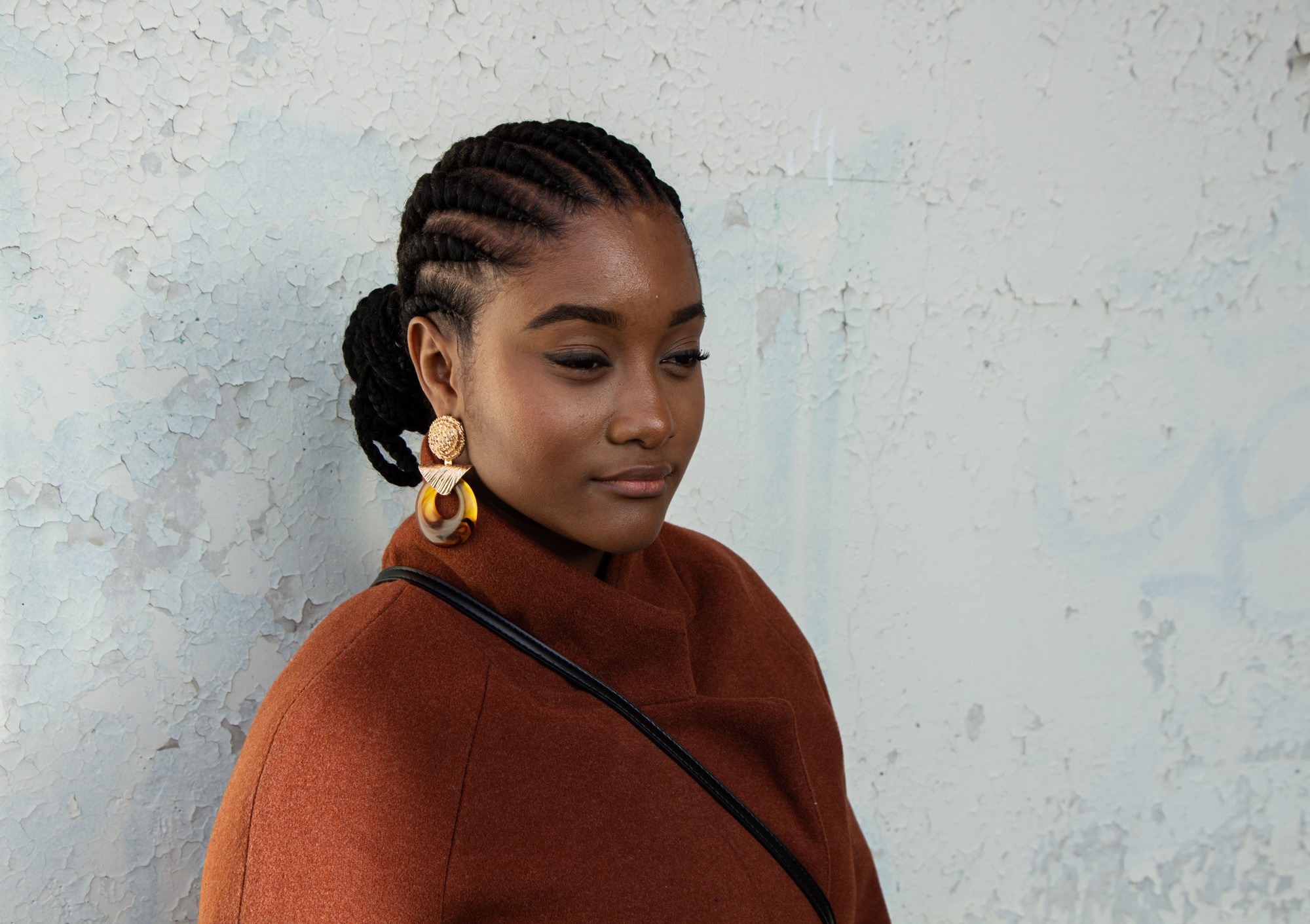 These iconic braids are a great option if you want to look great and keep your hair out of your face.
Sleek Low Bun
Keep it sleek, simple and stylish with this low bun. This is a hairstyle that only takes 5 minutes to do (at most!) and can take you from the boardroom to dinner with the girls. We love it!
Natural Hair High Bun
There's something elegant about a high bun that we just love. Try this elegant and easy high bun for an effortless day or night look.
5. Post-Styling
You may not realise it, but this is an important step. There are a few ways to care for your natural hair post-styling, while you sleep. This keeps your hair defined and reduces flyaways and breakage. Keep reading to find out.
Sleep on a satin pillowcase.
Cotton catches hair and sucks the moisture from the strands, leaving hair dry and prone to breakage. Rather sleep on a satin pillowcase, that allows your hair to glide across it and retain its moisture.
Wear your natural hair in a Pineapple.
Freshened up in the morning, the Pineapple can also be worn out. If you wore your curls or coils out and would like to do the same the next day, we recommend wearing your hair in a pineapple. This keeps your curls defined and free of flyaways. Be sure not to tie your pineapple too tight – this can stretch out the curl and cause it to lose definition.
Wear your natural hair in a satin bonnet.
Is your hair too short to fit into a pineapple? Pop on a satin bonnet before you sleep. Make a statement with a bright colour!
Prev Article
Next Article
Article
What is Type 2B Hair and What's the Best Way to Care for It?
Tame your waves with these 2B hair type styling tips.
See article