12 Simple Natural Haircuts and Hairstyles for South Africans
There are so many ways to style your beautiful natural hair. That's why we at All Things Hair have put together a list of stunning yet simple natural hairstyles. Rock these styles at work, on a date night — or even if you just feel like changing up your look. You can even add extra accessories, such as clips, hair scrunchies or headbands to glam up your look and make it your own.
Fulani Braids
Essentially, Fulani braids are braids with beads and a specific pattern inspired by the Fulani women – a primarily Muslim ethnic group in Africa that's scattered throughout West Africa and parts of East Africa. Fulani braids originally symbolised social status, wealth and marital status. However, these gorgeous braids can be modernised using coloured beads or metallic accessories such as silver and gold clip-ins.
Half-up, Half-down Faux Locs
Super simple but oh so stylish! This gorgeous half-up, half-down natural hairstyle is the perfect hairstyle to take you from work to date night without having to put too much effort in to look cute and trendy.
To glam up this look, we suggest adding a scrunchie, flower crown or even a statement headband.
Space Buns with a Twist
Don't you just love these adorable space buns? This hairstyle was originally worn by the Native American Hopi women who were unmarried, but they were modernised and brought into the spotlight by the character of Princess Leia played by Carrie Fisher in the Star Wars franchise.
Rocking this look is easy, not to mention this look is almost effortless to maintain as the hairstyle consists of two high buns secured with elastic bands. You can also choose to define and neaten the edges around your face and flyaways by applying VO5 Firm Hold Styling Gel  to a toothbrush and brushing the hairs along your hairline to frame your face.
Low Bun with a Chunky Braid
This very simple bun is a winner! A low bun is a great way to keep your natural hair protected while still looking stylish. You can also choose to turn this simple hairstyle into a gorgeous date night hairdo with an ornate Alice band or chunky braided headband, or other hair accessories like clips, cute scrunchies, a headscarf or even a crown if you feel like going extra glam.
Elegant High Bun
This is such an elegant yet simple natural updo. A high bun is ideal for important business meetings, work functions or even to wear every day as a neat, yet on-trend hairstyle.
Keep your bun looking slick and nourished with a bit of the TRESemmé Keratin Smooth Shine Oil.
The Pineapple
Simple yet effective! Pineapple buns are ideal for those who have limited time but still want to be trendy and stylish. This natural hairstyle is as easy as gathering your hair into a high ponytail on the very top of your head, securing it with an elastic band or scrunchie and pulling the hair tight so it forms a pineapple-styled puff on top of your head.
This look can go from busy boss babe to sassy socialite with the right accessories, for example, adding a headband, using fashion clips or even using a statement scrunchie.
Long Jumbo Twists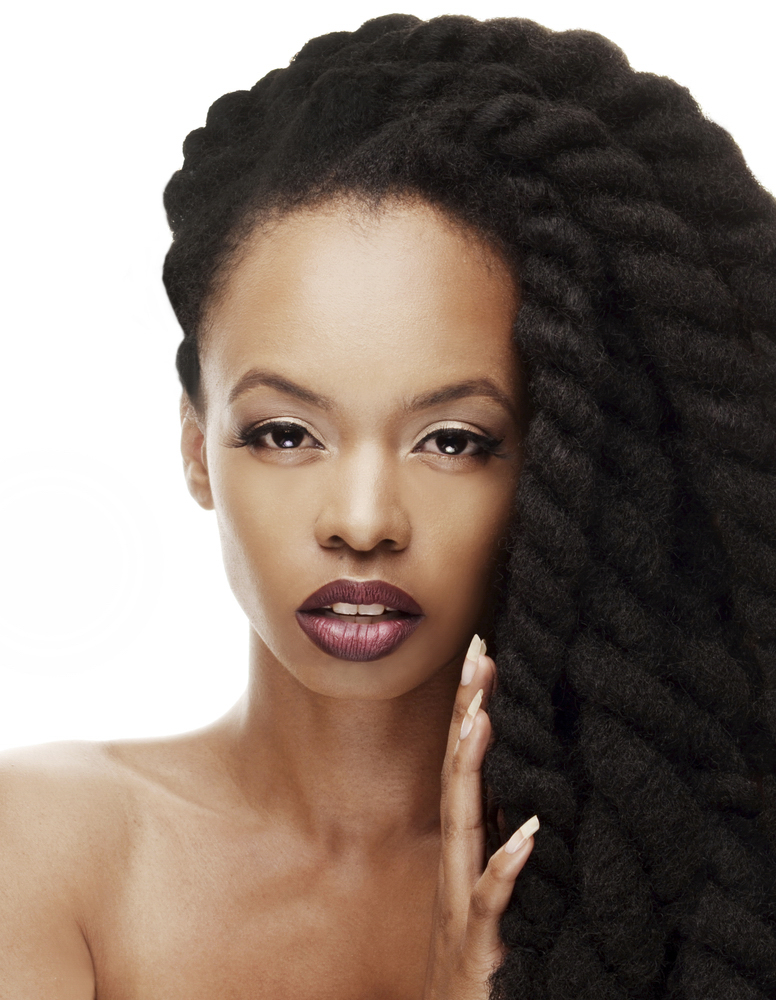 Let's do the twist! These stunning, yet very simple hair twists won't only give you a break from braids. They'll also give your look an extra edge.
Thin Twists
Whether you prefer chunky twist braids or thinner twist braids, this natural hairstyle is not only beautiful, it's a great alternative to braids. Another thing that's great about this style is that you can choose to use your gorgeous natural hair or use extensions, the choice is yours!
The Braided French Braid
There's nothing wrong with going back to the classics – that's why they're known as 'the classics'. A french braid is one of the most popular braids in the world and can be used with any hair type. This braid does require medium to long hair, but if your hair is short, consider micro braids. With micro braids, you can create the french plait with a unique look and add texture.
Fringe Puff Up-do
Simple, voluminous and stylish! This beautiful updo is perfect for a night out on the town or a special occasion like a wedding, cocktail party or birthday dinner. This updo doesn't only add height and volume to your hairstyle, it adds texture and celebrates the beauty of your natural strands.
To get this look, we recommend working TRESemmé Volume and Lift Mousse through your hair before you begin styling it. 
Braided Up-do
Simple to do and even simpler to maintain, this braided up-do is as easy as securing your braids into a top knot bun. This stylish hairdo would work well for work or school, a date night or even a family gathering.
Not to mention, this look can take you from everyday to glam with just the addition of an accessory such as a headband, a headscarf or even a ribbon.
Flat Twists
This is a protective style that's also a trendy way to style your tresses. Flat twists protect your beautiful natural hair while looking elegant and stylish. Furthermore, flat twists can last you up to six weeks. Take care of this style by not touching your twists and keeping your scalp clean.
Prev Article
Next Article
Gallery
16 Trending Hairstyles for South Africans in 2020
South Africa is a country that is rich in diversity and dynamic cultural activity. We love the fact that our hair is an extension of our style and a focal point of our conversations.
See article