3 Best Heat Protectant Oils for Natural Hair in 2020
Calling all-natural hair product fanatics! We've got another natural product to add to your list: natural heat protectant. Yes, you read that right: you can use hair oils that are probably already in your cabinet to help protect your luscious locks during heat-styling. But you do have to use it a certain way, or you may not get the results you expected.
What we love most about using oil as a natural heat protectant is that it also helps keep your hair moisturised when heat styling. When it comes to application, you can apply the oil on your hair after washing and before drying. This way, the oil has the ability to lock in the moisture from your damp hair.
While these three oils can be used to help protect your hair from heat, we have to watch out for the smoke point. This refers to the temperature that an oil begins to smoke and disintegrate, which can end up causing more harm than good (like harmful chemicals and free radicals). The smoke points are 176ºC for coconut oil, and 215ºC for grapeseed and argan oil. As long as the oils are not being heated to these temperatures, you're in the clear!
Read on as we explain why we love coconut oil, grapeseed oil, and argan oil as natural heat protectants for hair:
1. Coconut Oil
Can someone please tell us what coconut oil can't do? This oil is one of the most popular natural heat protectant options out there. There are so many ways you can use coconut oil to protect your hair against the effects of heat-styling tools. Since coconut oil can make your hair a bit on the oily side, we recommend applying just a few drops to your strands. Start by combing the oil through your hair with your fingers. Begin at the mid-shaft of your hair, and then working down to the ends. Make sure to avoid your roots so your hair doesn't look oily.
Another way you can prep your hair with coconut oil is to use it as a deep conditioning treatment. Why is this a great option? The oil has the ability to penetrate your hair strands and during your rinsing out step, you're also washing away any excess before styling your hair.
2. Grapeseed Oil
If you haven't used grapeseed oil as a natural heat protectant, you're truly missing out on its benefits. Grapeseed oil has a high smoke point at 215ºC, it can withstand high heat. Like coconut oil, grapeseed oil can create a super oily finish on your hair, so a few drops are all you need. We suggest applying this the same way as coconut oil. Start at the mid-shaft of your hair, and then work down towards the ends. If you ever go a little overboard with the application, there's no need to worry! You can always go back in with a dry shampoo to soak up any excess.
3. Argan Oil
Liquid gold, liquid gold, liquid gold! Argan oil has been the go-to natural heat protectant for years. This lightweight oil has the ability to protect hair against high heat. Plus, it leaves you with a smooth style and shiny finish. You can also find argan oil-infused heat protectants that have a more serum-like consistency if you prefer serum over a thinner natural oil product.
The TRESemmé Keratin Smooth Shine Oil is a great go-to heat protectant product. We love this oil because it is infused with both argan-oil and coconut oil – just talk about liquid gold! It smoothes flyaways and nourishes your hair to help you achieve soft, nourished, shiny strands.
Prev Article
Next Article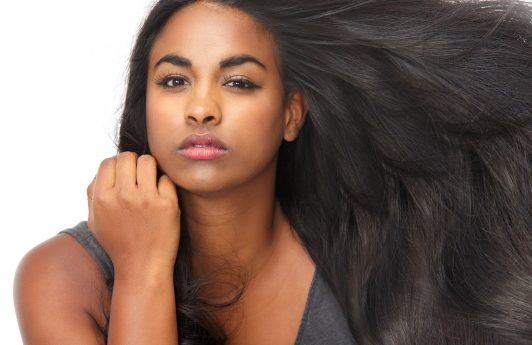 Article
What is Argan Oil and What are the Benefits for Hair?
Everything you need to know about this multi-tasking mane-saver, this way.
See article