20 Best Cropped Haircuts and Styles for Women
Always thought about trying a cropped haircut? Female short hairstyles are really popular right now, particularly with stars like Halsey, Zoë Kravitz and Joey King all rocking boyish cropped cuts. So, if you're looking for a low maintenance haircut which will provide maximum impact, step this way…
Like your cropped haircut to pack a punch? Or do you need short crop hair that's work-friendly? What about a crop for natural hair? Don't you worry, we have all these plus many more, in our ultimate guide to crop hairstyles, below!
Textured Pixie
Ruby Rose's pixie is shorter at the sides and longer on the top, allowing her to play around with the texture to create different looks. Finish the styling with TRESemmé Extra Hold Hairspray.
Side-Swept Pixie
This side-swept pixie is the perfect office-appropriate crop haircut. Playful yet formal enough to wear for the 9-5, it's a failsafe option.
Editor's tip: Create the perfect side bang with a straightener and applying a small amount of the TRESemmé Defence Spray through your hair, using your fingers to give your finished look loads of added texture.
Choppy Pixie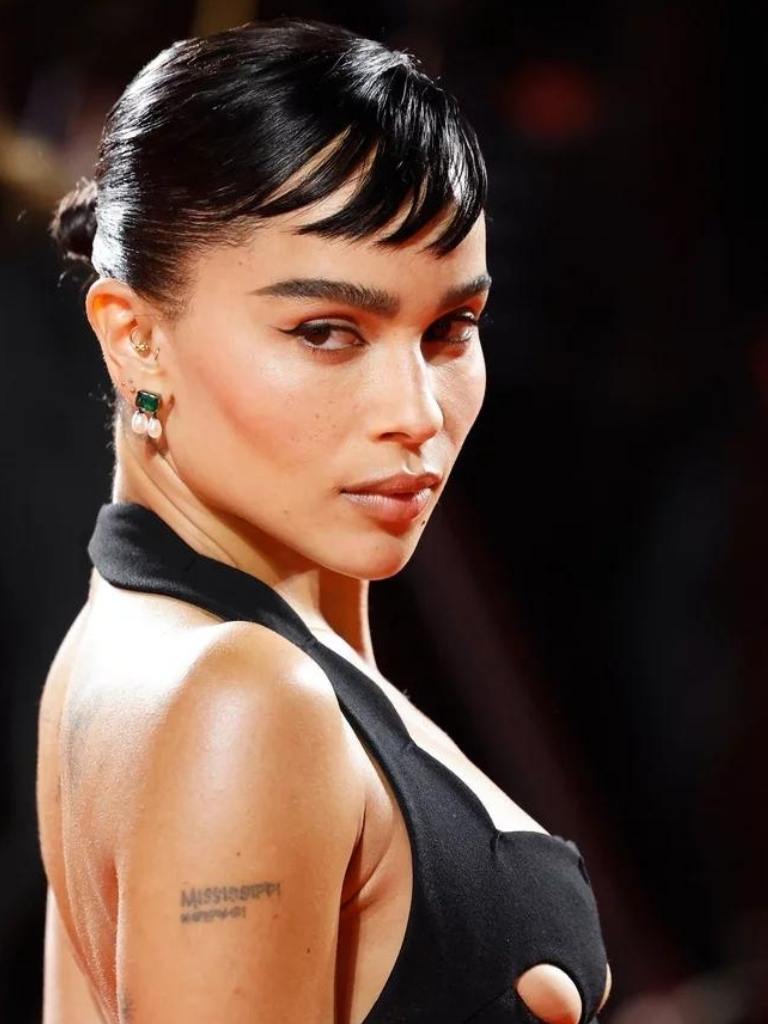 Zoë Kravitz' super short pixie cut and micro bangs put all of the focus on her out-of-this-world bone structure.
Textured Crop
If you thought that going short meant sacrificing your curls, think again. The perfect cropped haircut for those with wavy or curly strands, this textured crop is a great way to embrace your texture and really show it off.
Polished Quiff
This side-parted pixie looks feminine and polished, making it an ideal option for a date night or fancy occasion.
Baby Bangs
With fringe styles being adaptable for just about any 'do, you'd be hard pressed to find a bangs look that didn't complement your short crop hair. As this street styler shows, baby or micro bangs as they're also known, can really set your pixie apart.
Plus, if they were good enough for Audrey Hepburn in Breakfast at Tiffany's, we don't need to be told twice.
Quiff
Emma Willis is the queen of the quiff and is constantly showing how many ways there are to style short hair. If you're looking for pixie styling inspiration, she's definitely one to stalk!
Buzz Cut
Daring, yes, but if you're ready to go bold with your cropped haircut female buzz cut hairstyles have become increasingly popular.
Just because you don't have much hair to play with, that doesn't mean this style is boring either – quite the opposite. Experiment with some of this season's hottest hair colour trends, from sky blue to pink ombre and really make this style your own.
Curly Pixie
Having short hair doesn't mean you can't style it – use a curling wand to recreate Joey King's cute and curly style.
Messy Bed Hair
Bed hair is a trend for all hair lengths, and that doesn't exclude short hair! Ask your stylist for a layered pixie cut that'll let you get up and go in the morning without having to spend too much time styling.
Slick Side-Parting
With not a strand out of place, Charlize Theron's slick icy blonde look is the epitome of Hollywood glamour.
Baby Afro
Over the past few seasons, we've seen the number of women embracing their natural hair soar! And for those who like their hair short and easy to maintain, a baby afro is an obvious choice.
Effortlessly chic and bursting with style, baby afros look super cute left in their full glory or with fun accessories. And we at All Things Hair HQ love the way this short crop has been spruced up with a single flower – the perfect festival style, don't you think?
Layered Pixie with Highlights
Cara Delevingne's piecey layers and golden highlights give a youthful update to a classic pixie.
Pixie With an Undercut
Possibly the most popular and versatile short crop hairstyle of them all, pixie crop hairstyles never fail to impress. While pixie cuts do require regular trims to maintain a specific length, you can also play around with different styles while growing your locks longer.
To earn a few extra style points, opt for a subtle undercut with your pixie, which will add a cool edge to your look and provide a neat contrast in colour for those with dyed locks!
Super Short Pixie
After shaving her head for a role, Australian actress Eliza Scanlen is rocking this striking blonde pixie, which really brings out her eyes.
Fade Crop
Not just one for the boys, the fade crop works just as well (if not better, we say) on us girls. This crop haircut is full of attitude and actually opens up a world of new styling opportunities!
You can create a host of patterns on this faded hairstyle, or a simple one line like above, as well as growing out the height of your strands on top! Either way this is a great short crop hair look to consider.
Gelled-Back Pixie
Miley Cyrus has rocked a plethora of short cropped hairstyles but this platinum pixie is especially flattering with her heart-shaped face.
Bowl Cut
We never thought we'd see the day when bowl haircuts would be back in fashion – yet they are! Once seen as a DIY hairstyle disaster, bowl cuts now look edgy and are often worn on the most stylish women.
This cropped haircut is achieved by cutting the hair at equal lengths all around the head – as if you placed a bowl on you head and cut all the hair not under the bowl, hence the name!
Women's Crew Cut
Crew cuts (think longer than a buzz cut but shorter than a pixie) are a borrowed-from-the-boys style that just so happens to look exceptionally cool on girls.
And, reminding us that blonde crop hairstyles always make a statement, this street stylers platinum hair looks amazing with her contrasting grungy roots.
High Top Afro
High top afros look utterly fabulous on women with tightly coiled strands, being able to work them into almost any shape! So if you've always wanted to channel your inner Grace Jones, and rock a look that packs a punch, now's your chance.
Prev Article
Next Article
Tutorial
How to make hair look thicker: 5 essential styling tips
Answering the age-old question of how to make hair look thicker. 
See article