Our expert explains why hair porosity is the key to decoding (and repairing) damaged tresses
This is what you need to know about hair porosity and how it affects the look and feel of your locks...
If your locks are looking frizzy, dry or damaged in any way, it's time to take a look at how porous your hair is. A general rule when it comes to hair porosity is that the more damage the hair goes through, the more porous it becomes. High porosity hair can appear more dry and coarse than low porosity hair as the outer cuticle has been compromised.
Hair porosity is the ability of the hair fibre to absorb water from the external environment or when it is wetted with water – Peter Bailey

Delving deeper into the biology that dictates your hair porosity, Peter Bailey, Global Technical Manager, Hair Care at Unilever unpacks the ins and outs of this science within your strands.
Plus, we reveal why it's so important to maintain and manage high porosity hair so you can have a good hair day, every day.
Hair porosity: The basics
Hair porosity types
So, what does hair porosity mean? Porosity refers to how your hair absorbs humidity from the external environment and is broken down into 3 categories: low, medium and high porosity hair.
According to Peter, "The level of your hair's porosity is determined by the amount of damage to the outer cuticle." Hair can become damaged in a number of ways including using styling tools without a heat protectant, colour treatments (like bleaching) and a lack of maintenance.
So how does this damage actually affect the appearance of your tresses? "The first signs of damage are the complete or partial removal of the fatty acid layer on the hair surface, together with cuticle chipping," reveals Peter.
Translation: think frizzy locks and dryness or roughness. "If damage occurs continuously, the cuticle layer will be removed completely. This is when the hair is highly porous."
Low porosity hair
If you have virgin or undamaged hair, it will most likely be low porosity. This is the healthiest-looking porosity of hair you can have.
Peter reveals, "Low porosity hair means all the cuticle cells are flat and it is likely to have the lipic layer on the surface. This ensures that the hydrophobicity (water repellency) of the hair is well kept, therefore it is less porous (meaning it doesn't easily let water in)."
These characteristics combined make it more difficult for humidity to be absorbed, so your hair doesn't get frizzy.
So, contrary to what you might think, virgin or undamaged hair is less porous than tresses that are dry or damaged. This is because your hair's structure is stable and strong.
Editor's tip: Keep protecting your hair from any future damage by adding a hair primer. Use the VO5 Damage Protect Primer Spray on wet tresses before styling, to help protect them.
Medium porosity hair
When hair starts getting damaged, its cuticles are not sealed. This means that they don't protect the hair's internal structure properly.
The lipidic layer on the surface can, therefore, be absent, and so the hydrophobicity (read: water repellency) of the hair is compromised. The result? Hair starts becoming dull, rough, not manageable and breaks more easily.
Water is able to be absorbed more easily in medium porosity hair versus non-porous hair, making it frizzy and weak. In order to help look after and visibly repair the hair, use products that are designed specifically to do just that.
Editor's Tip: Looking for a range to help improve the appearance of your dry hair? The TRESemme Keratin Smooth Shampoo and Conditioner will do just that. This wash and care duo will help your hair stay salon smooth and give you up to 72 hours of frizz control.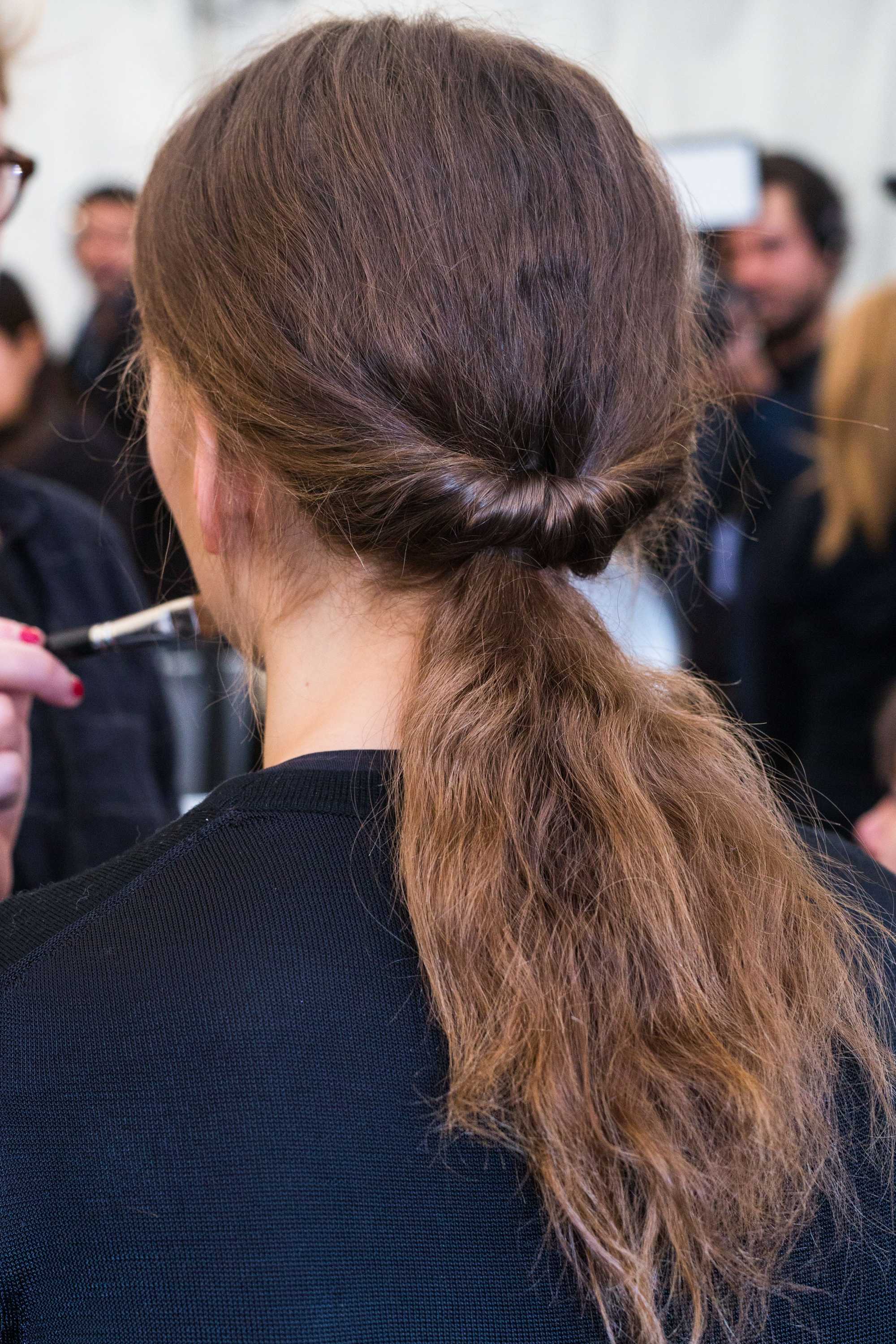 High porosity hair
The more damage that our hair goes through, the more porous it can become. (High porosity hair = very damaged.) The cuticle (and therefore the lipidic layer) which protect the hair are completely missing, making it weak, rough and tough to manage.
Not ideal, we agree. Which is why when it comes to high porosity hair, recovery is the optimum word. Because the protective layer is completely missing, this hair type is highly porous and absorbs water very easily.
Remember the water-repelling layer that we mention earlier? Well, the removal or lack of this fatty acid layer, alongside chipping or lifting of the cuticle can lead to hair that's more porous than virgin hair.
So what can you do to help reduce your hair porosity? According to Peter, "Products developed for dry or damaged hair work by recreating a layer on the surface of the hair fibre. This has the same function as the cuticle+18-MEA layers present in virgin/undamaged hair." In this, way it is possible to reduce hair porosity and also improve the look and feel of rough or coarse tresses.
Editor's tip: The TRESEmmé Biotin+ Repair 7 range includes a shampoo, conditioner, intensive mask, primer spray and primer cream formulated with a Biotin & Pro-Bond Complex. This penetrates inside the hair to restore broken bonds caused by hair damage. Leaving you with instantly healthier-looking tresses.
What's the porosity of your hair? Take this simple test
If you want to diagnose what the hair porosity of your strands is, try this simple DIY test to see where your tresses lie on the spectrum.
First, put a clean strand of hair into a cup of water. It will get wet and sink at some point, but the longer the strand floats, the less porous and therefore healthy your hair is. This would generally indicate you have low porosity hair.
If your strand floats somewhere in the middle, your hair is probably medium porosity. But, if the strand sinks immediately, then you most likely have high porosity hair.
Once you've gained an idea of what level of porosity your hair is, you can start to treat it accordingly to make sure your tresses look their best – always.
Article
How to get rid of split ends yourself: Our top 3 tips
Time to take matters into your own hands.
See article