10 of the Best Ponytail Hairstyles to Try Now
Pump that pony with these top styles...
Sick of your limp, lifeless-looking ponytail? Ready to pump some power into your hairdo? Then you've come to the right place, because we've got some top tips on how to amp up the volume on that classic ponytail.
Now don't get us wrong, our love for ponytail hairstyles is never-ending, but sometimes we wish there was just a little bit more to them. Which is why we searched high and low for the best ways to give your pony a much needed update! Take a look…
Tousled Ponytail
If you have naturally straight hair, add some drama in the back, by opting for a tousled ponytail – it'll give it a serious thick-looking boost!
Editor's tip: The simplest way to add some texture to ponytail styles, is by using a few pumps of the TRESemmé Perfectly (un)Done Wave Creating Sea Foam on damp hair. The ultra-light formula helps create natural-looking waves, for a gorgeous beachy look.
The Double Pony Trick
The double pony is a classic hair hack that works wonders for flat ponytails, but surprisingly, not many people know how to do it!
All the double pony consists of is creating 2 ponytails, one on top of each other, so that they merge together creating the illusion of longer, thicker-looking locks.
Psst: get the look by following our double ponytail step-by-step guide, right here!
Bubble Ponytails
Loved by Olivia Culpo and Lea Michele, bubble ponytails are super easy to create, while having maximum style impact!
Get the look: Work all your hair into a smooth, high ponytail and secure. Add another hairband a few inches from the base of your first hairband and gently tug at the section – this will create your first 'bubble'.
Repeat this process all along your pony until you reach the tips. Et voila: it really is that simple!
Add Some Ribbon
You may think this is just a low ponytail with a bit of ribbon, but it's so much more. Ribbons have been spotted at catwalk shows from Chanel to Marchessa, and are sure to be a huge trend this year. Credit: @kristin_ess
Get the look: There is no need for fancy frills here, as the more carefree the better. Simply gather you hair into a loose, low ponytail and secure with a thin hairband. Then take some ribbon and wrap around it the band to conceal it, tying it into a bow. Yep, that really is all it takes!
Tease, Tease, Tease
Often, high ponytail hairstyles can lack volume and texture in poker-straight locks. If this is the case for you, it's time for some backcombing…
After you've styled your hair into a ponytail, take a comb and begin teasing small sections of hair at the root of your ponytail for some added oomph. Then lightly brush over the top of your strands to smooth them: be careful not to brush too hard though, or you may undo all of the hard teasing work that you put in!
Wavy Side Ponytail
This wavy side ponytail will look just as great as an everyday look as it would for special occasions. Credit: @spoolies
The easiest way to recreate this 'do, is to curl your hair after you've tied it up, and not before. Once you've curled your mane, tip your head to the side and gently rake your fingers through the waves to separate them and fluff them up.
Editor's tip: Before and after styling, give your tresses a spritz of the TRESemmé Get Sleek Protect and Polish Duo Mist to ensure it's protected from any heated styling and gives your 'do a mega shine boost!
Bling Hair Accessories
If you're a complete hair rookie, or simply like the ponytail you currently wear, then jazz your look up by adding some cool hair cuffs. Credit: @sweetgyalclothing
These little accessories can spruce up your everyday look in a matter of seconds, so there's no reason not to invest! And if you like this, then you will love the hair rings trend currently taking the industry by storm.
Crimped Ponytail
Crimped hair has steadily crept back into the limelight after being on hiatus since the '90s. And guess what? We couldn't be happier! Credit: @studio6a
Spotted on many a fashion runway, these cute ponytails can be worn on any hair length, plus can be made as subtle or as dramatic as you like. Will you be making the ultimate '90s throwback this season?
Rope Twist
We absolutely love twisted rope braids at here at All Things Hair HQ. Why, you ask? It's fun, can work on all hair types and it's super easy to do. We've seen rope braids at catwalk shows, as well as being donned by the stunning Shay Mitchell. This cute side variation is perfect for every day and makes a welcome change from your basic go-to pony.
Twisted Ponytail
Ponytail styles are a plenty, but if you want a hairstyle for a special occasion or the perfect holiday snap, then this twisted pony style needs to be on your radar. Credit: @emmachenartistry
Get the look: Start by dividing your hair into 3 sections at the back and begin to create a French braid. Weave your braid from halfway down your head and stop at the nape of your neck, ensuring it isn't too tight. Secure with a hairband, and finish the look by wrapping a section of loose hair around the band and pinning in place.
Editor's tip: To get enviable volume in your mane, add a sprinkling of the TRESemmé 24 Hour Body Plumping Powder to your final look. Then gently tug at the braid to separate and add thickness – finito!
If you need more hair inspiration, then head on over to our Updos page, which is packed full of great hair tutorials and stunning party styles to try! Go on, those strands won't style themselves.
Prev Article
Next Article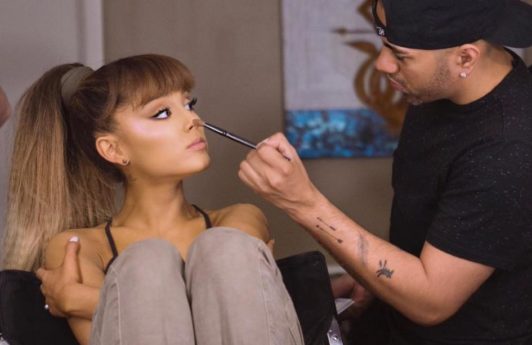 Article
Ariana Grande has crimped her ponytail and it's so '90s!
Ariana Grande has upgraded her ponytail.
See article