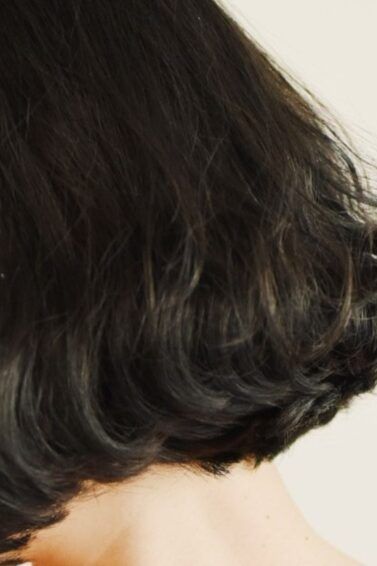 Our 55 Favourite Short Bobs with Bangs Hairstyles to Inspire You
Do you love short bobs? And, how about bangs? How about combining the two looks and you'll have a stylish short bob with bangs hairstyle that everyone will compliment you on. From the French girl bob to the Chanel haircut, short bob hairstyles with bangs are quite iconic, with many celebs sporting the style over the years, adding to the allure of short hair to shake up your style.
This iconic hairstyle may vary in length, but generally starts from the ear and ends at the neck, not touching your shoulders, all while being paired with a fringe cut of your choice.
Take a look at our hand-picked styles – and once you see the different ways you can wear this look, you'll seriously be tempted to take the plunge.
Classic Short Bob With Bangs
If you're opting for a classic look, this look is perfect for you.
Layered Short Bob Haircut With Fringe
Is anyone else getting serious Rachel Green vibes from this layered bob with bangs? Us, too. Give it the Rachel oomph using TRESemmé Volume and Lift Mousse in your styling phase.
Edgy Short Bob With Bangs
This edgy E-girl-inspired short bob with bangs is exactly what you need if you're looking to make a bold statement with your hair.
Editor's tip: Keep your coloured hair looking vibrant for longer with the TRESemmé Revitalise Colour Shampoo!
Short Waves With Wispy Bangs
All your short hair goals can come to life with this softly tousled bob and bangs duo.
Soft Choppy Blonde Bob With Fringe
If you're all about texture, this choppy bob is especially great for those with fine hair who want volume and movement.
Trendy Short Bob With Bangs
What's not to love about this short bob with bangs hairstyle? It's cool girl-approved and exactly what you need to make your hair feel new again.
Short Layered Bob With Side Bangs
No matter your face shape, side bangs are always the answer. 
Editor's tip: Since bangs are constantly pressed against your head (or the side of your head!), they're much more likely to get oily. So, you really can't go wrong with using the Dove Daily Moisture 2-in-1 shampoo and conditioner. 
Medium Bob with Side Bangs
This beauty teamed loose waves with stylish swoop bangs to complete her look.
Inverted Short Bob with Micro Bangs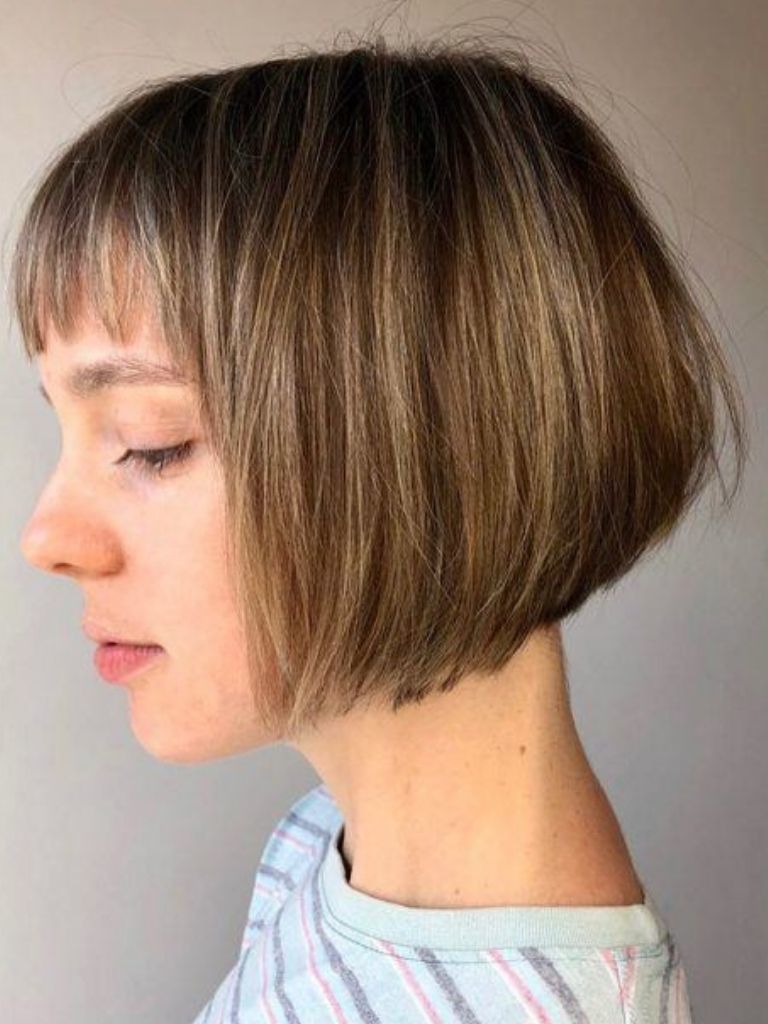 A feathery, micro fringe is all you need to make an inverted bob, like this, even more eye-catching.
Short Blonde Bob with Bangs
If you have a more defined jawline, you should opt for a softening bob-and-bang duo like this one. 
Super Short Bob with Bangs
Not afraid to go super short? Try this bright and beautiful crop, complete with Tinkerbell-Esque bangs. 
Asymmetrical Bob with Bangs
Take your look to modern heights with this sharp and sexy asymmetric bob. 
Short Blunt Bob with Blunt Bangs
We can't get enough of this glossy blunt bob and bangs. 
Cleopatra Bangs
You'll feel just like Cleopatra with these gorgeous glossy bangs.
Jaw-length Short Bob
The best thing about a jaw-length bob? It's easy to style and always looks effortless. 
Chin-Length Choppy Bob With Bangs
For the fine-haired ladies out there, this choppy bob is your shortcut to texture. 
Bedhead Waves With Bangs
This wavy bob and messy fringe is the ultimate style to emulate for that lived-in look.
Beachy Waves With Micro Bangs
This Pinterest-worthy bob feels like it is made for the beach.
Tousled Blue Bob With Fringe
The easiest way to take a short bob with bangs up a notch? With a pop of colour, of course! We've got our sights set on this bold blue number.
Grungy Bob with Thick Bangs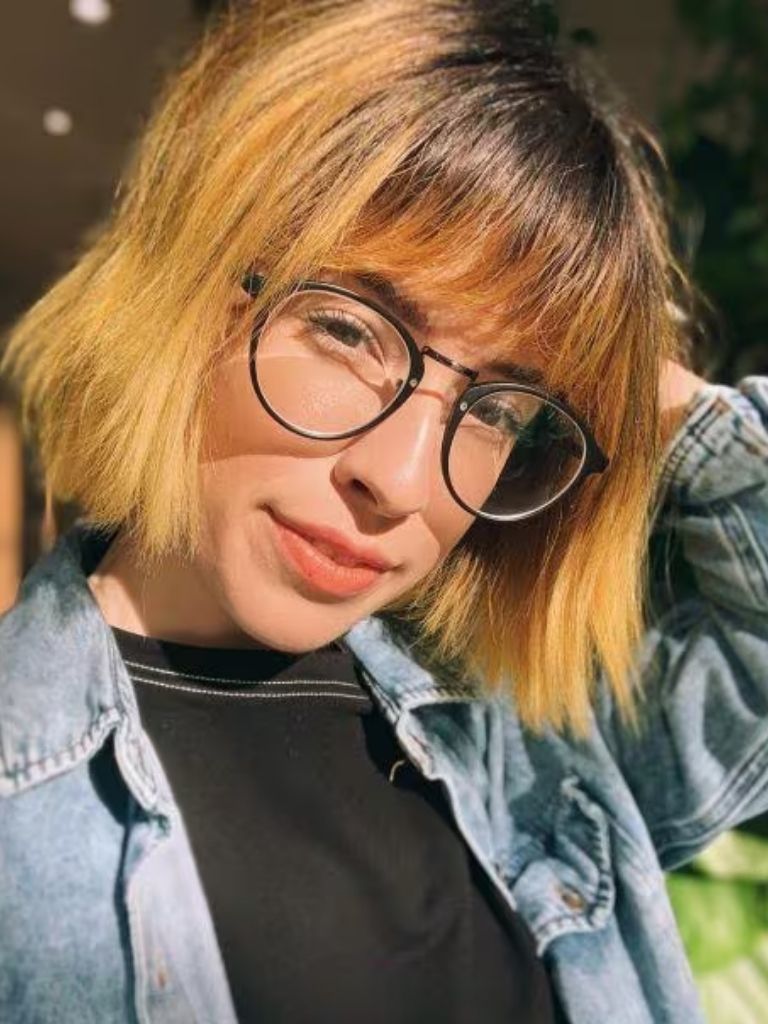 Lucky enough to have thick hair? Make the most out of them with a full fringe. 
Short Brown Bob with Bangs
Give off some serious Bardot vibes with these simple and subtle split bangs. 
Short Brown Bob with Side Bangs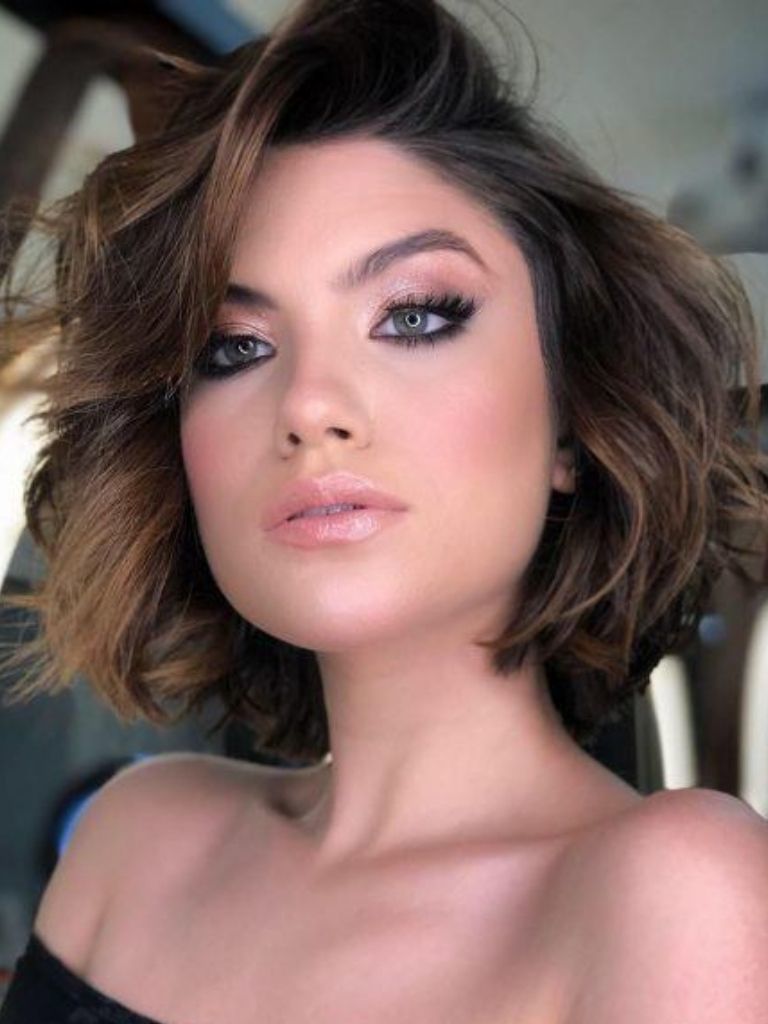 Looking for something with a little more va-va-voom? Look no further than this short brown bob with tousled side bangs. 
Short Straight Bob
With this effortlessly chic haircut, you'll be able to make the most out of your straight hair. 
Short Bob with Long Bangs
Long bangs will never go out of style. For a classy, French girl-approved look, team piece-y ones with a curled under bob. 
Cropped Bob with Short Bangs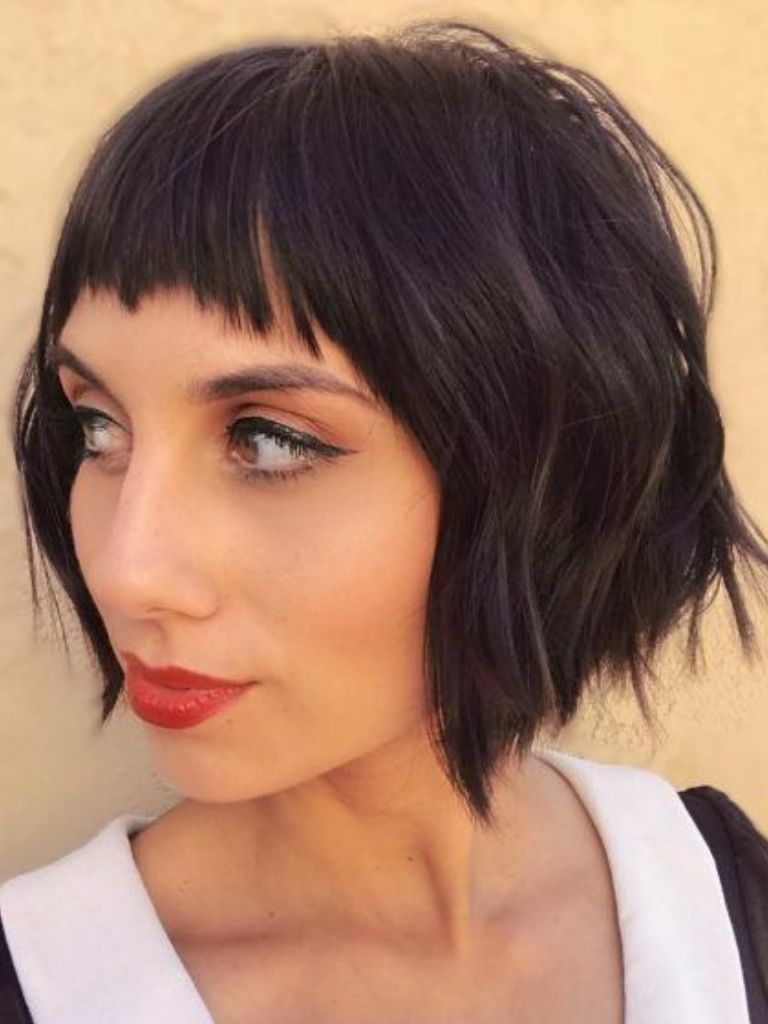 Mix up your short style by trying choppy-yet-cute micro bangs like this. 
Cute Bob with Micro Bangs
Another short bob with bangs hairstyle we're adding to our must-try list. 
Trendy French Bob
Get in on the Chanel haircut trend with this super short bob and piece-y, textured bangs. Don't forget a beret! 
Glam Bob with Side Bangs
Adding sultry, waved side bangs to a short curly bob instantly adds a glam touch to your style. 
Flipped Crop with Flicked Bangs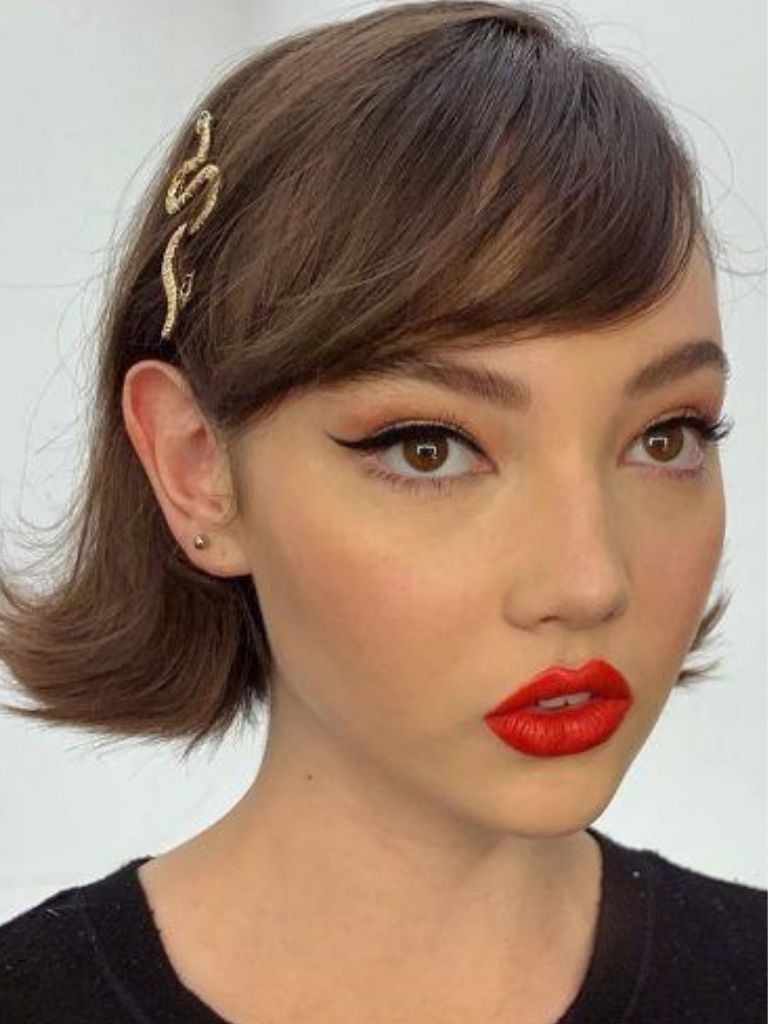 Short, flipped and flicked, we're getting major vintage vibes from this haircut. 
Bettie Page Bob with Fringe
Bettie Page, is that you? If you want your bob to look this retro-ready, you'll need to master the pin curl. 
Textured Short Bob with Bangs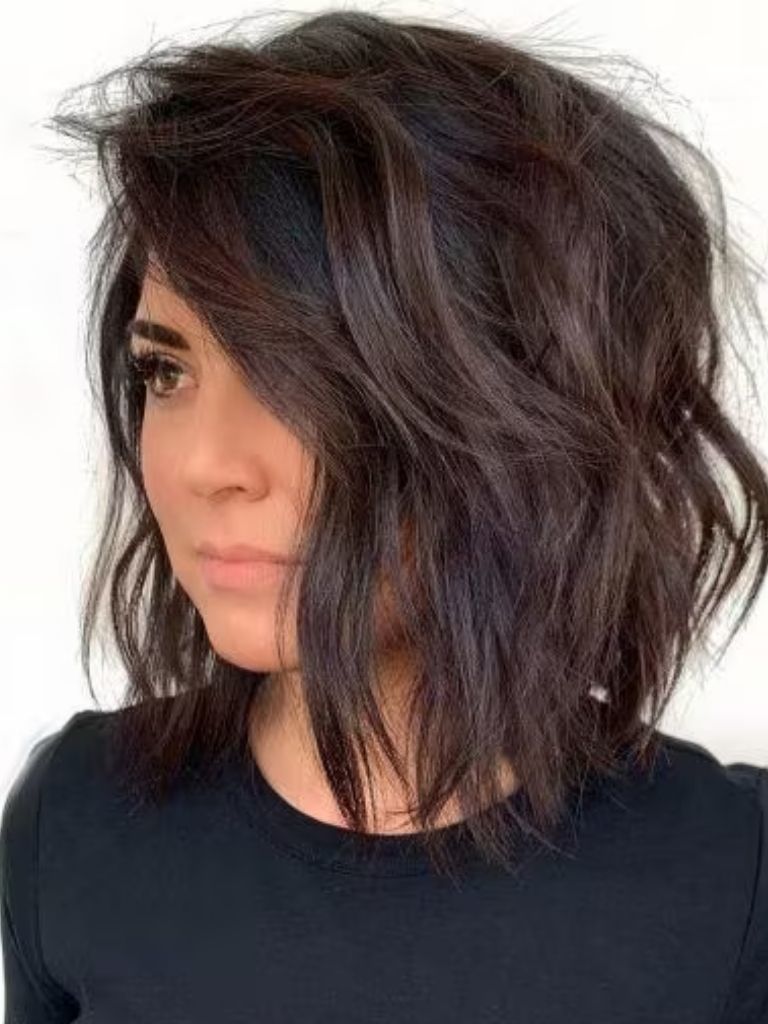 This beauty proves that a lot of texture instantly enhances any look. 
Blonde Bob With Bardot Bangs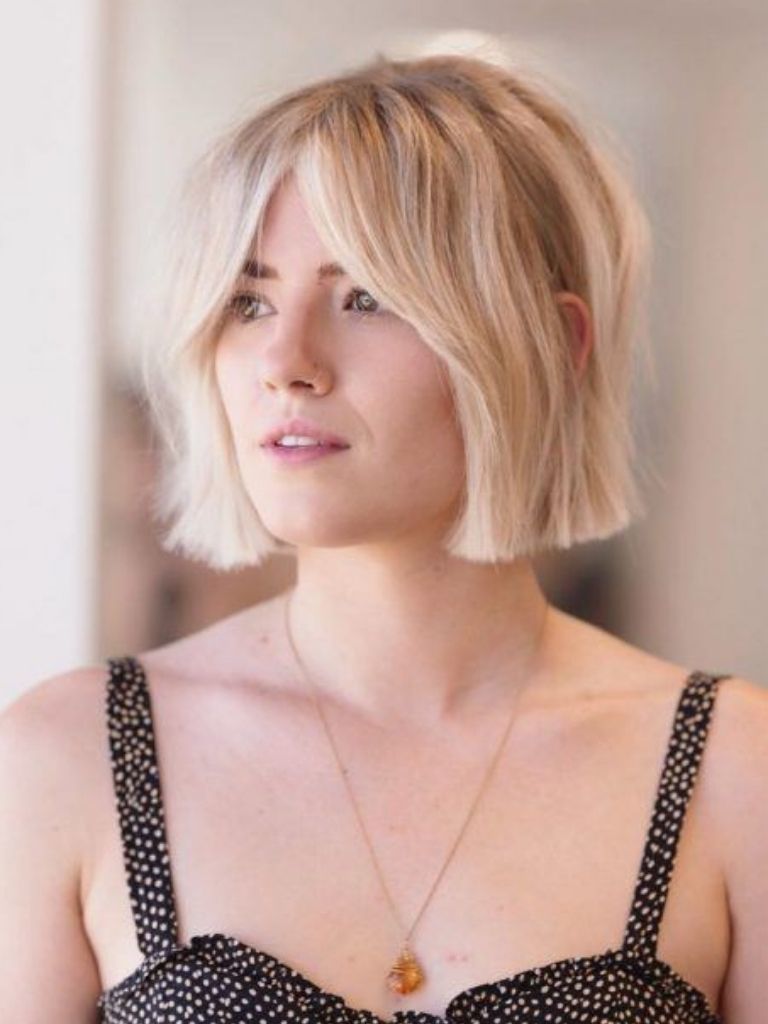 This cute fringe with a middle part makes this short blonde bob more elegant. 
Bob With Bangs for Thick Hair
If you want to keep the fullness of your style, try these tousled side bangs. 
Bob With Bangs for Fine Hair
You can create the illusion of thicker-looking tresses with this wispy bob-and-bang duo. 
Shaggy Layers
The shag cut isn't going anywhere anytime soon. 
Rounded Bob With Bangs
Go round or go home! This rounded bob with bangs is Anna Wintour's choice of cut. 
Textured Bangs With Bob
The It-Girl way to add character to a bob? Keep it cropped super short and add lots and lots of texture. 
Curly Hair With Bangs
Natural curls look even more lovely in a bob. And, this is all the proof you need to see how amazing curly bangs look! 
Cute Curly Bob With Bangs
To bring a unique touch to a curly bob, ask your stylist for cute micro bangs. 
Amandla Stenberg's Wet-Look Bob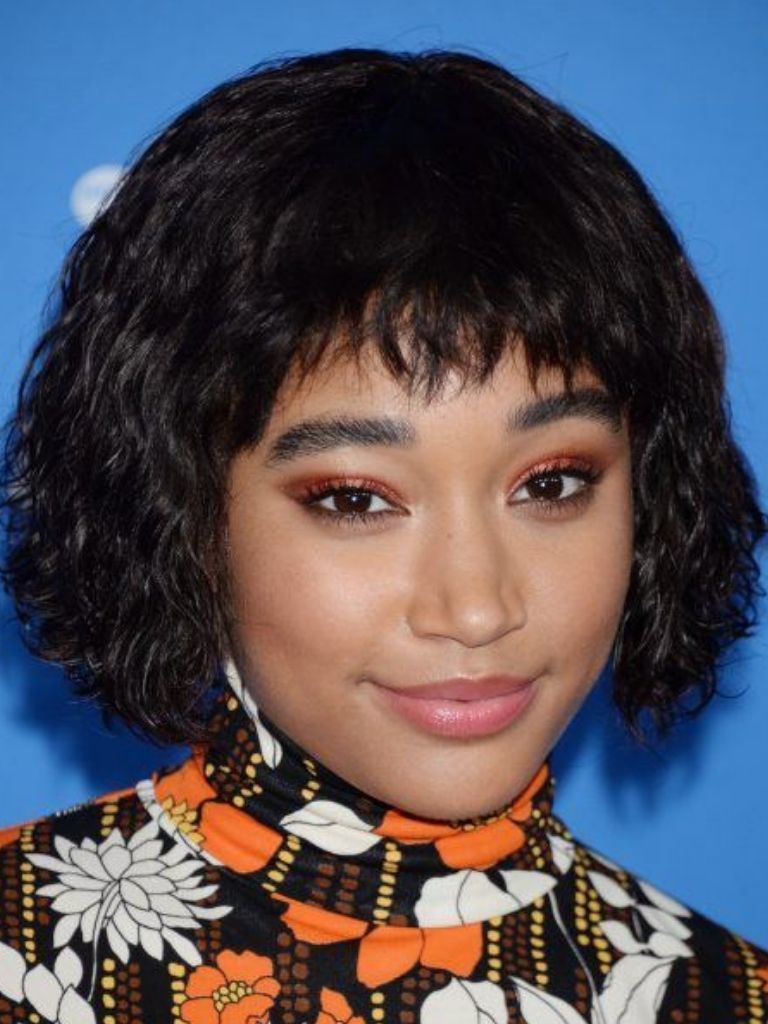 Are you searching for a way to make your short bob with bangs look sexy? Try giving it a wet-look effect, like this.
Jourdan Dunn's Glossy Bob
This is the perfect night-out look.
Gabrielle Union's Sleek Bob With Bangs
Gabrielle Union's short bob with fringe is the perfect look to wear to work.
Katie Holmes' Polished Cut
This classic short bob with fringe hairstyle will never fail to impress.
Karrueche Tran's Marilyn Hair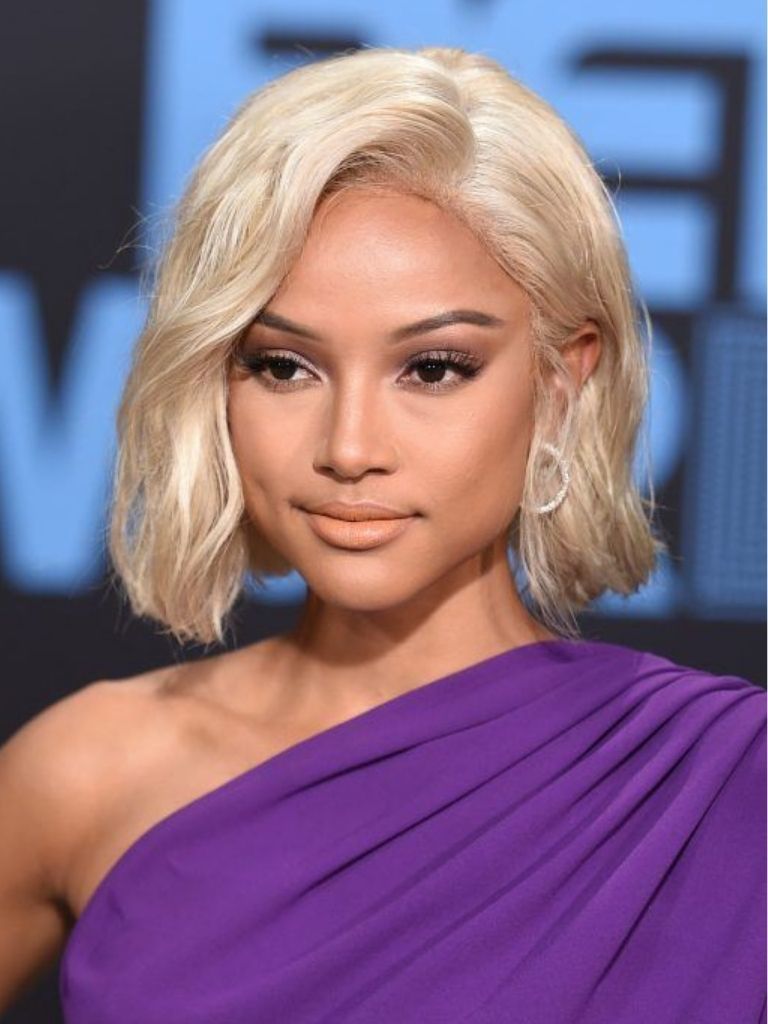 This is a modern version of Marilyn Monroe's haircut and you can't go wrong with giving it a go.
Mia Wasikowska's Short Fringe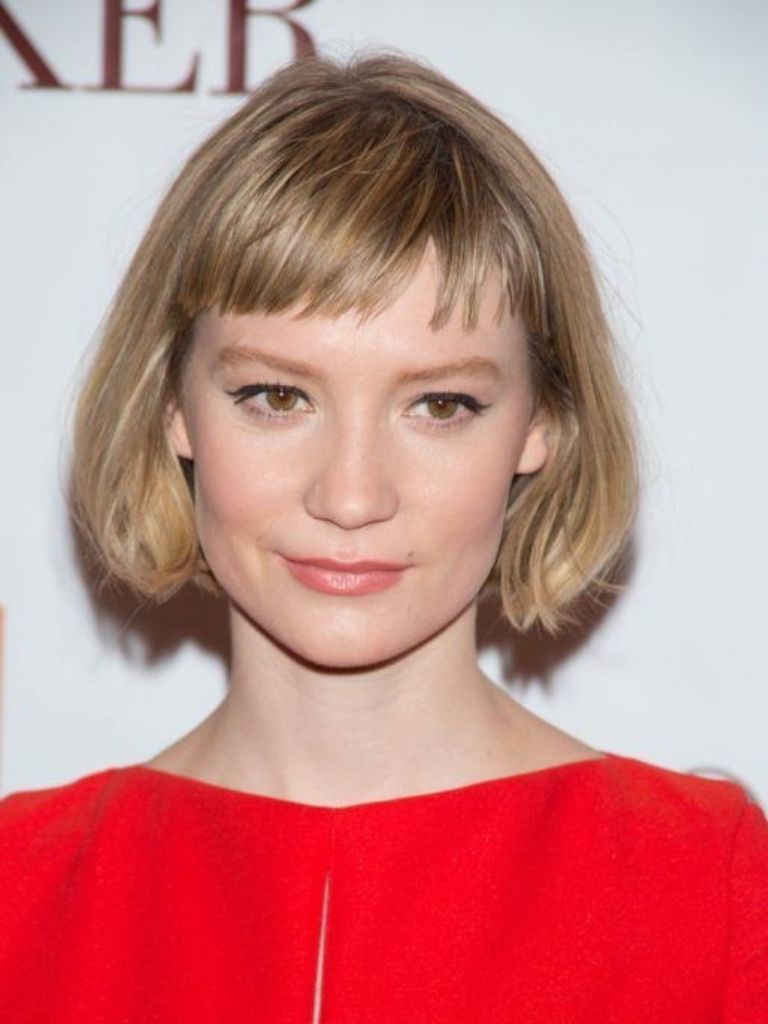 A far cry from her long blonde locks in Alice in Wonderland, actress Mia Wasikowska looks effortlessly chic with her blonde bob and short sweeping fringe.
Nicki Minaj's Blunt Bangs
Let's be honest: Nicki Minaj has tried so many hairstyles they need their own hall of fame.

Karlie Kloss' Sweeping Fringe
The fashion world's fave model, Karlie Kloss has been making a strong case for the short bob with bangs trend ever since she went for the 'do in 2012. The look was such a hit, it was even dubbed 'the Karlie'.
Vanessa Hudgens' Chanel Cut
Whether she is rocking waist-length boho waves or the French girl bob, Vanessa Hudgens will forever be our girl crush.
Dewanda Wise's Micro Fringe
The She's Gotta Have It actress adds micro bangs to complete her medium chocolate brown bob. A swipe of bright blue eyeshadow and you too can nail this look!
Michelle Dockery's Wavy Bangs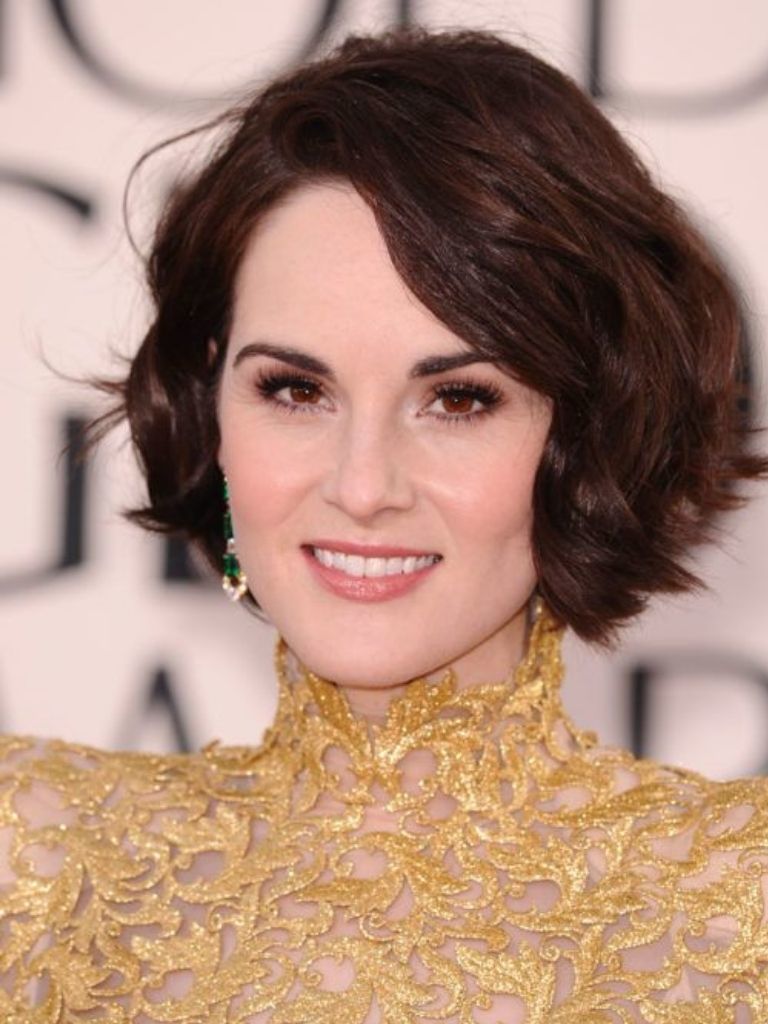 A look we think Lady Mary Crawley would approve of, actress Michelle Dockery is encouraging us all to try a short bob with bangs style this year.

Coco Rocha's Sharp Bob
Much like the iconic Vidal Sasson bob, Coco Rocha shows off her model features with a sleek, short style and eyebrow-skimming fringe.
Kristen Wiig's Feathered Hair
Looking for a get-up-and-go style? Then turn to Kristen Wiig for short bob hairstyles with bangs inspiration, as she ticks all the right boxes with this tousled 'do.
Ashlee Simpson's Side Bangs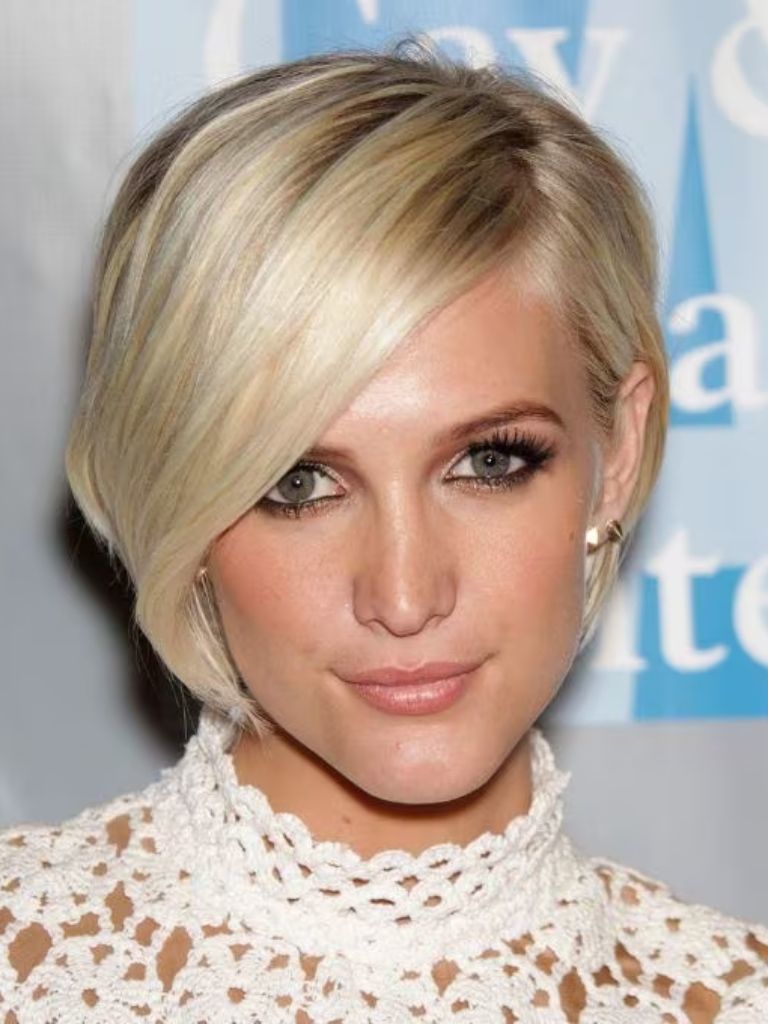 From brown ombré styles to this blonde bob, there is no look Ashlee can't pull off. We particularly love Ashlee's side bangs look for anyone scared to commit to a shorter bangs style.
Nina Dobrev's Choppy Fringe
Since going for the chop in autumn, Nina has been having plenty of fun with her short 'do. From full bangs to this piece-y fringe, we can't wait to see what she tries next.
Zendaya's Bowl Cut
We fully understand that this short bob with bangs combination might appeal to the few not the many, but if anyone can pull it off, it's Zendaya.
Prev Article
Next Article
Article
50 Wavy Bob Hairstyles in 2021 and How to Create Them Easily
Been considering trying out the wavy bob trend? Discover the best celebrity inspiration and short hair styling tips, here.
See article