6 ways to wear grunge hair in 2017 without looking like you're stuck in a '90s time warp
The '90s grunge hair love affair isn't going anywhere!
Beth
|
September 20, 2017
'90s style is absolutely everywhere right now and we don't know about you, but we're definitely not complaining. From scrunchies to space buns, for some reason '90s styles seem to look even better this time around — and grunge hair is the epitome of this throwback trend.
Inspired by the alternative rock scene, grunge style is messy, sexy and lived-in, while never looking too try hard (AKA everything we could ever hope for for our hair).
To find out how you can emulate the grunge girl style this season, take a look at some of our favourite inspo shots in the gallery above, then scroll on down to get the deets.
6 on-trend ways to rock '90s grunge hair this season
1. Grunge bob
If there was ever a photo that perfectly captured the '90s grunge vibes, this would be it! From the denim jacket to the graphic tee and, of course, the soft, layered lob, we're enamoured.
Not only is this length super easy to maintain and style, but thanks to stars like Bella Hadid it just so happens to be totally on-trend, too. Credit: @grunge_dream_tumblr
2. Buzz cut
For the ultimate act of rebellion, you don't get much more daring than a buzz cut. Already given the star seal of approval this year by cropped beauties Cara Delevingne and Kristen Stewart, there's never been a better time to give this short grunge hair style a try. Credit: @itschloeleachxox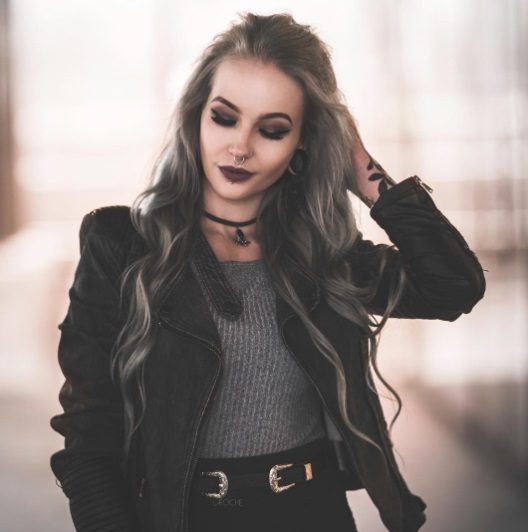 3. Grey hair
Not ready to commit to a full-on cut? There are plenty of hair colours that can help you achieve a grungey look without having to go near the scissors — and grey hair is one of the most striking.
Charcoal shades like this Instagrammer's are perfect for adding an alternative, tomboyish feel to your style yet is still close enough to brunette/blonde shades that it's still wearable! Credit: @jordanlaroche
4. Space buns
Space buns are so hyped right now that it's almost easy to forget that they first became big back in the '90s.
Don't worry about your buns being neat, as the messier they are the better. Also, remember to leave your bangs free for a feminine, face-framing effect. Cute and edgy? Sounds like a match made in hair heaven! Credit: @charity.grace
Editor's tip: Sea salt spray helps to give your hair a grittier texture, so it's perfect for adding a messy, undone look to your space buns.
So if your hair is too soft or fine to hold a style, just spritz some of the TONI&GUY Sea Salt Texturising Spray into your strands before styling and it'll help give your locks the extra grip they need.
5. Head scarves
We're obsessed with all the gorgeous hair wraps that have cropped up on Pinterest, so why not tick off 2 hot looks in 1 with a Rock 'n' Roll bandana grunge hair look? The perfect way to conceal unwashed, greasy roots in style, this really is the ultimate lazy girl look.
Psst: This even works as a short grunge hair look, so everyone can get in on the trend (woohoo!). Credit: @heartshaped___
6. Ombre braids
Crazy colours are a key element to many grunge hairstyles and this ombre braided look captures the vibe perfectly.
Flowing from vibrant violet roots into marine blue lengths, braids have never looked so good. And for other colour combination inspiration, be sure to check out our 5 favourite ombre shades, here. Credit: @elenalanua
Editor's tip: Such bold colours require extra care, so be sure to switch out your regular wash and care system for a colour protect range.
The TIGI Bed Head Colour Goddess Oil Infused Shampoo and Conditioner cares for coloured hair, with the nourishing formula helping to lock in vibrant colour and prevent fading.
If you enjoyed this trip down hair memory lane with the '90s grunge hair look, find out why 'mom hair' is another throwback trend making an unexpected comeback for 2017. And to travel even further back in time, check out the gorgeous retro styles on our Vintage Hairstyles page!
Gallery
5 beautiful hairstyles to wear for Chinese New Year
Celebrate Chinese New Year in style with one of these top hairstyles!
See article